Get glamorous and get the party on with the prettiest nail designs. If you're anything like me, then you've probably already started thinking about your New Year's Eve party look and what kind of New Year's nails you want to ring in the new year with. New Year's nails are the perfect way to add a little bit of festive flair to the night. Plus, they're a great conversation starter!
Whether you're going to a New Year's party or just staying in and watching the ball drop on TV, there are so many different ways that you can get festive for your New Year's nails. We especially love looks that are glittery, colorful, kissy, pearly, golden, and classy. Here are some of our favorite designs for 2023 and we hope you have a Happy New Year!
New Year's Nails with Rhinestones
Rhinestones are another great way to add some sparkle to your New Year's nails. You can use them to create all kinds of different designs, from simple accent nails to more complex and detailed designs.
Glitter Ombre Nails
Ombre nails continue to be a mainstay trend and there are so many color combo you can try. One look that we love is mixing gold or silver with your favorite New Year's color.
White Nails with Glitter
If you want to keep your New Year's nails looking simple and elegant, then you can't go wrong with white nails with a touch of glitter. This is a classic New Year's nail design that never goes out of style.
Black Nails With Gold Accents
If you're looking for something a little bit more bedazzled, then you must try black and gold nails. It would be sophisticated, chic, and full of drama.
Pink Glitter Nails With Pearl Accents
Pearlcore has taken the fashion space by storm. Pearls can always amp up any look and they never going out of style. Try dressing up your pink sparkly nails with pearl jewels. We have some inspos for you below.
Glitter Tip Nails
This is a fun and easy New Year's nail design that you can do at home. All you need is some glitter and clear nail polish. Start with a base coat of clear nail polish before applying a thin layer of glitter to the tips of your nails.
Sparkly New Year's Nails Coffin
This New Year's nail design is perfect for those who want something unique, fun, and trendy. Start with Coffin Nails which have a slight taper on the sides with a flat tip.
1)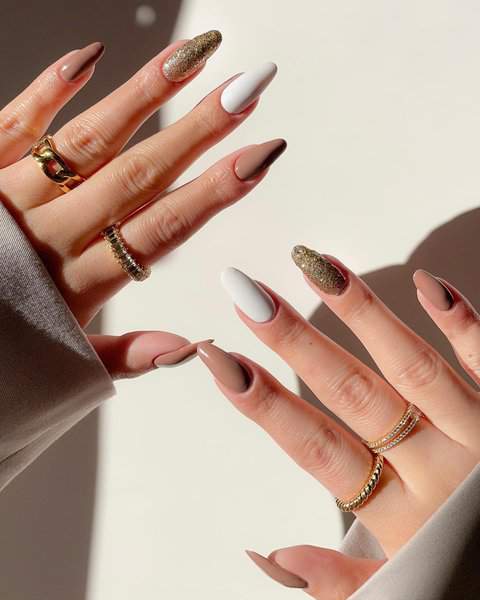 Champagne gold nails via 📷 disseynails / Instagram
2)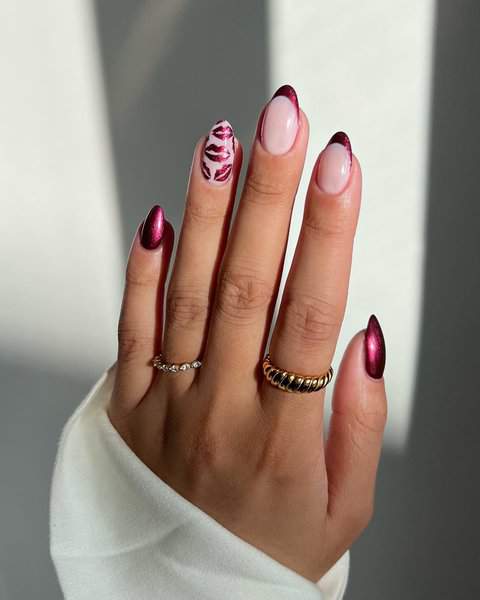 New years kissy nails via 📷 iramshelton / Instagram
3)
Gold French tip nails via 📷 amyle.nails / Instagram
4)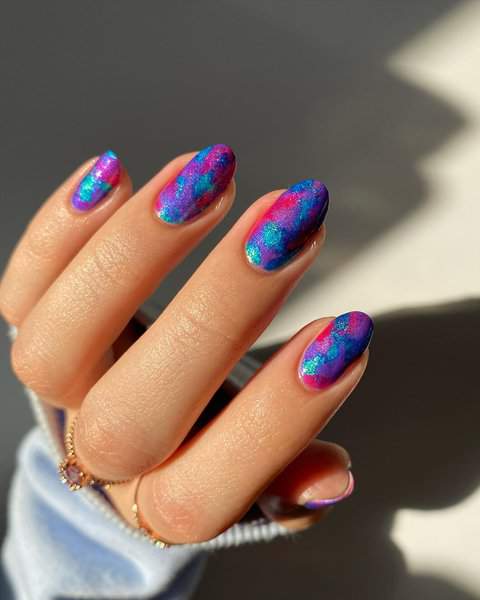 Ombre galaxy nails via 📷 polished_yogi / Instagram
5)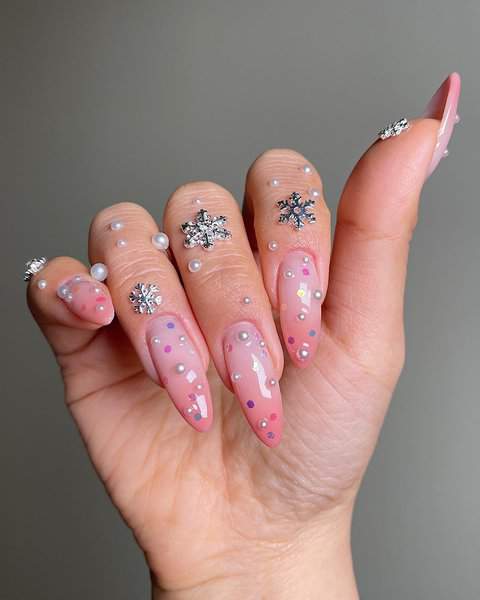 Pink nails with pearl accents via 📷sansungnails / Instagram
6)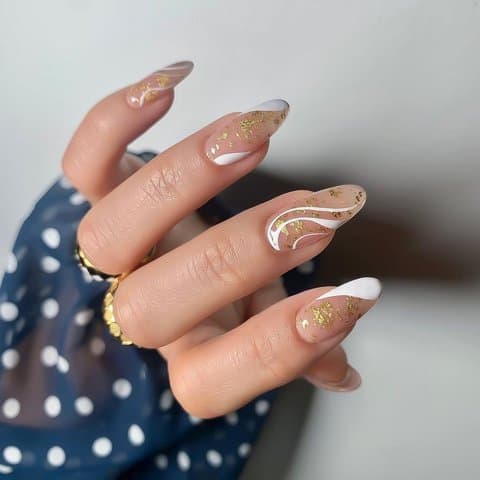 White and gold nails via 📷nails_and_soul / Instagram
7)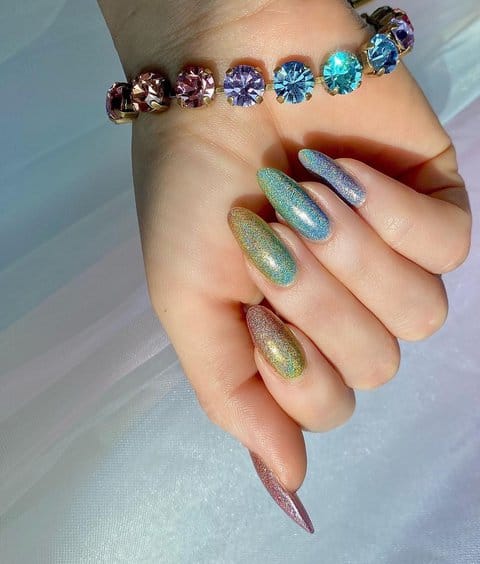 Sparkly glitter nails via 📷_karebeauty_ / Instagram
8)
Silver and gold nails via 📷_karebeauty_ / Instagram
9)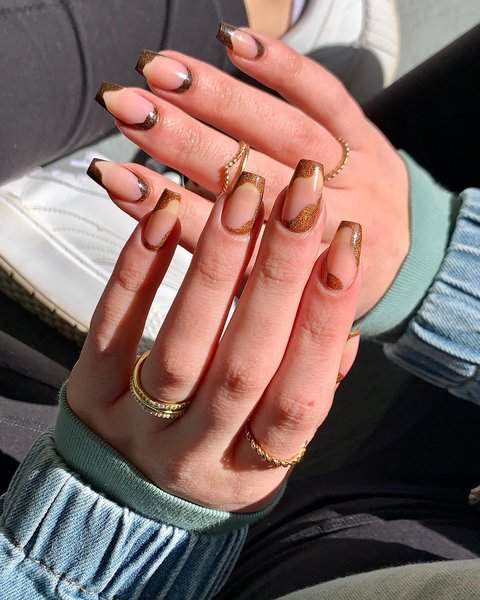 Gold nails via 📷kuypernailart / Instagram
10)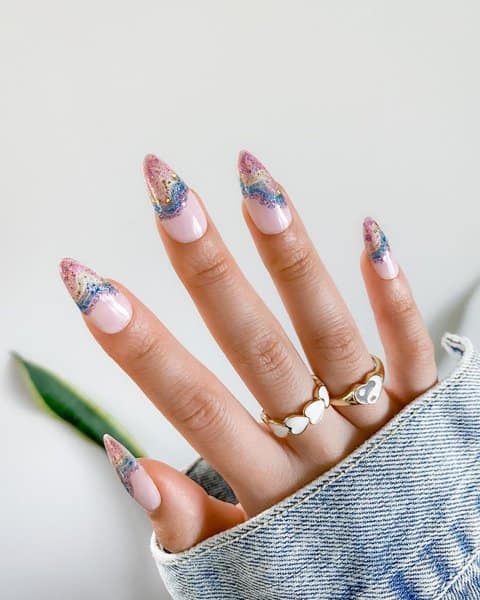 Colorful rainbow nails via 📷mydumbnails / Instagram
11)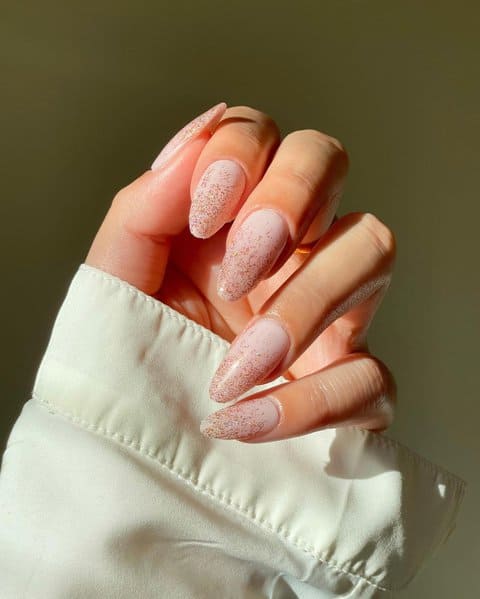 Champagne rose gold nails via 📷disseynails / Instagram
12)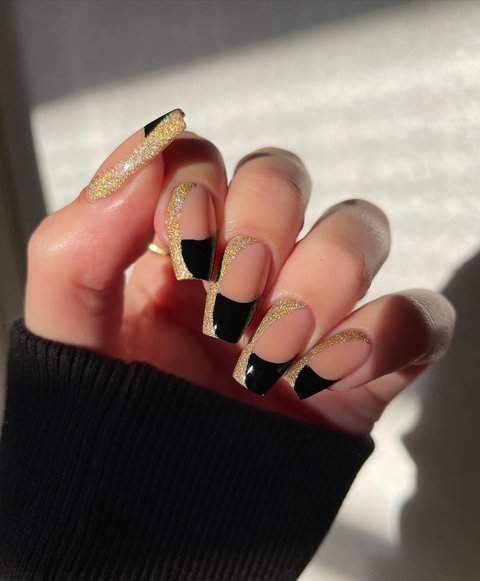 Black and gold nails via 📷kuypernailart / Instagram
13)
Blue glitter nails via 📷bycheznails / Instagram
14)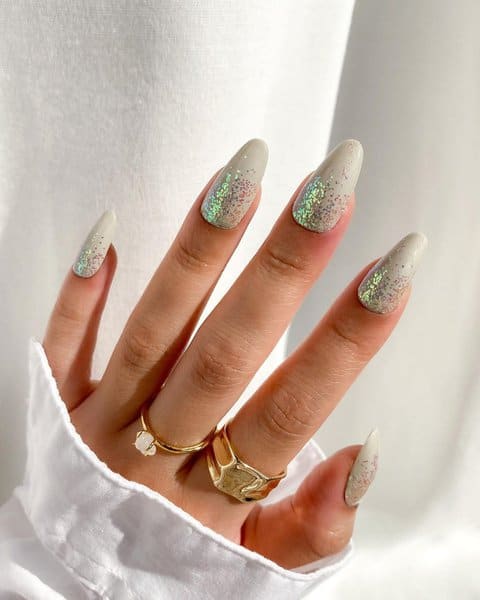 White glitter nails via 📷mydumbnails / Instagram
15)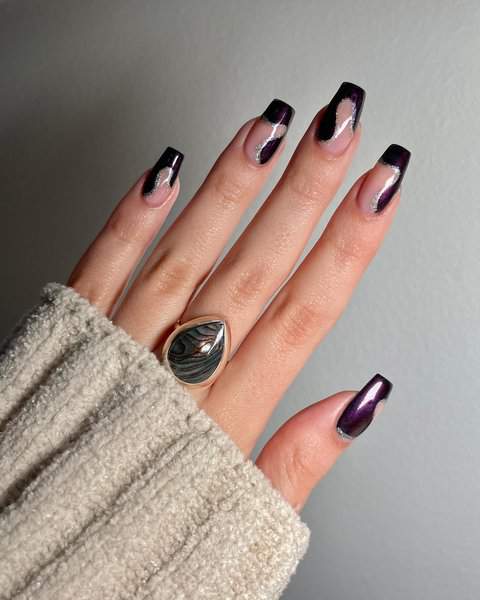 Burgundy and silver nails via 📷kuypernailart / Instagram
16)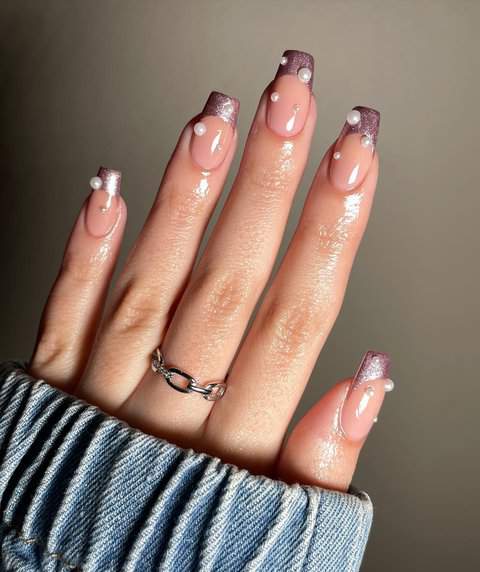 Rose gold nails with pearl jewels via 📷kuypernailart / Instagram
17)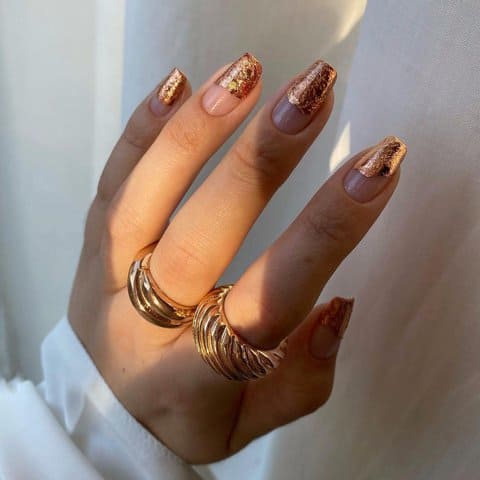 Gold foil nails via 📷tiffanyabbigailebeauty / Instagram
18)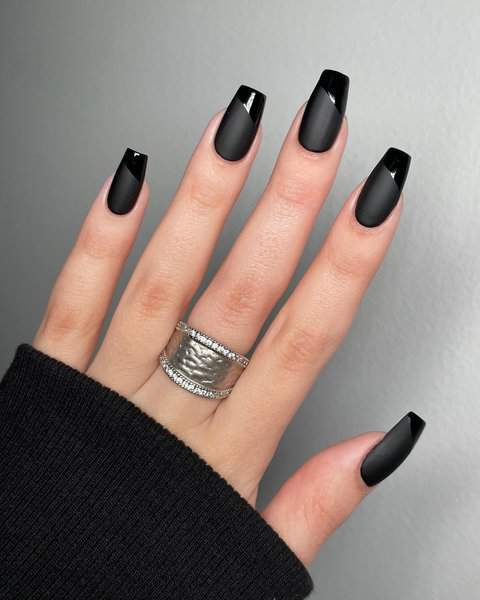 Black on black nails via 📷kuypernailart / Instagram
19)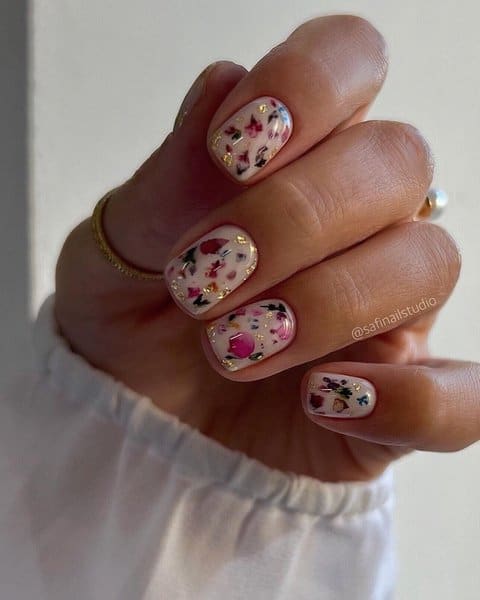 📷safinailstudio / Instagram
20)
📷_karebeauty_ / Instagram
21)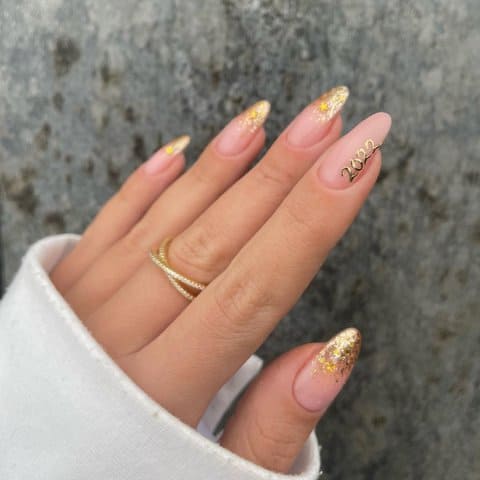 Gold glitter nails via 📷naileditbeauty / Instagram
22)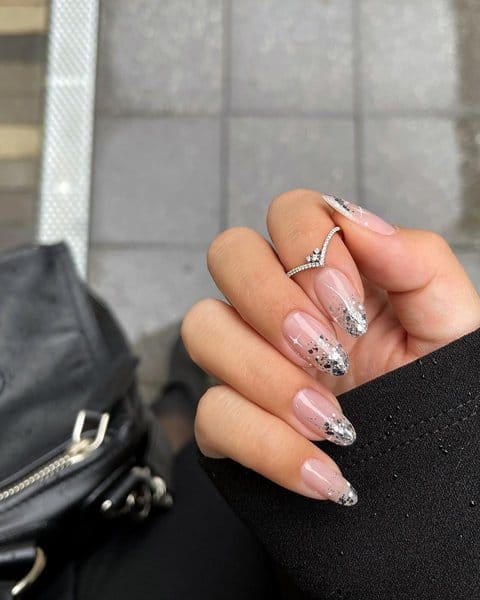 Silver glitter nails via 📷amyle.nails / Instagram
23)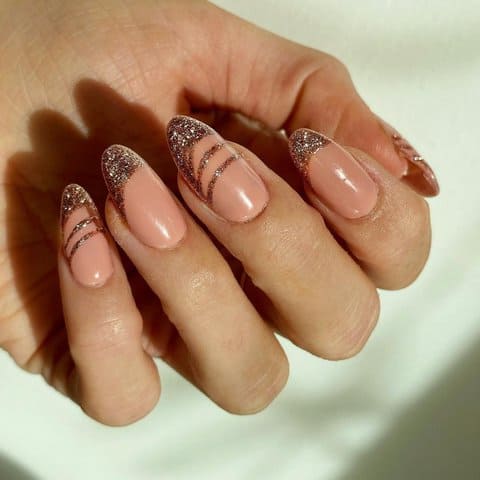 Rose gold nails with French tips via 📷paintbucketnails / Instagram
24)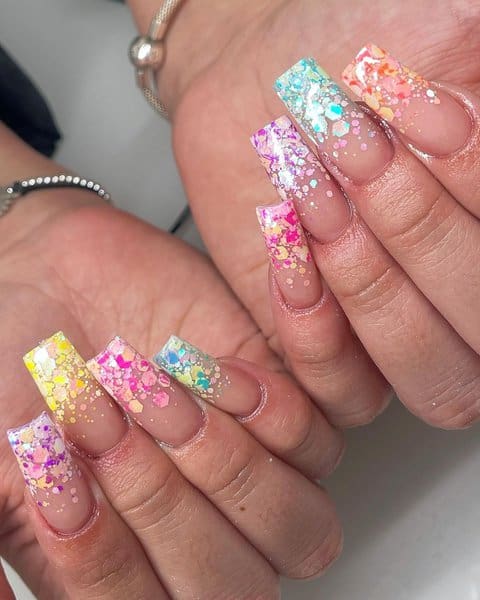 Glitter nails via 📷alyshanailartist / Instagram
25)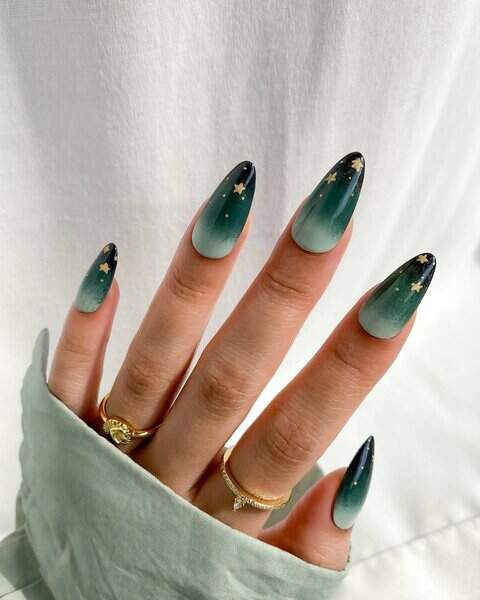 Green ombre nails with gold stars via 📷mydumbnails / Instagram
26)
Blue glitter nails via 📷kuypernailart / Instagram
27)
Nude nails with feather nail art designs via 📷naileditbeauty / Instagram
28)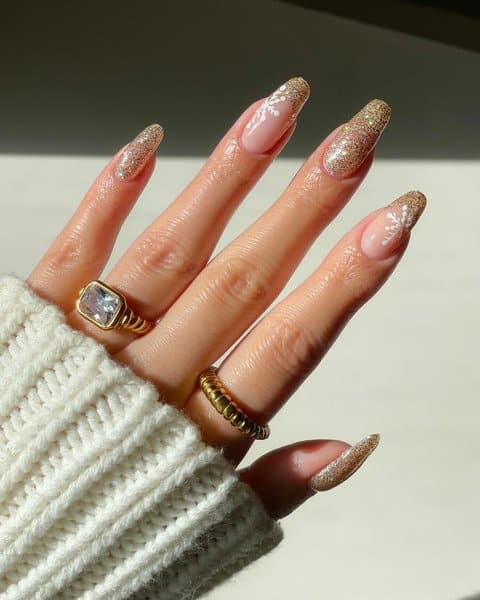 Gold glitter nails with snowflakes 📷disseynails / Instagram
29)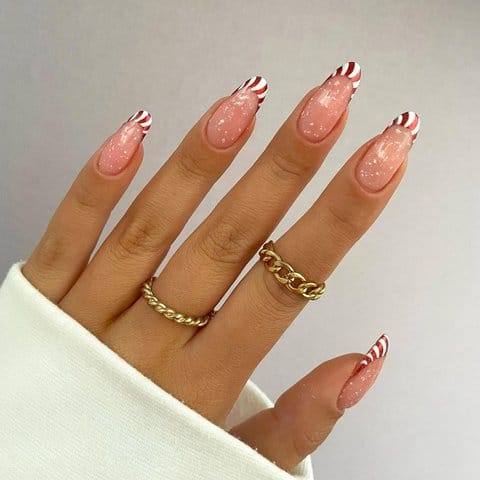 Christmas nails via 📷naileditbeauty / Instagram
30)
Pink glitter nails with French tips via 📷Sansungnails / Instagram
31)
White nails with glitter via 📷EvesNailBoutique / Etsy
32)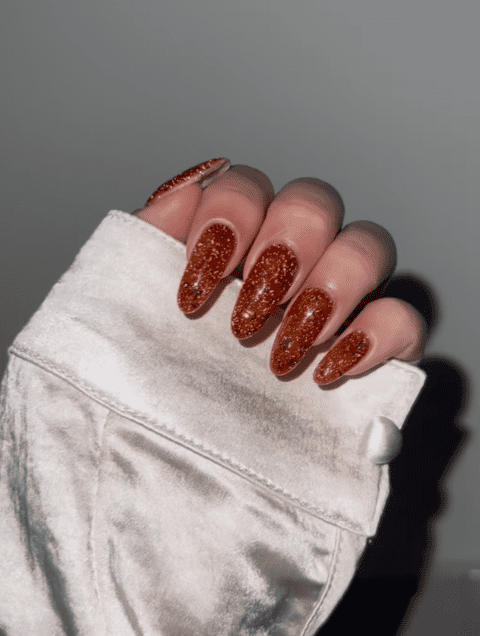 Red nails with glitter, red and gold nails via 📷mydumbnails / Instagram
33)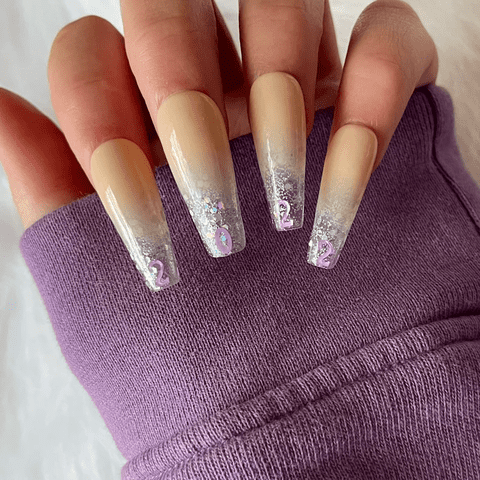 Coffin nails via 📷PlasticFantasticNail / Etsy
34)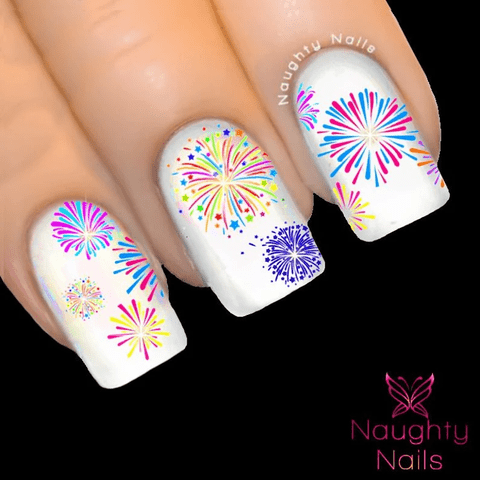 Firework nails via 📷NAILpixie / Etsy
35)
Silver nail wrap via 📷EZNailsStore / Etsy
36)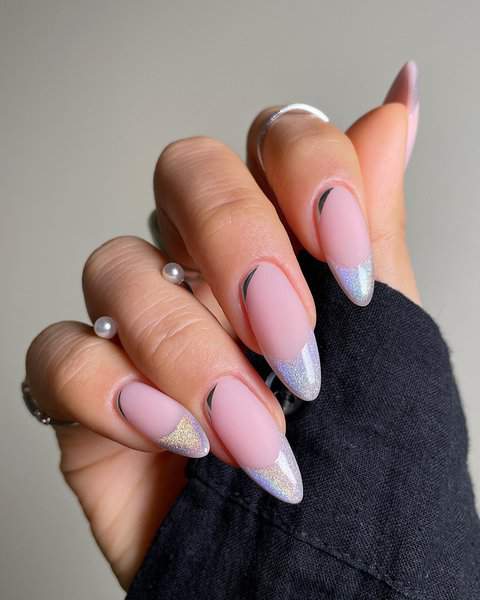 Silver tip nails via 📷 sansungnails / Instagram
37)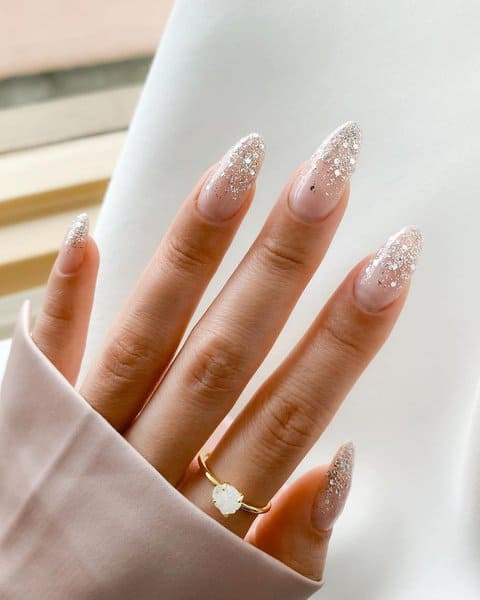 Silver glitter nails via 📷mydumbnails/ Instagram
38)
White French manicure with pearl accents via 📷 nailmailbykhlo / Instagram
39)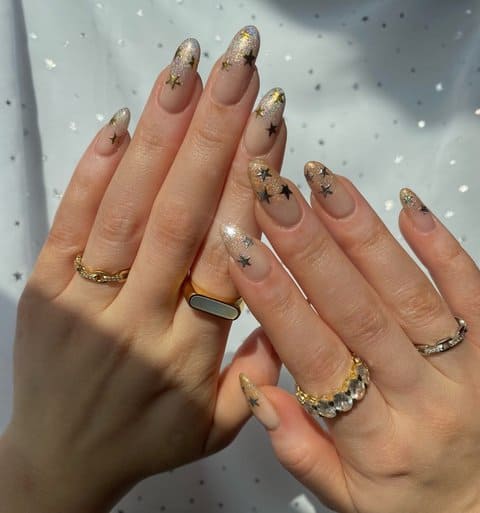 Gold star nails via 📷_karebeauty_ / Instagram
40)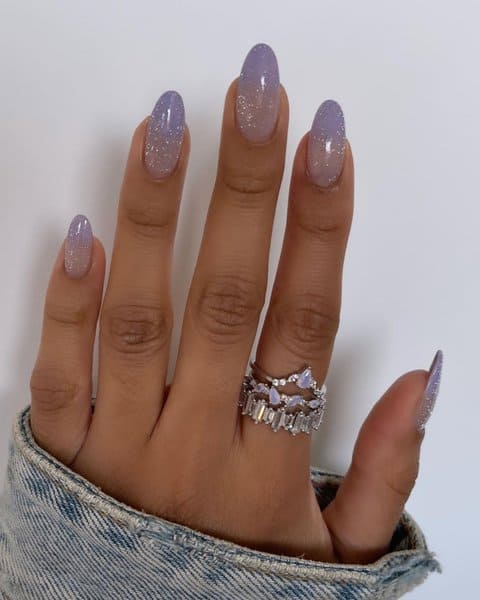 Purple nails via 📷n_a_i_l_it / Instagram
41)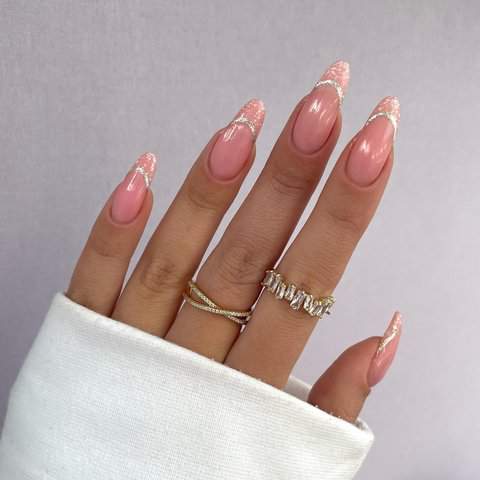 Rose gold glitter nails via 📷 naileditbeauty / Instagram
42)
📷disseynails / Instagram
43)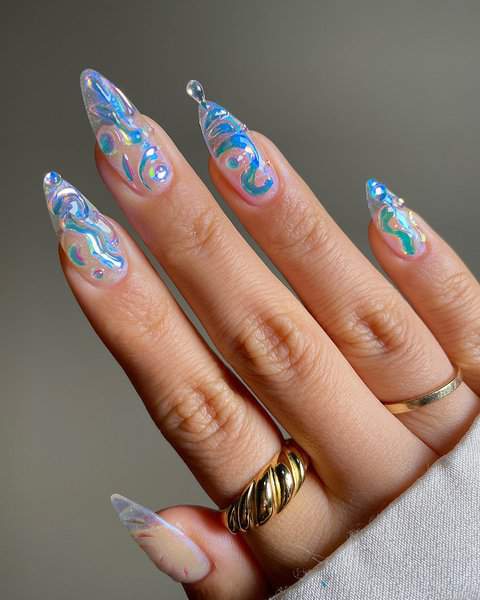 Blue acrylic nails via 📷Sansungnails / Instagram
44)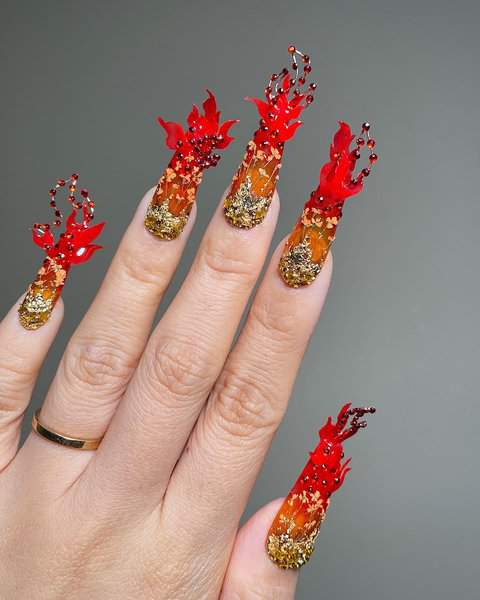 Red acrylic nails via 📷Sansungnails / Instagram
45)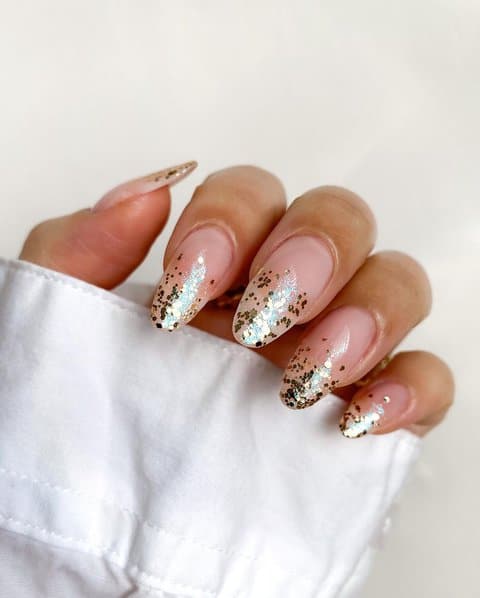 Clear nails with gold glitter via 📷mydumbnails / Instagram