Who doesn't love pink? Hot pink is trending everywhere this year from runway to social. Hot pink is just the perfect color that is fun, confident, and bold. Whether you're going for a glamorous evening out or just want something pretty and fun for every day, this color is here to make a statement. They are also a great way to show off your personality via your manicure. Get inspired by the 50 best hot pink nail ideas we curated for you and have fun!
Hot Pink French tip nails
For a classic look with a twist, try hot pink French tip nails. This French manicure always oozes sophistication and would surely be eye-catching with the pop of color. My favorite is to add the pink tip onto either a white base or a nude nail polish.
Hot Pink and Gold Nails
Add dreamy shimmer to your nails with gold accents. This color combo is absolutely perfect for a fun girl's night out, Christmas party, New Year or Birthday Celebrations.
Hot Pink and White Nails
As one of the most popular pink color combo, you can create so many different looks with just pink and white together. The white will help to keep your nails looking fresh and the hot pink will add a touch of fun. See below for some of our favorite design ideas!
Hot Pink Coffin Nails
For an effortlessly edgy and striking look, try hot pink coffin nails. These are long and sleek with a tapered edge and look especially striking with hot pink polish.
Pink Ombre Nails
If you're looking for something a little more fun and flirty, try pink ombre nails. Get this look by painting your nails with a light pink polish and then adding shades of darker pink color toward the tips.
1)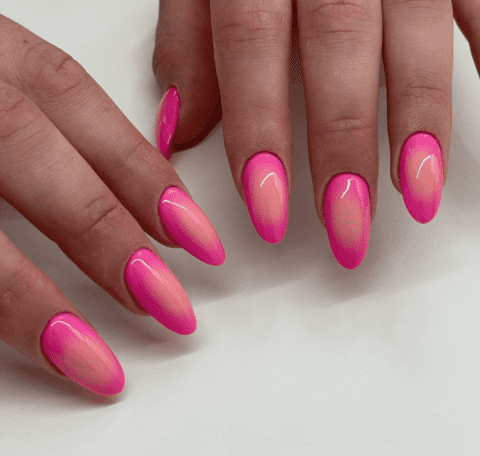 Pretty pink ombre nails via 📷 nycnailroom/ Instagram
2)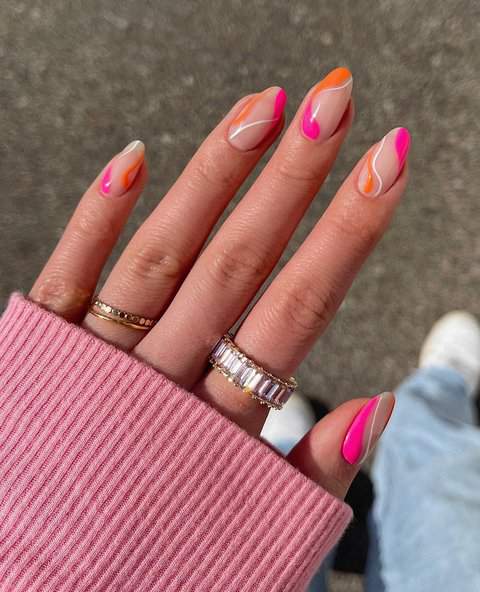 Cute pink nail art via 📷 heluviee / Instagram
3)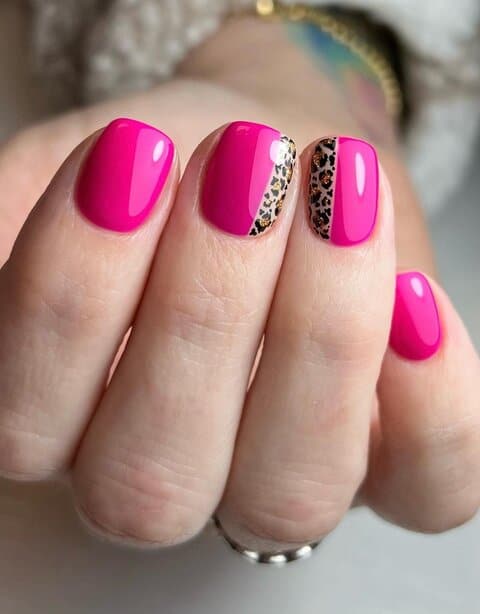 Hot pink with animal print designs via 📷 gellybeannails / Instagram
4)
Glitter pink nails via 📷 betina_goldstein / Instagram
5)
Pink and floral designs via 📷 paintbucketnails / Instagram
6)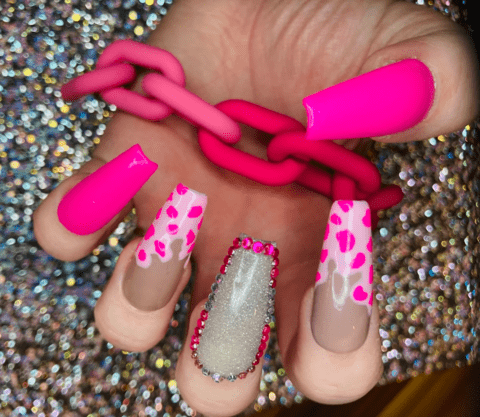 Pink nails with rhinestones 📷 BoochieNails / Etsy
7)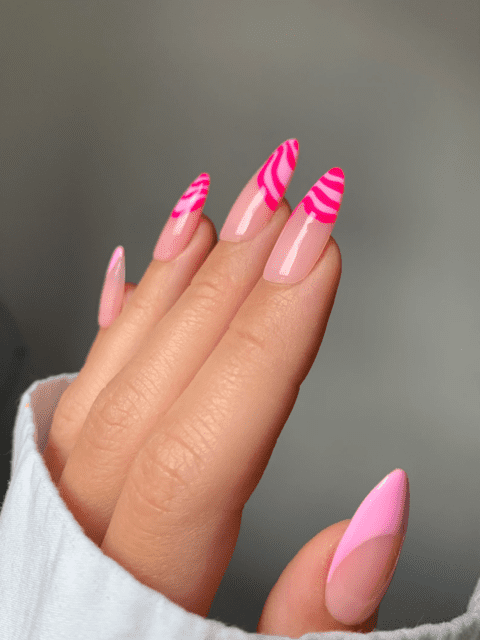 Pink swirl nails via 📷 hotglossnails / Etsy
8)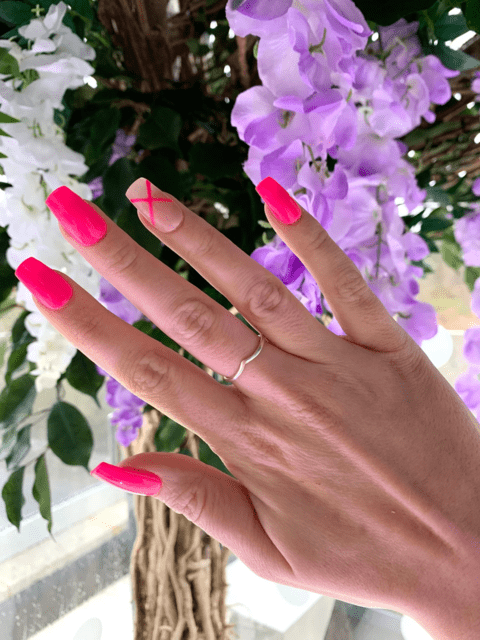 📷 LadyTrouse / Etsy
9)
​​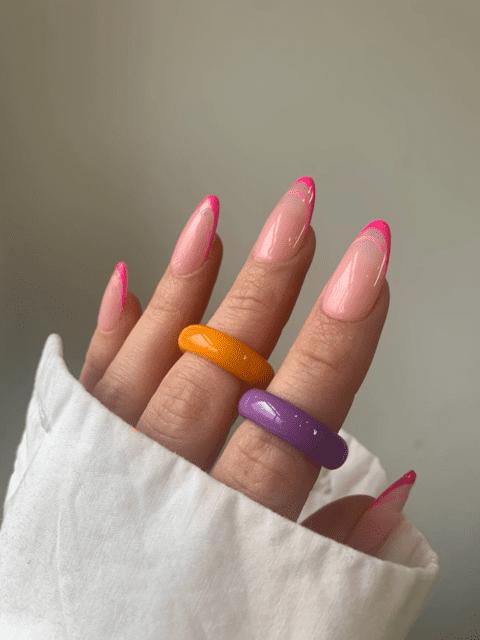 Clear pink nails with double French tips via 📷 hotglossnails / Etsy
10)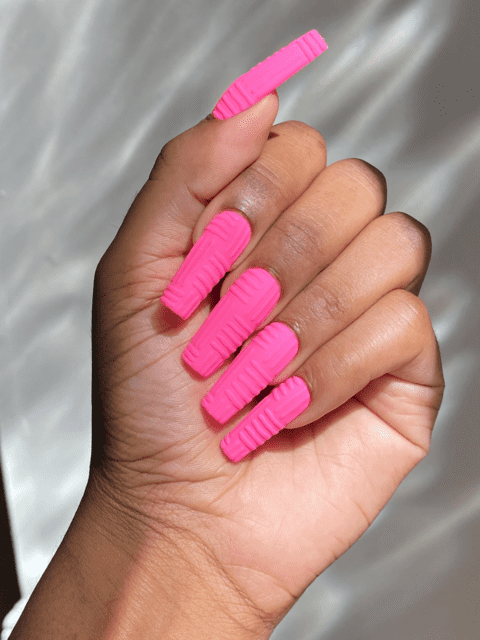 Long coffin with matte pink nails via 📷 SimmiPressed / Etsy
11)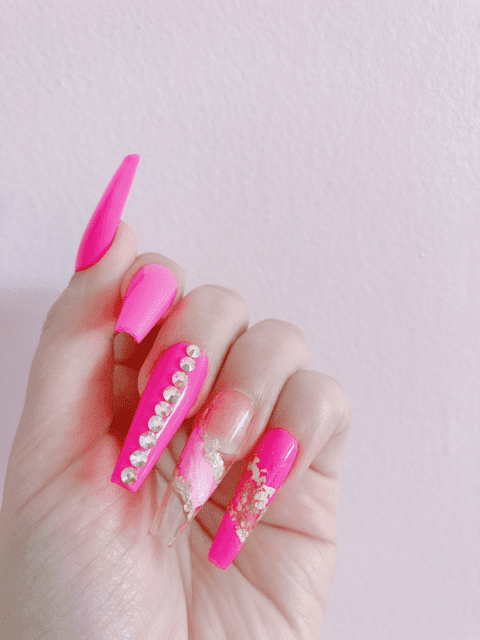 Gold and hot pink nails with diamonds via 📷jennynailsdesign / Etsy
12)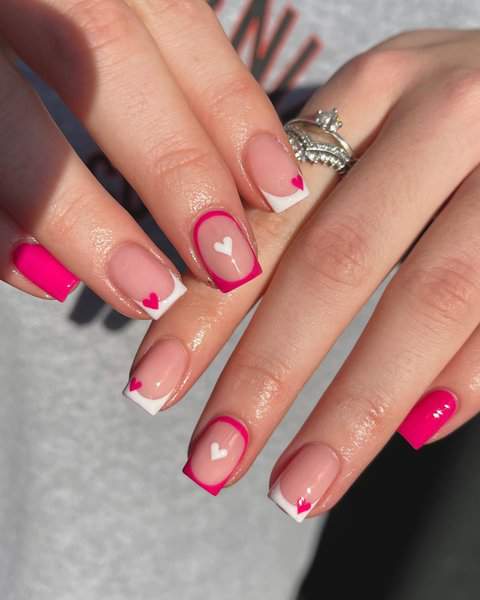 Pink nail designs with hearts via 📷manisbyannie / Instagram
13)
Orange and pink nail polish via 📷 essie/ Instagram
14)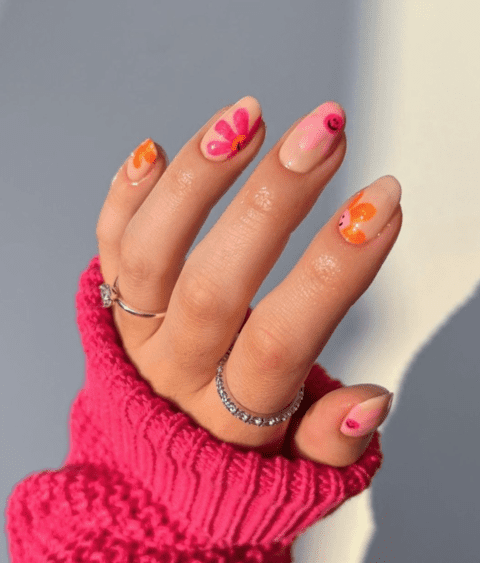 Cute pink nails with smiley faces via 📷opi / Instagram
15)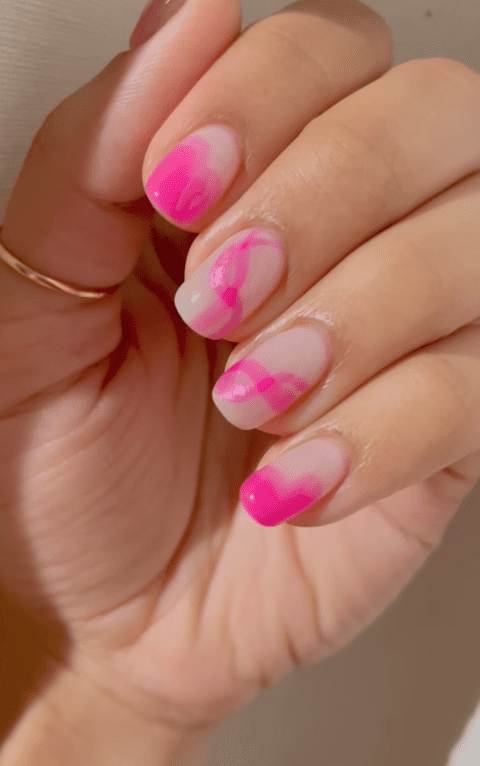 Wavy short pink nails via 📷orly / Instagram
16)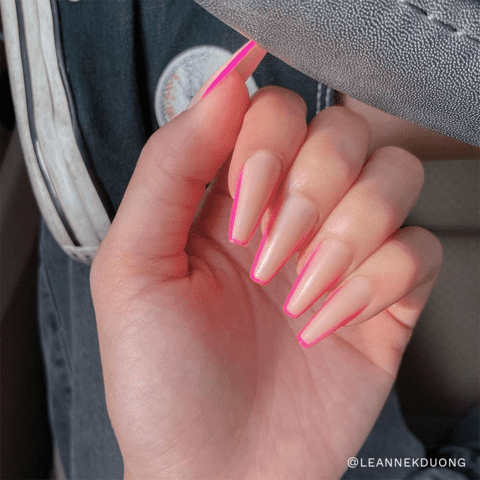 Hot pink coffin nails with thin French tips via 📷 glamnetic / Website
17)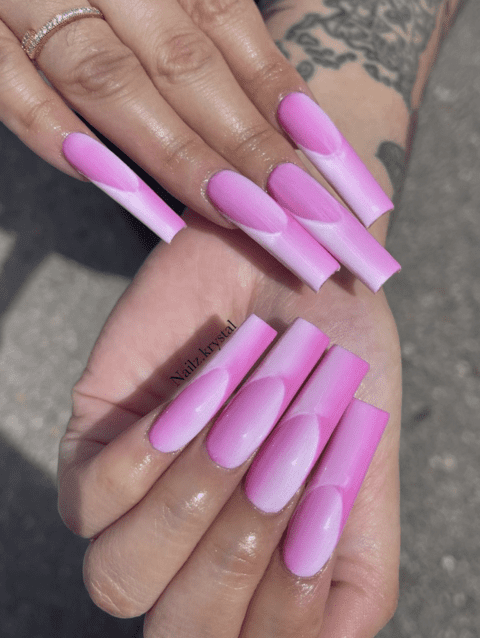 Pink and white ombre nails via 📷 Instagram: nailz.krystal
18)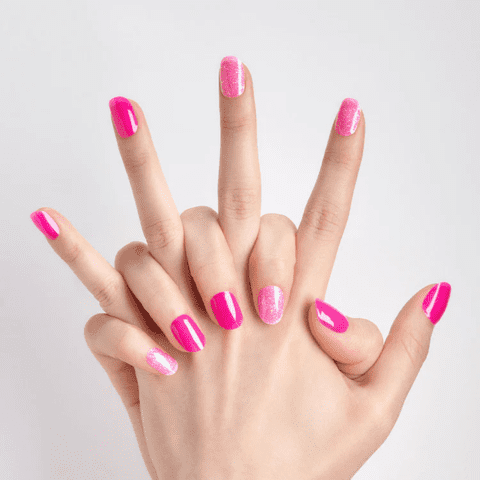 Glitter pink nails via 📷 dashingdiva/ Website
19)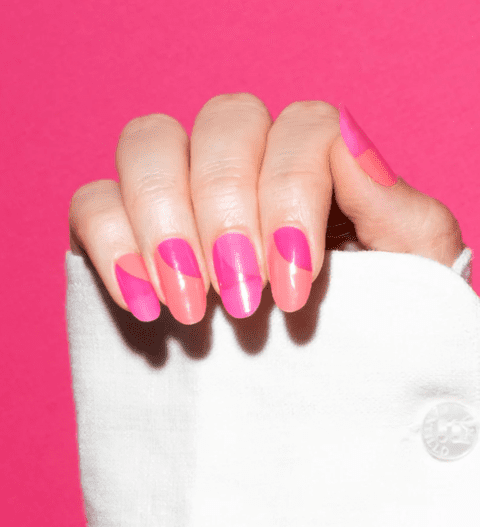 📷 manime / Instagram
20)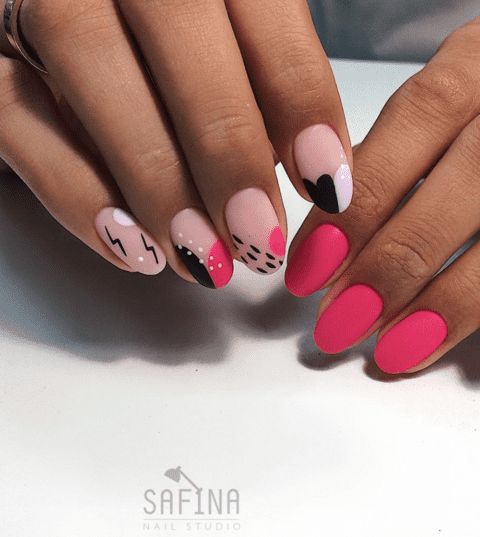 Pink and black nails via 📷safinailstudio / Instagram
21)
Pink marble nails via 📷amyle.nails / Instagram
22)
Neon nails via 📷 amyle.nails / Instagram
23)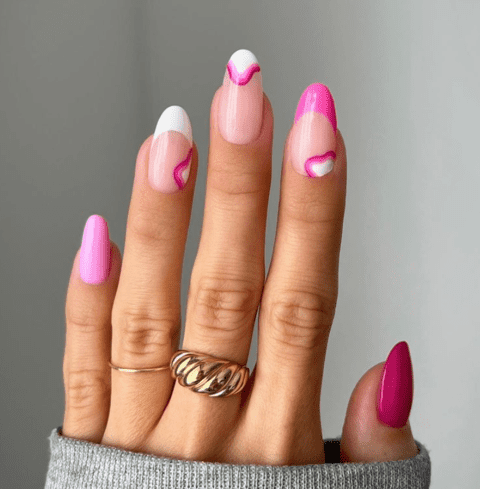 Pink and white nails via 📷 nailsbysmf/ Instagram
24)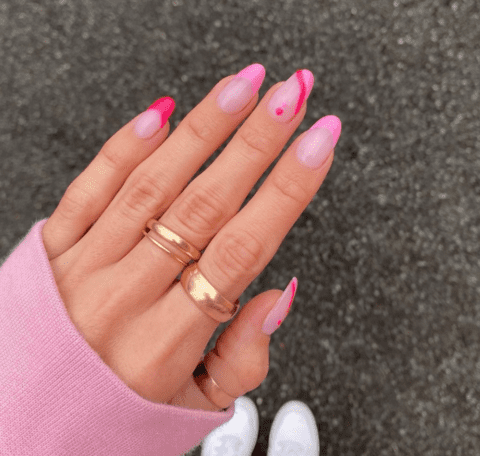 Pink French tip nails via 📷 nailsbysmf / Instagram
25)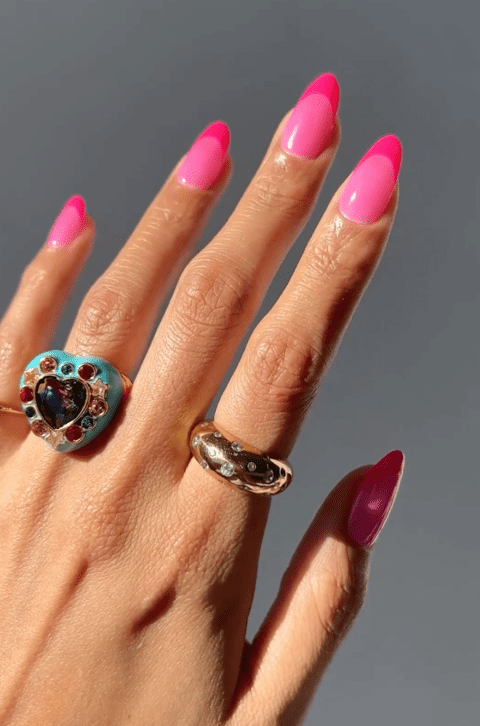 Pink on pink nails via 📷overglowedit / Instagram
26)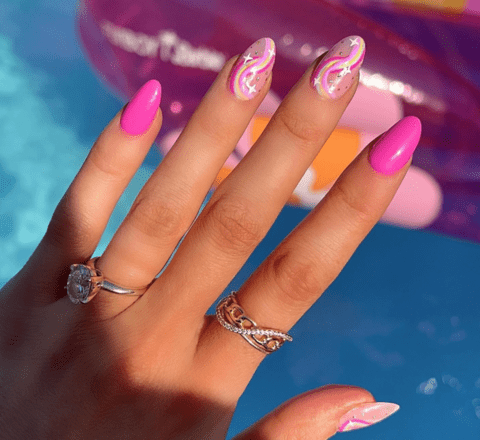 Dreamy candy swirl pink nails 📷paintbucketnails / Instagram
27)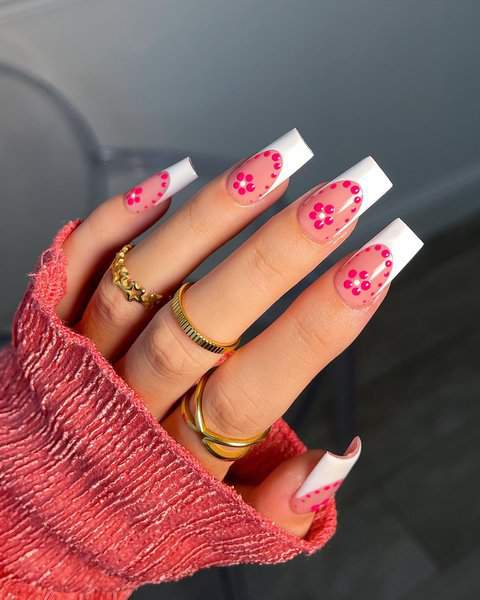 French manicure with hot pink flowers via 📷 alyshanailartist / Instagram
28)
Hot pink and orange nails via 📷nails_and_soul / Instagram
29)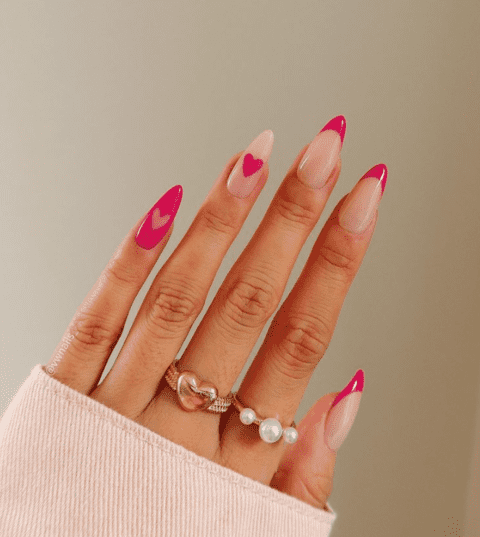 Valentine's Day pink nails with hearts nail art designs via 📷vwnails_ / Instagram
30)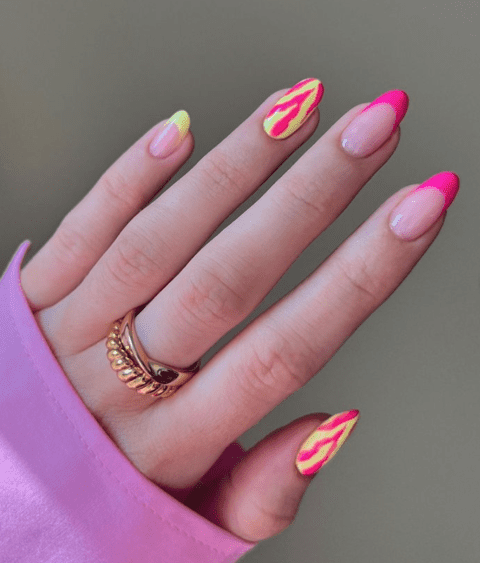 Neon pink and yellow nails via 📷amberjhnails / Instagram
31)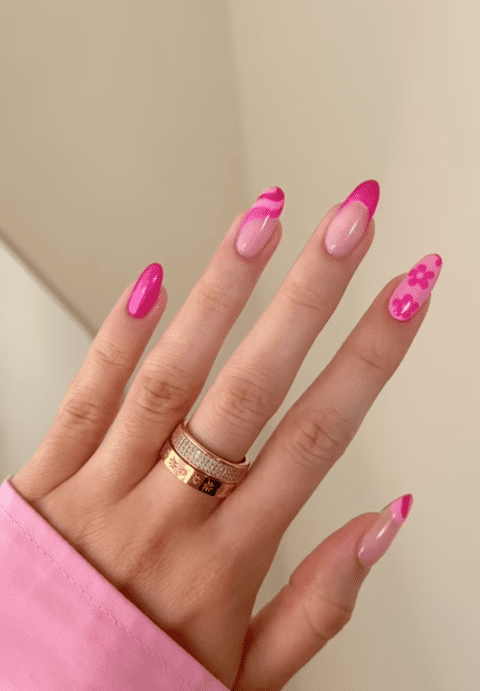 Simple pink nail art via 📷amberjhnails / Instagram
32)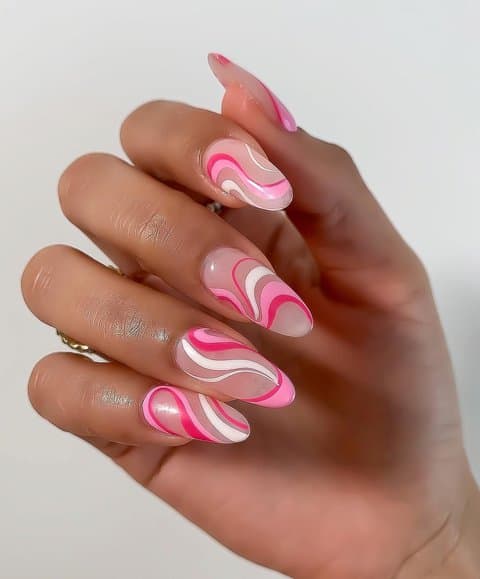 White and pink swirl nails via 📷 nails_and_soul / Instagram
33)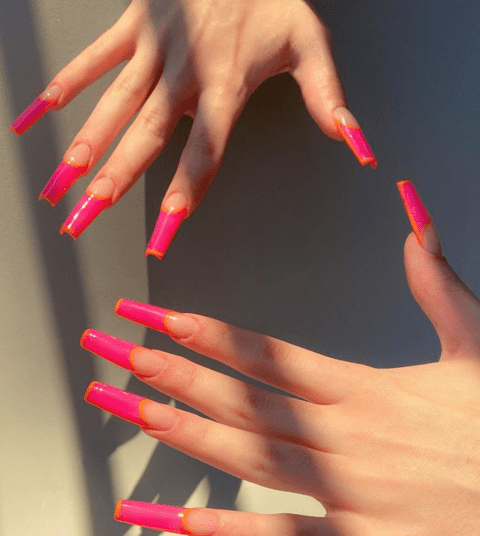 Stunning long hot pink coffin nails via 📷nailbow.skg / Instagram
34)
French tip almond nails via 📷net_nail / Instagram
35)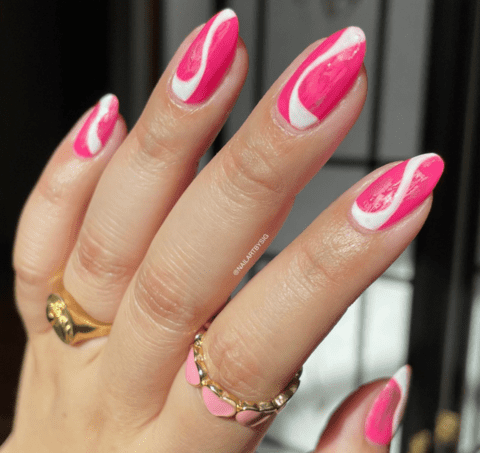 📷nailartbysig / Instagram
36)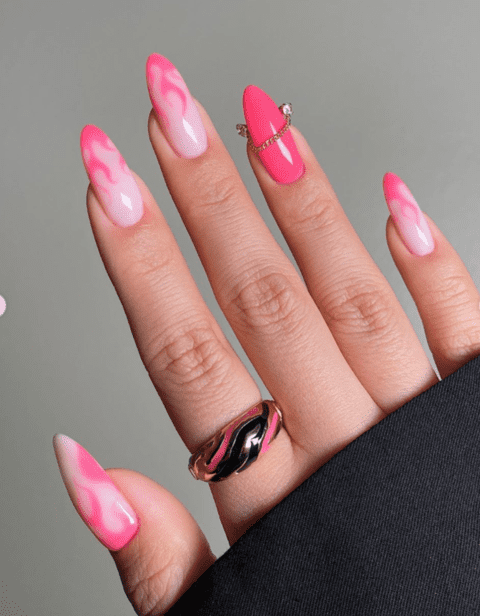 📷sansungnails / Instagram
37)
Summer hot pink nails via 📷 lightslacquer/ Instagram
38)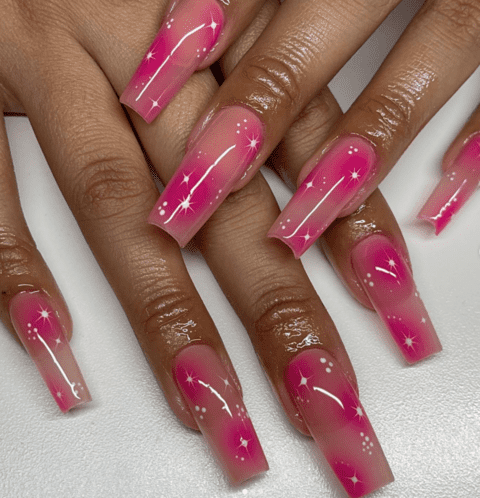 Pink acrylic nails via 📷 amelodyxnails/ Instagram
39)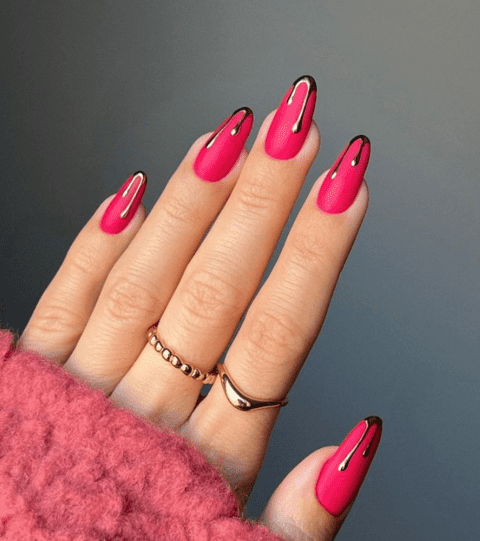 Matte pink nails with silver tips via 📷 heygreatnails/ Instagram
40)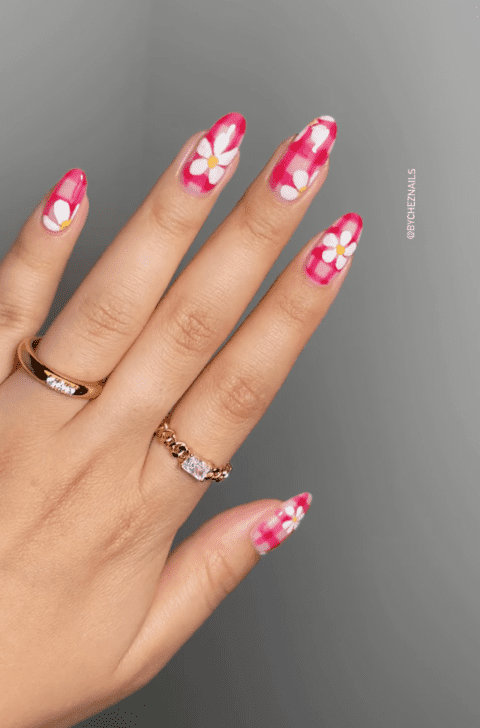 Pink nails with flower nail art designs via 📷bycheznails / Instagram
41)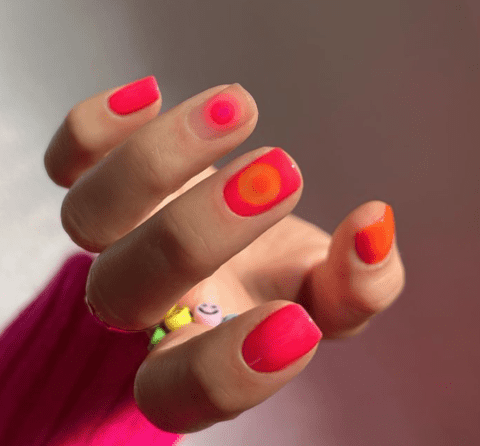 Orange and pink nails via 📷 thehangedit/ Instagram
42)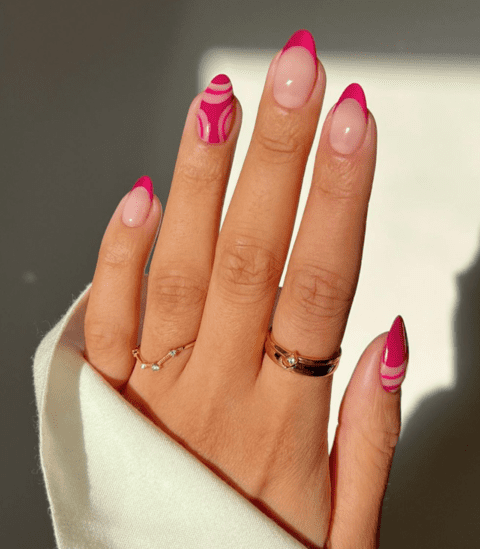 Clear pink nails designs via 📷 iramshelton/ Instagram
43)
Pretty pink ombre nails via 📷lolo.nailedit / Instagram
44)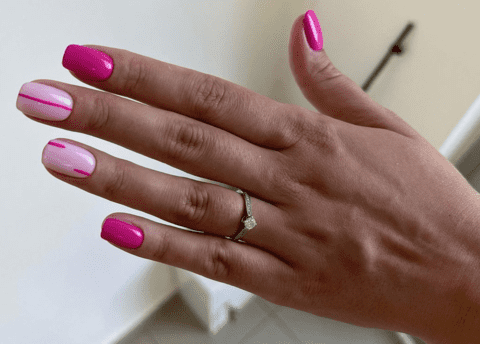 Square tips pink nails via 📷tatjanails / Instagram
45)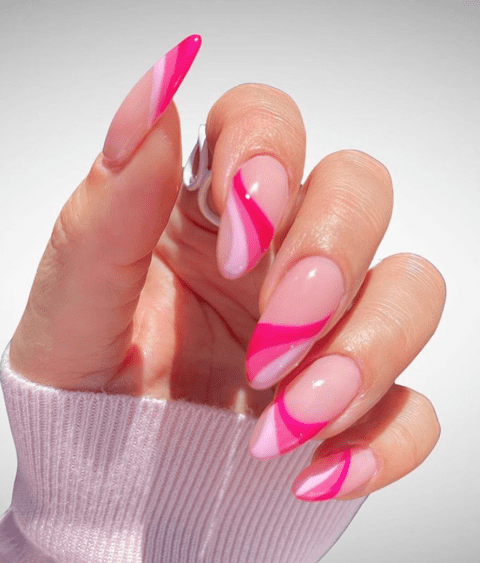 Pink nails with swirl nail art via 📷 artdecom/ Instagram
46)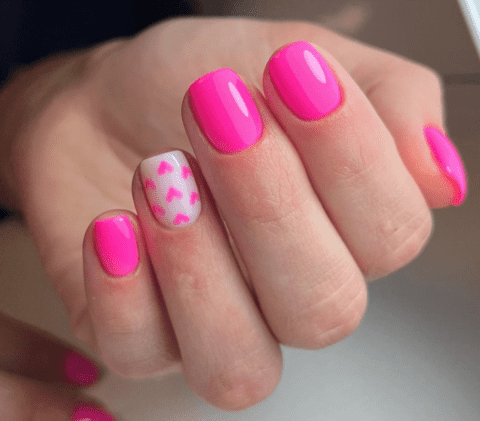 Pink heart nails via 📷gellybeannails / Instagram
47)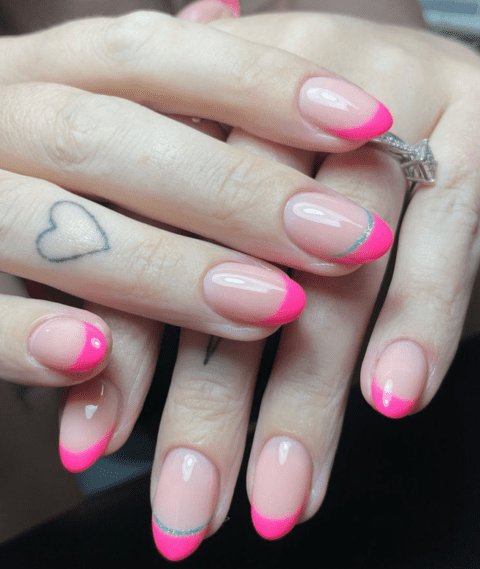 Simple french tips via 📷 reigning_beautyy / Instagram
48)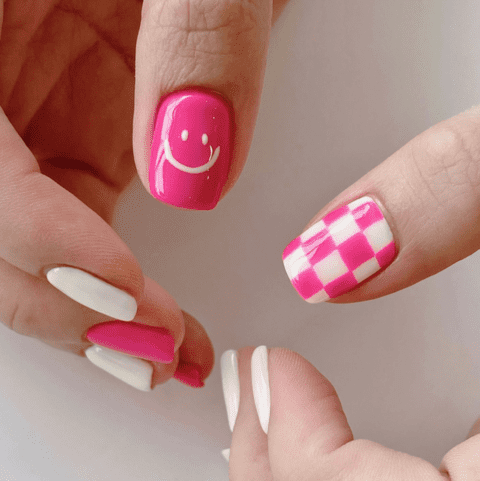 Short pink nails via 📷nailtystudio / Instagram
49)
Almond shape nails via 📷natb.nails / Instagram
50)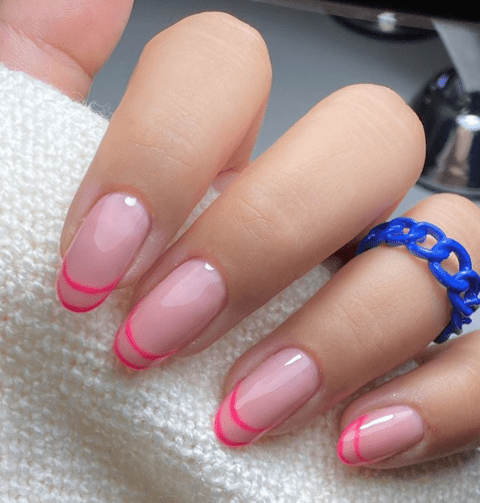 Double French tips via 📷 natb.nails / Instagram