Everyone loves classic French tip manicures. They are classy, polished, and easy to wear. They are the best nails to do when it comes to weddings and formal events. That said, take your nails to the next level when you combine French tips with coffin nail shape.
What are coffin nails?
They are named "coffin nails" because they resemble the shape of a coffin. They are also mostly known as ballerina nails for being long and tapered at the end, with a blunt squared-off tip.
Coffin nails take our classy French tip style to the next level. Coffin nails are also one of the most popular nail trends because they can be so fun and expressive. Celebs such as Kylie Jenner constantly shows off their coffin nail art on Instagram. What we love about the french tip coffin nails is that you can add so many different artwork and colors onto these to make them really fun, expressive, and unique.
There are endless possibilities when it comes to french tip coffin nail designs. You can keep them short and simple with a solid color on the tips, or go for longer lengths with fun creative designs on your acrylic nails. We've rounded up 45 of our favorite french tip coffin nail designs for your next manicure.
1) Wavy and colorful French tip nails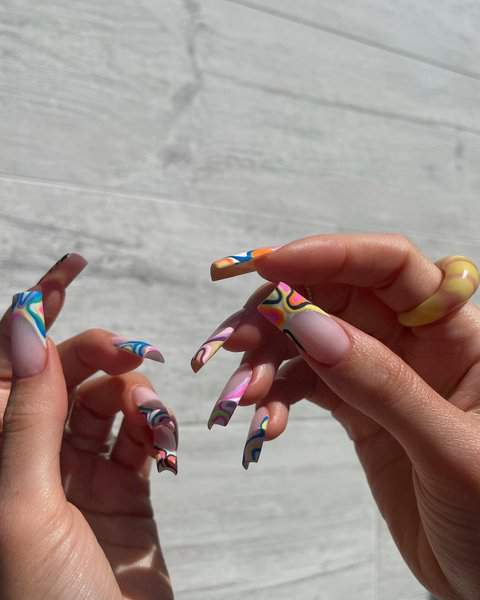 📷 kyliejenner / Instagram
2) Summer inspired long coffin nails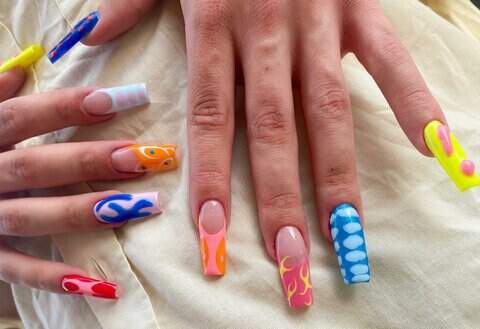 📷 Nailbow.skg / Instagram
3) Simple and classic white coffin French tip nails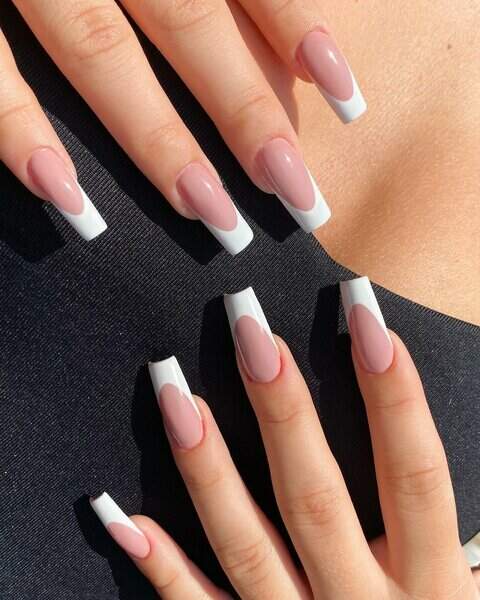 📷 Nailbow.skg / Instagram
4) Black and white coffin nails with animal prints
📷 Nailbow.skg / Instagram
5) Baby blue coffin nails with wave nail art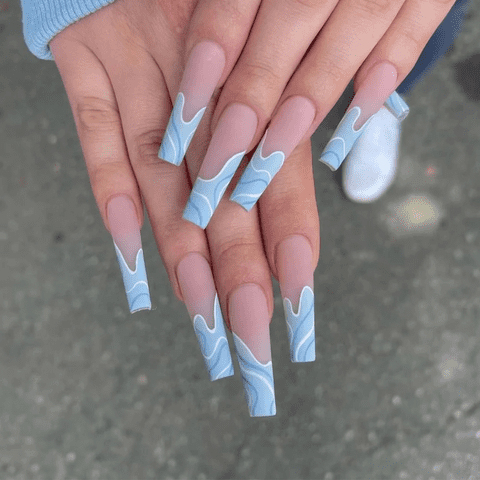 6) Matte nude French tips perfect for Fall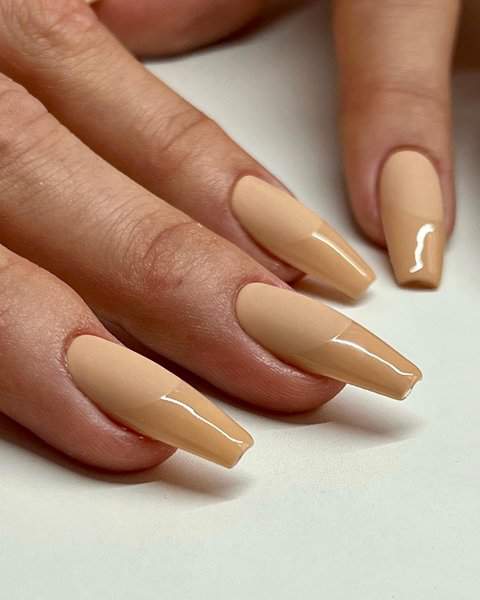 📸Nycnailroom / Instagram
7) Nude French tips with green wave nail art and rhinestones
📸 nycnailroom / Instagram
8) Pink coffin nails with matte pink French tips
📸Nycnailroom / Instagram
9) Blue French tips with marble nail art design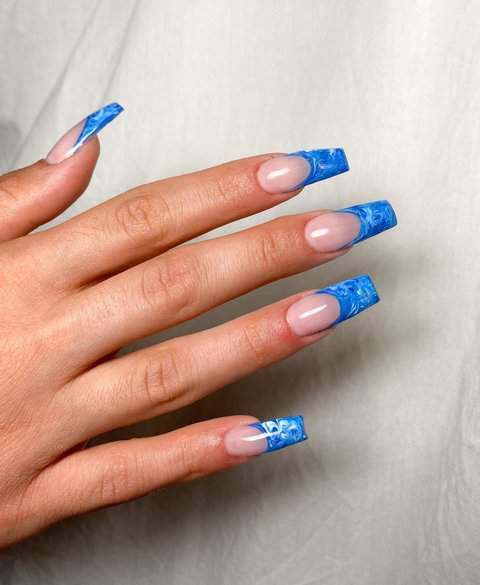 📸nailbow.skg / Instagram
10) Happy nails with colorful French tip nail designs, featuring rainbows and smiley faces
📸nailbow.skg / Instagram
11) Fall French tip nail designs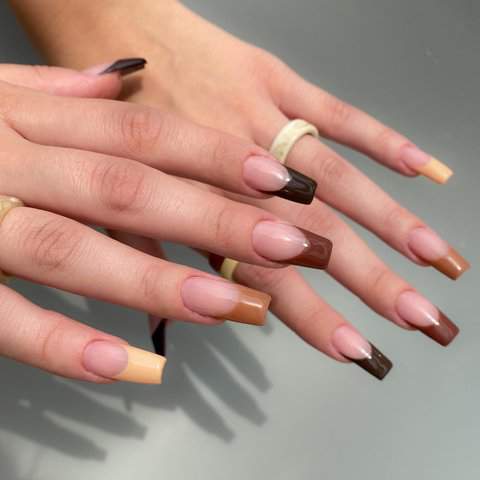 📸nailbow.skg / Instagram
12) Pink French tips with neon orange edges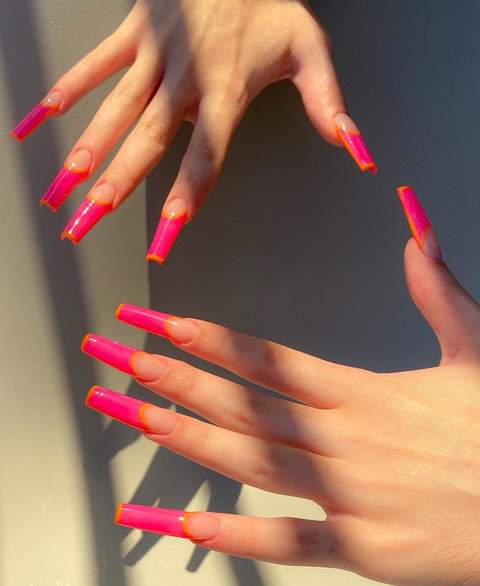 📸nailbow.skg / Instagram
13) White French tip nails with butterflies art
White coffin nails with butterflies, Image and nail art via vwnails.com
14) Cute French tip nail designs with dots, flowers, and hearts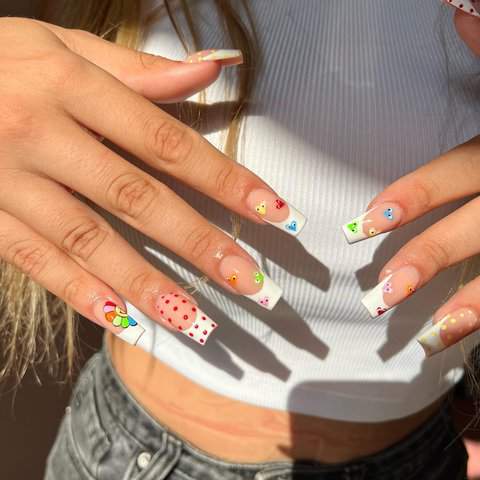 📸net_nail / Instagram
15) Green French tip nails with dots detail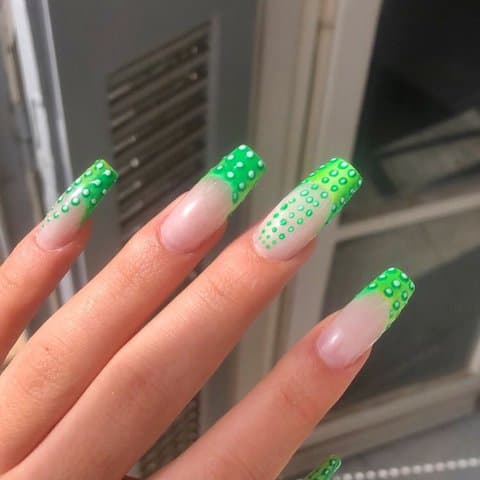 📸net_nail / Instagram
16) Ombre French manicure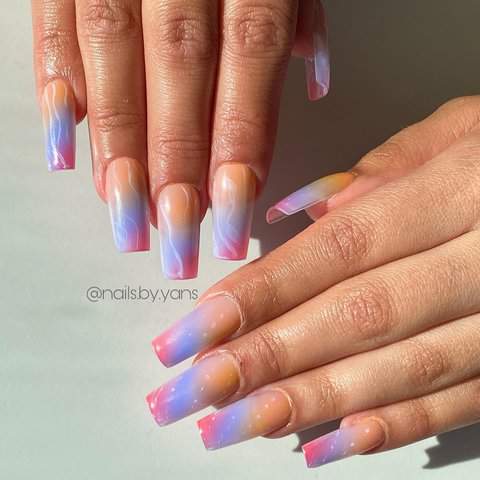 📸nailedbyyans / Instagram
17) Metallic silver manicure with north star designs
📸nailedbyyans / Instagram
18) Long coffin nails with flame designs
19) Cow pattern French tip nails in black and brown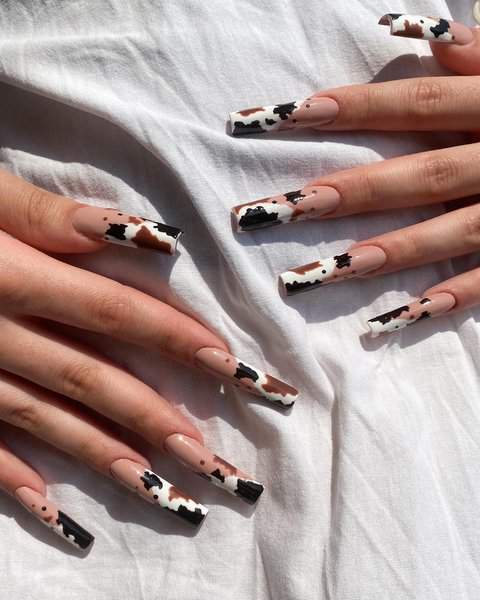 📸nailbow.skg / Instagram
20) Short coffin nails with colorful tips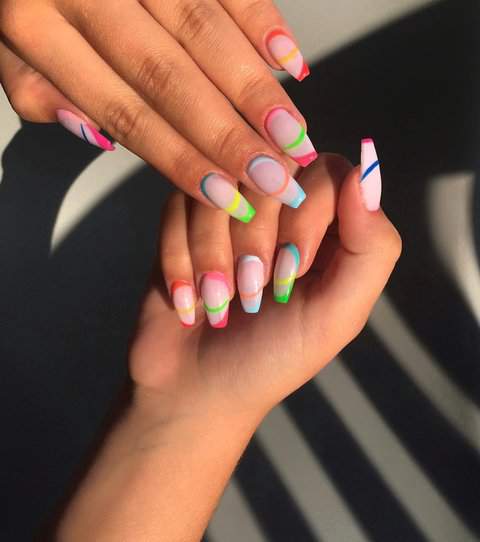 📸nailbow.skg / Instagram
21) Red coffin French tip nails, classic red French manicure
📸net_nail / Instagram
22) Black and white coffin French tips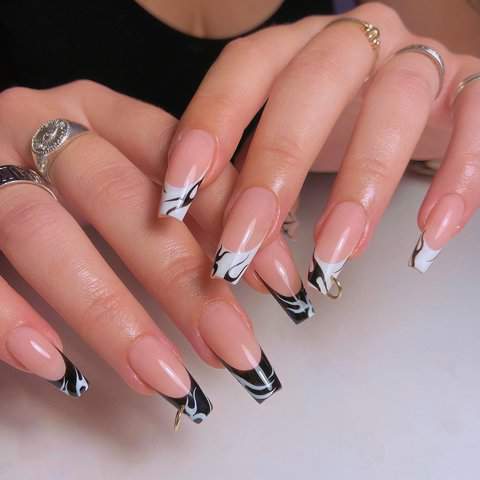 📸3615_zbobinails / Instagram
23) Long coffin nails with orange French tips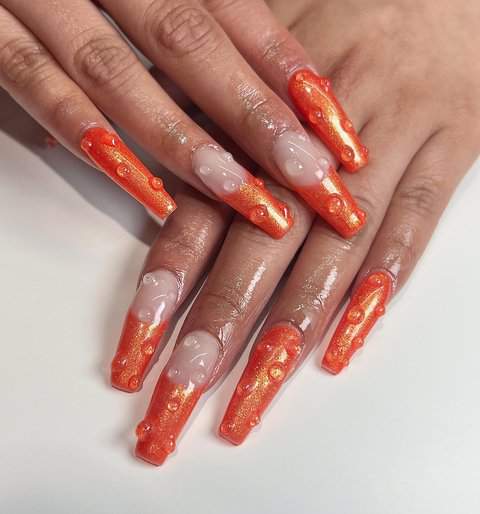 📸 nailedbyyans / Instagram
24) Medium coffin nails with blue French tips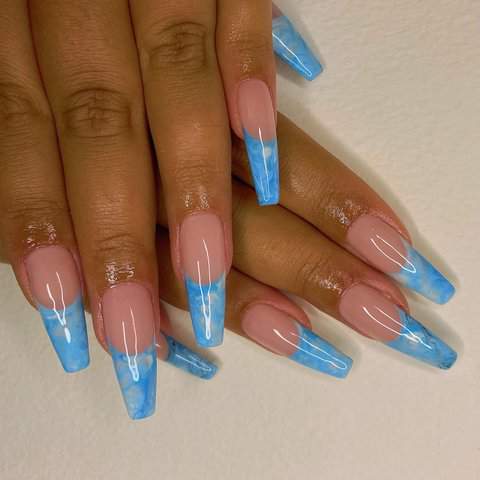 📸3615_zbobinails / Instagram
25) Medium coffin nails with black French tips
📸prettynailssmatter / Instagram
26) Orange French tip with flower designs and rhinstones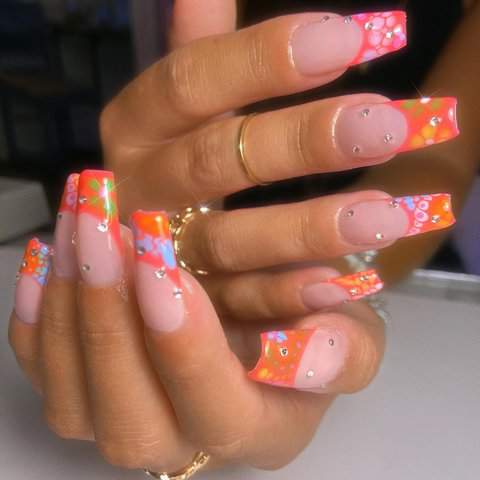 Orange gel coffin nails via 📸3615_zbobinails / Instagram
27) Pink coffin nails with butterfly designs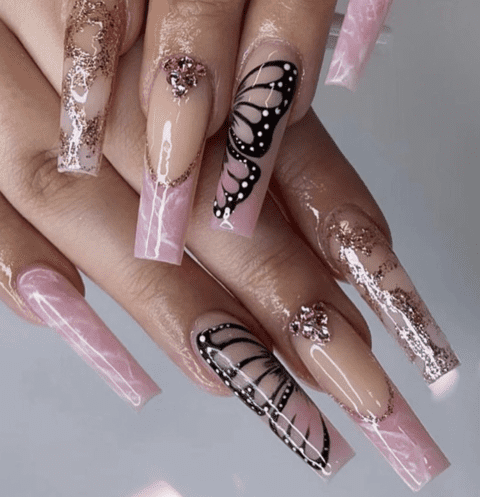 📸PurpleDoorArtisans / Etsy
28) Nuded French tip nails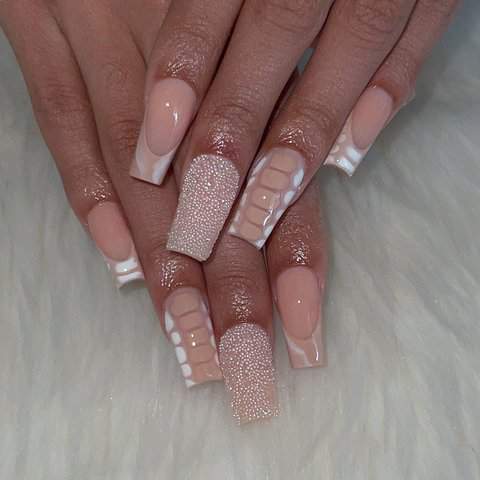 📸prettynailssmatter / Instagram
29) Simple white coffin French tip nails with rhinestones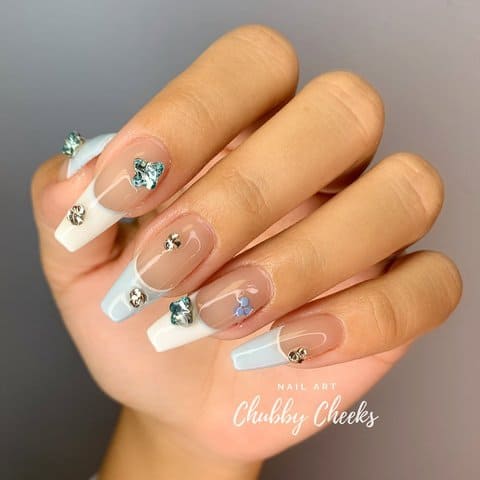 📸chubbycheeksnails / Instagram
30) Coffin fall nails in black and green
Coffin press-on nails via 📷 nailmailbykhlo / Instagram
31) Brown French tip nails with flower designs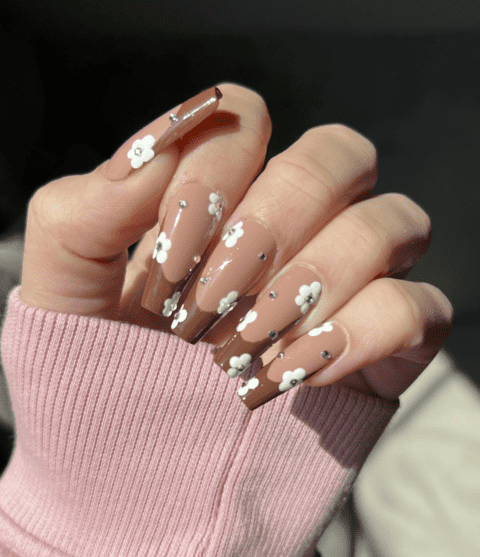 📸 moonlightnailstudio / Etsy
32) Purple French tip nails
📸moonlightnailstudio / Etsy
33) White coffin nails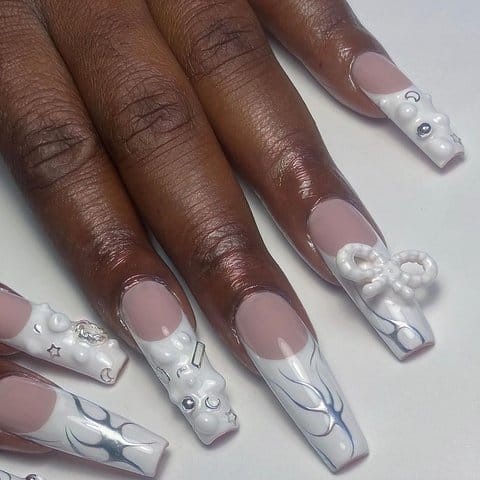 📷3615_zbobinails / Instagram
34) Pink ombre coffin nails with rhinestones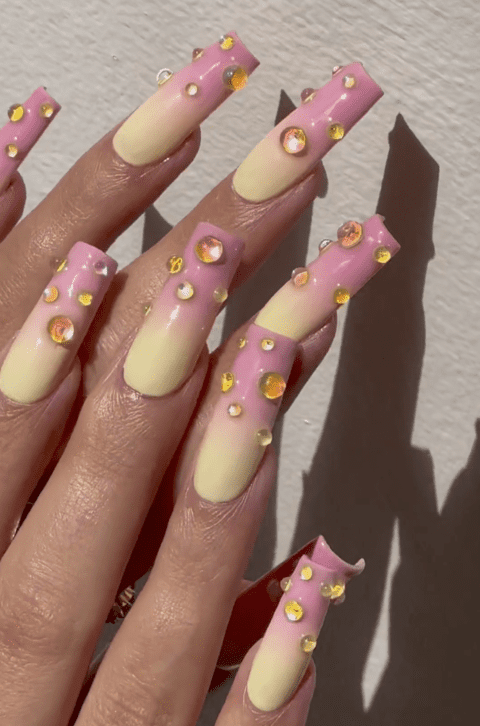 📷 nycnailroom / Instagram
35) Black and nude short coffin nails
Image and nail art via iramshelton.com
36) Medium pink coffin French tip nails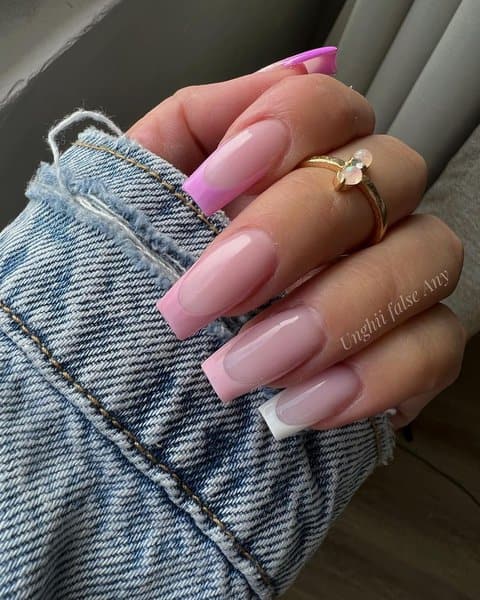 📸Unghiiany / Instagram
37) Short coffin nails with light blue French tips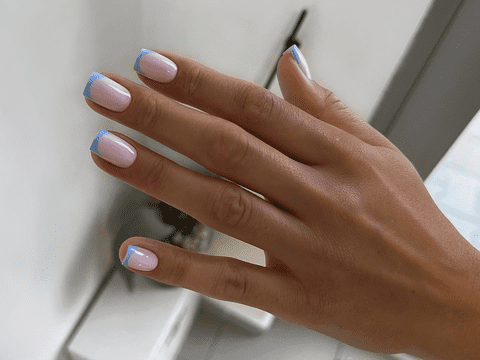 Image and nail art via tatjanails.be
38) Wavy Frency tip nails in white and brown
Image and nail art via thegelbottle.com.au
39) Purple glitter French tip nails
📸Unghiiany / Instagram
40) V French tip coffin nails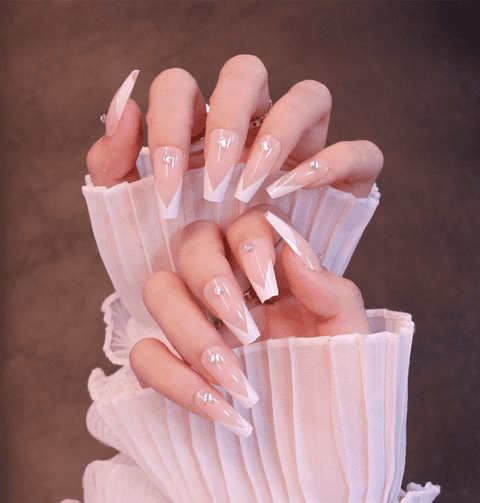 📷GorgeousKKnails / Etsy
41) Glitter French tip coffin nails
📸mn_nailhouse_melissatosun / Instagram
42) Short purple coffin nails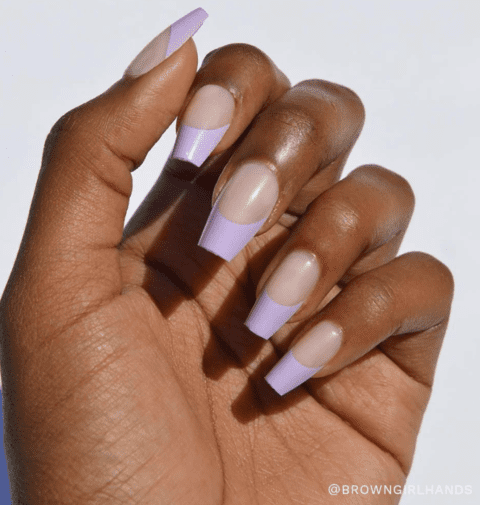 Coffin nails with purple french tips Image and nail art via Glamnetic
43) Orange coffin nails for the ultimate summer mani
📷 kyliejenner / Instagram
44) Classic French manicured nails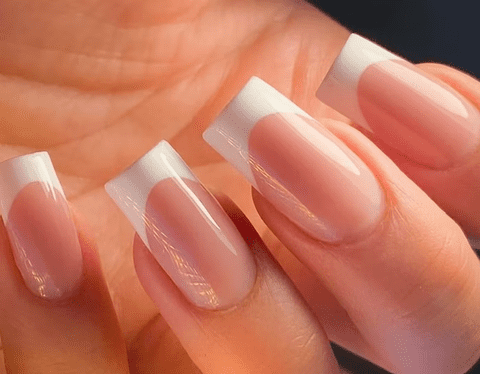 Image and nail art via nailpro.com
45) White coffin French tip nails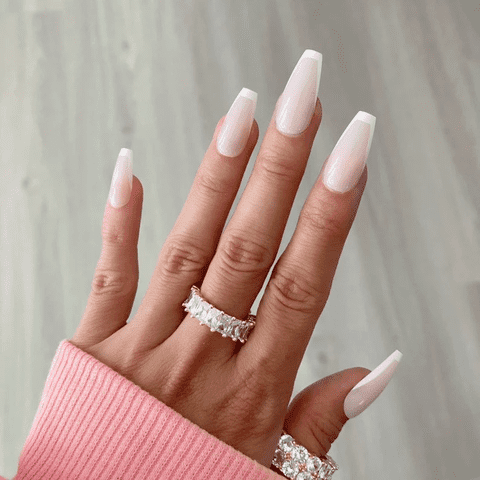 Image and nail art via etsy.com