Baby blue is a soft, pastel, and delicate azure shade that can be worn in so many different ways, making baby blue nails super popular. It is playful for winter months and also refreshing for spring and summer. You can wear baby blue nails all year round like royal blue and light blue nails. The baby blue shade is perfect for creating fun and flirty designs.
Baby Blue Nail Idea #1 – Cute Polka Dots And Swirls
For a baby blue nail art design that is a little bit more fun and flirty, try adding dots and swirls to your nails. Paint your nails with a light blue polish, and then use a dotting tool to add small dots of white polish all over the nails. This design is perfect for airy summer days and will make your nails look extra cute and cheerful.
Baby Blue Nail Idea #2 – Glitter And Crystals
If you want your nails to stand out with your light blue shade, we recommend adding glitter and crystals to your nails to make them sparkle. Paint your nails with a light blue polish, and then use a thin brush to add some white polish around the edges of each nail. Once the polish is dry, apply a layer of clear glitter polish over the top.
Baby Blue Nail Idea #3 – Blue Skies And Cute Clouds
When it comes to this color, clouds and skies are a trend that you'll see all over social. Not only are cloud nails the coolest trend for winter, they are also perfect for summer as well! This is a design you can wear all year round.
There are so many ideas and below we've showcased 42 stunning baby blue nail designs that you can try out.
1)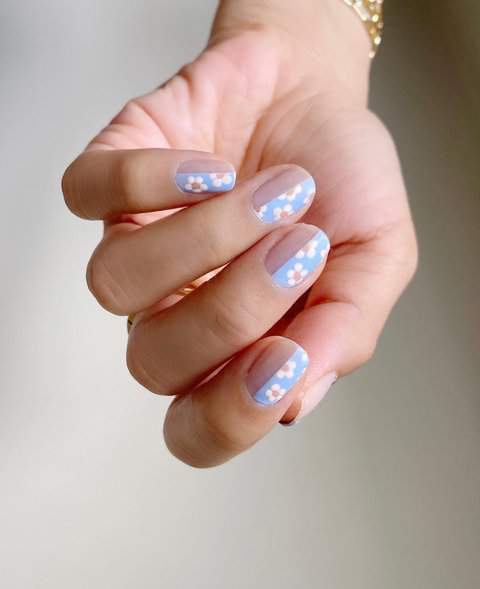 📷 thehangedit / Instagram
2)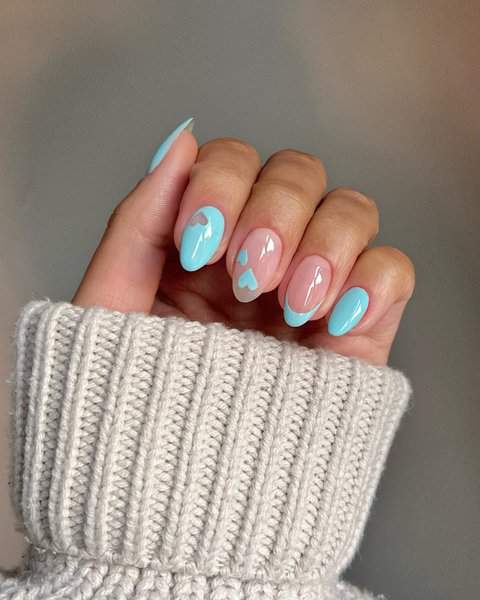 📷 iramshelton / Instagram
3)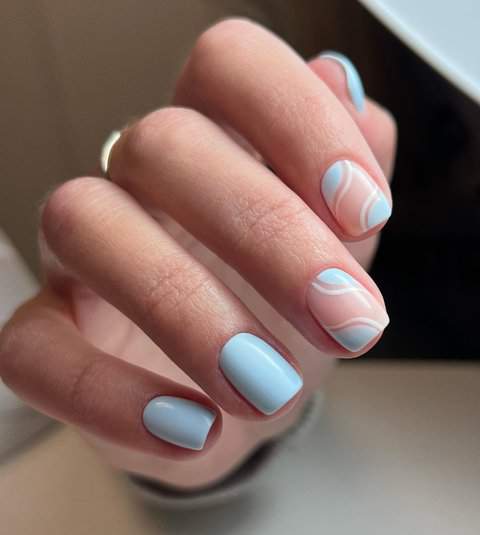 📷 gellybeannails / Instagram
4)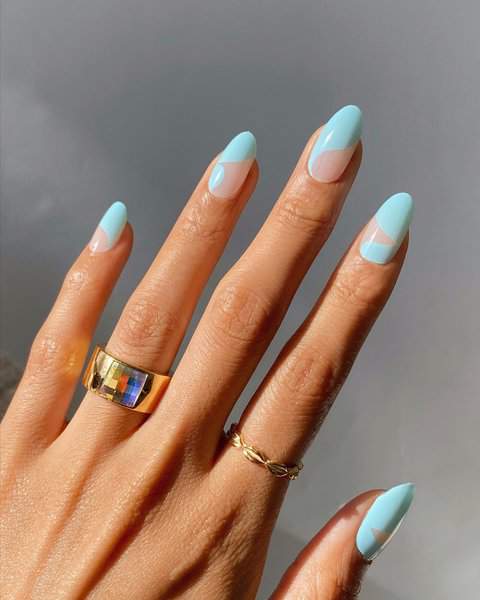 📷 overglowedit / Instagram
5)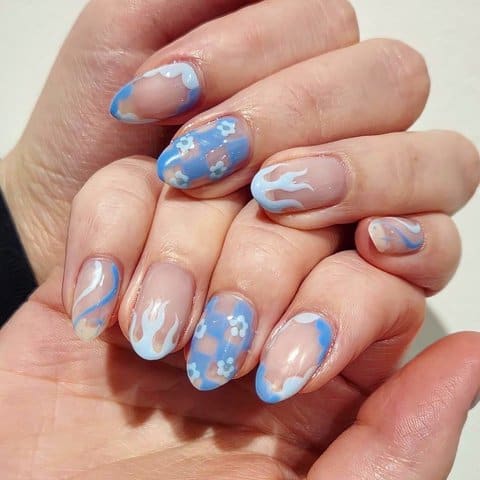 📷 paintbucketnails / Instagram
6)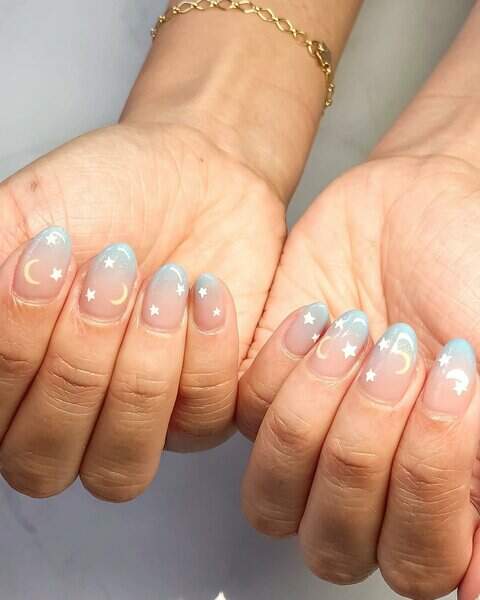 Baby blue nails with moons and stars via 📷 vwnails_ / Instagram
7)
Baby blue and white nails via 📷 mydumbnails / Instagram
8)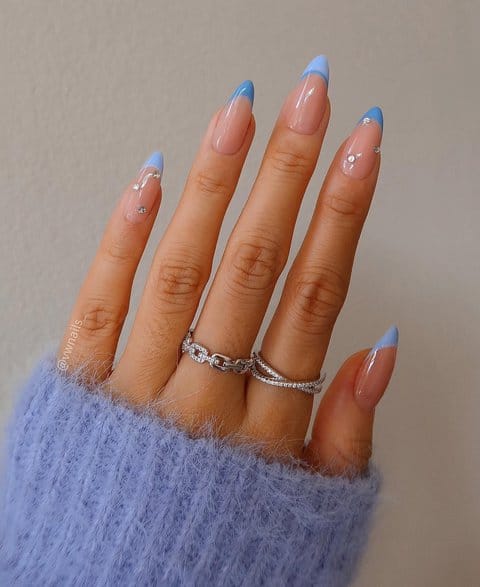 Blue french tip nails via 📷vwnails_ / Instagram
9)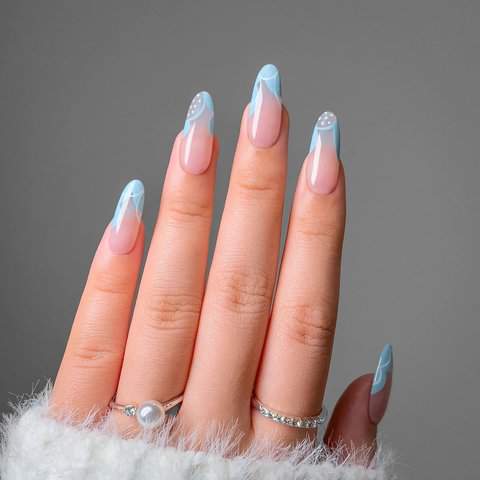 Icy baby blue nails with nail art designs via 📷nail.art.by.tea / Instagram
10)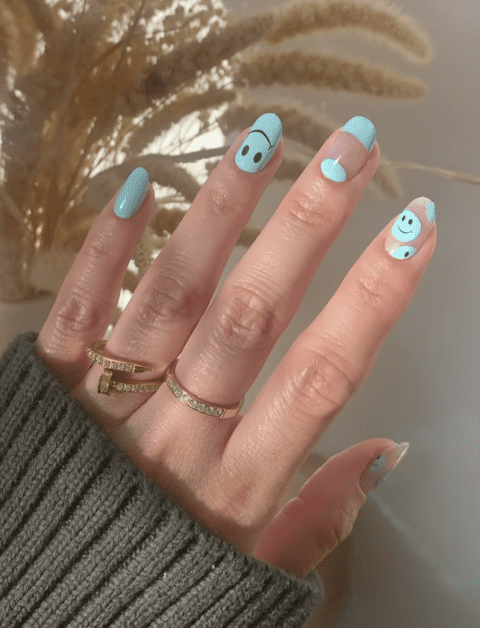 Baby blue nails with smiley faces via 📷nails_and_soul / Instagram
11)
Baby blue nails with flowers via 📷thehangedit / Instagram
12)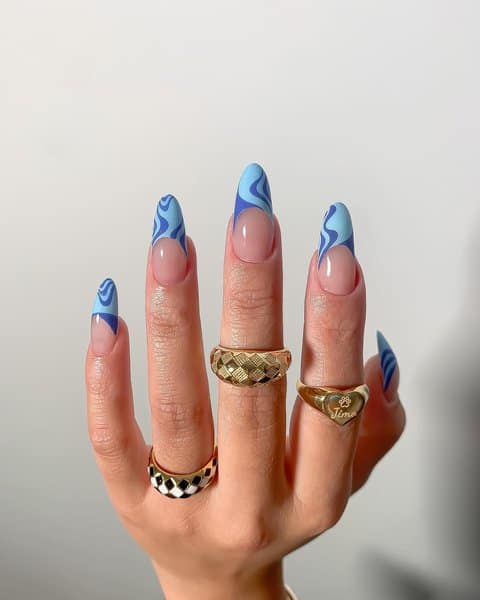 Baby blue nails with swirl french tips via 📷nails_and_soul / Instagram
13)
📷safinailstudio / Instagram
14)
Short french tip nails via 📷alyshanailartist / Instagram
15)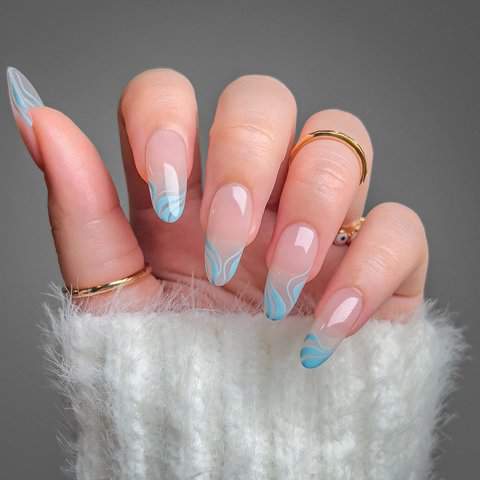 📷nail.art.by.tea / Instagram
16)
Baby blue Christmas nails with snowflakes via 📷heluviee / Instagram
17)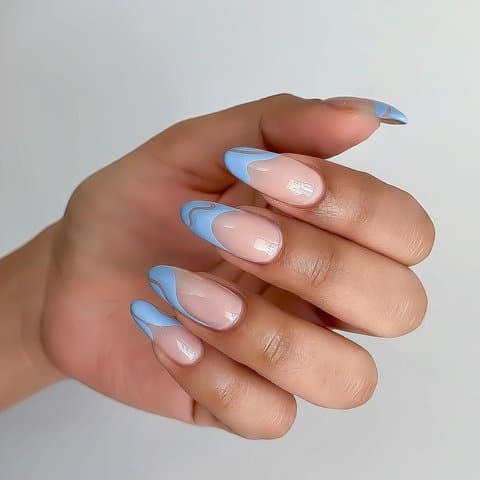 📷nails_and_soul / Instagram
18)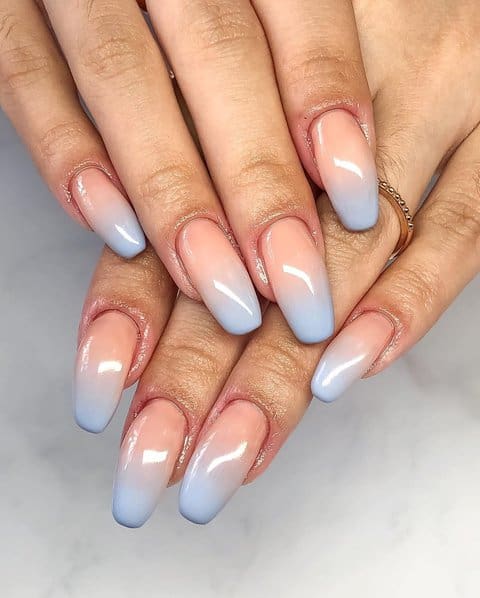 Baby blue ombre nails via 📷vwnails_ / Instagram
19)
Baby blue almond nails with sky designs via 📷amyle.nails / Instagram
20)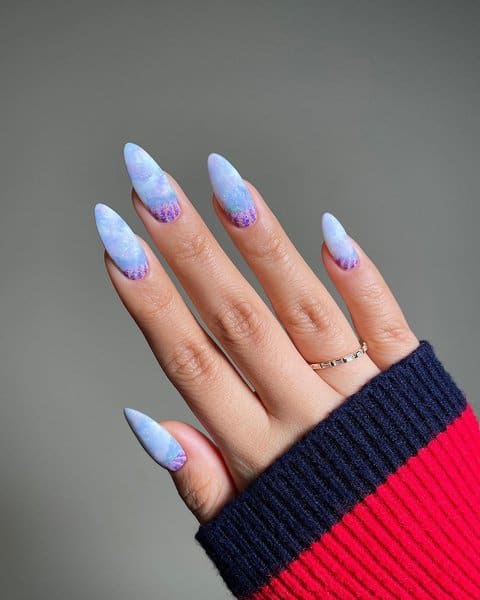 Baby blue nails and purple ombre nails via 📷sansungnails / Instagram
21)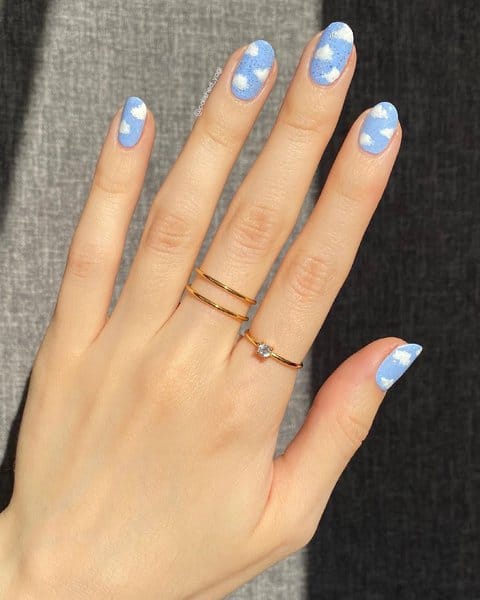 Cute baby blue nails with clouds designs via 📷polished_yogi / Instagram
22)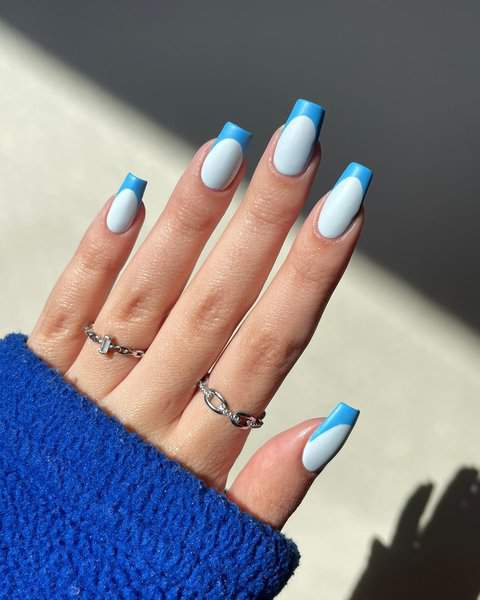 Matte baby blue nails via 📷kuypernailart / Instagram
23)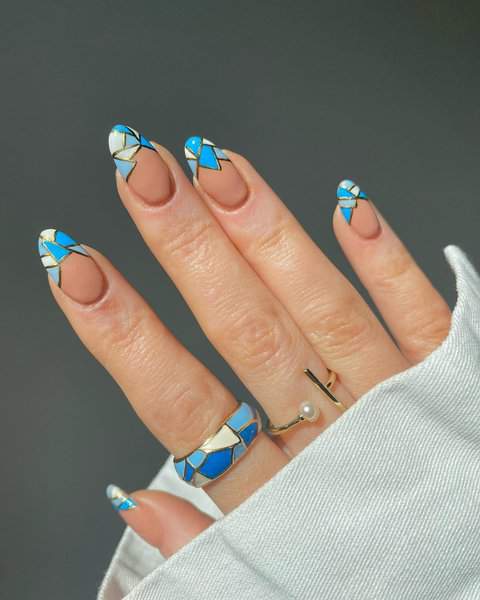 📷_karebeauty_ / Instagram
24)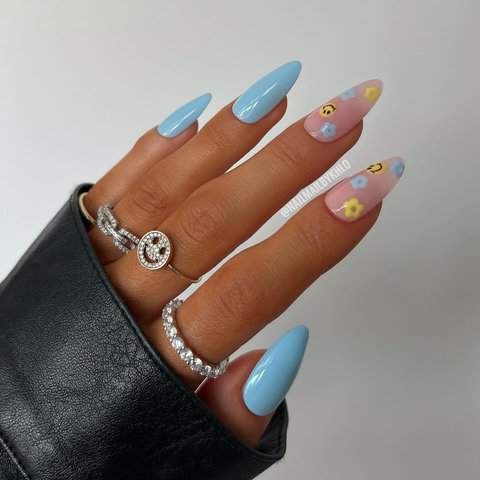 📷nailmailbykhlo / Instagram
25)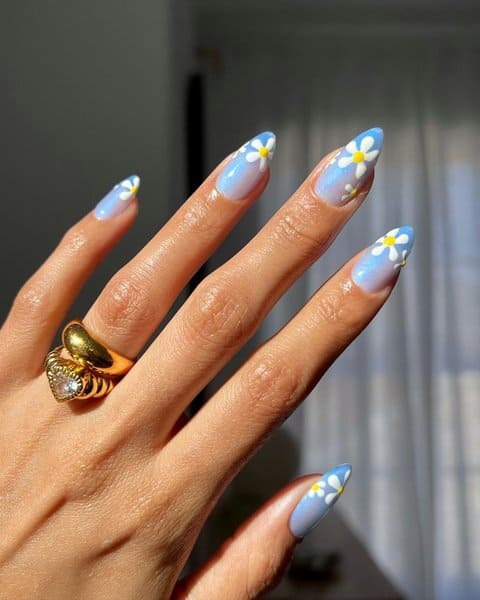 Baby blue chrome nails with flowers via 📷overglowedit / Instagram
26)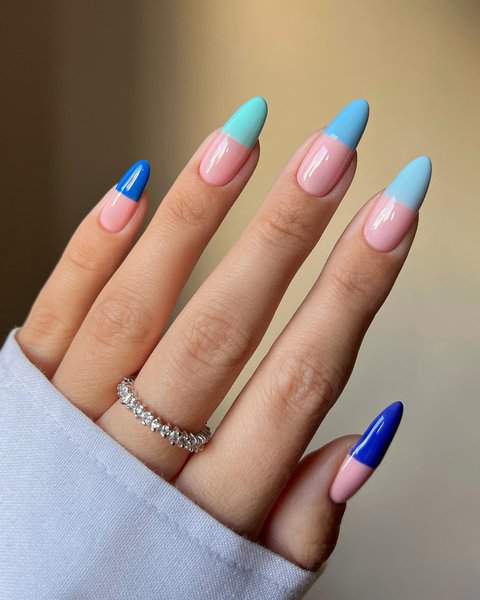 📷tiffanyabbigailebeauty / Instagram
27)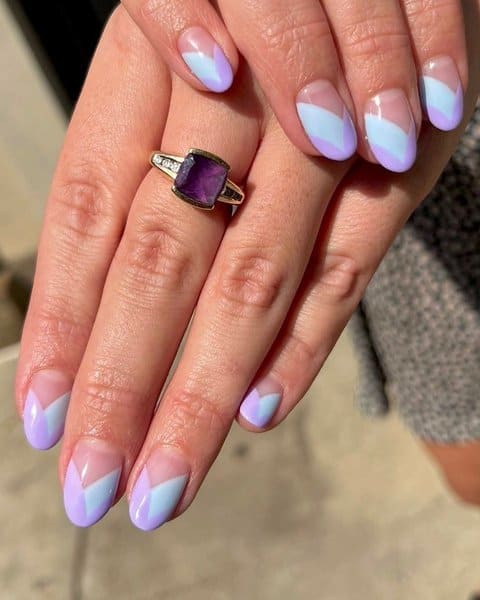 📷paintboxnails / Instagram
28)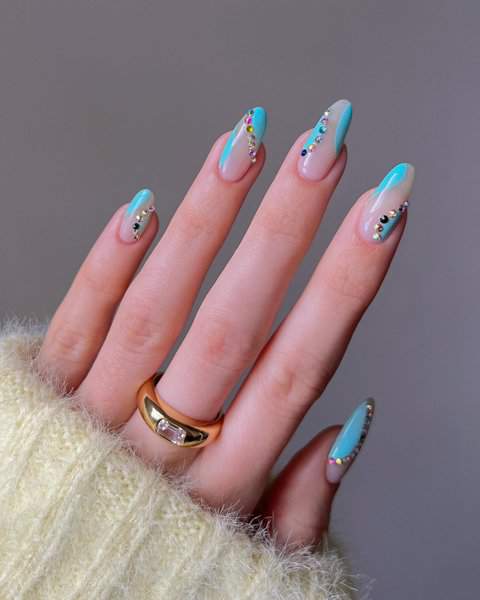 📷amberjhnails / Instagram
29)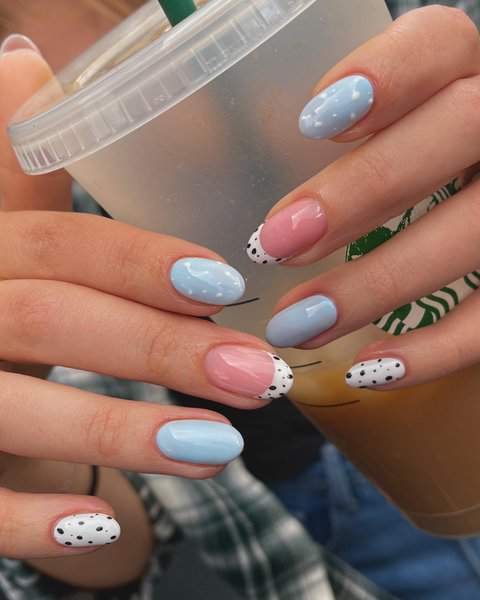 📷manisbyannie / Instagram
30)
Baby blue nails with checkerboard patterns via 📷paintbucketnails / Instagram
31)
📷Wafiyah / Etsy
32)
Baby blue coffin nails with glitter via 📷 YasmenaNailCo / Etsy
33)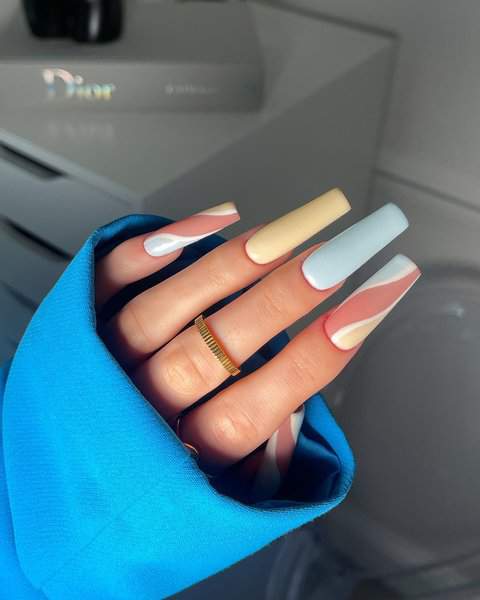 Baby blue and yellow coffin nails via 📷alyshanailartist / Etsy
34)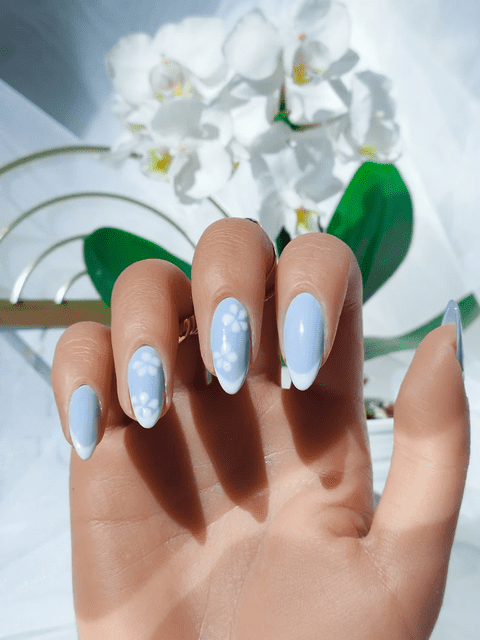 Baby blue nails with flower nail art designs via 📷FinalTouchNails / Etsy
35)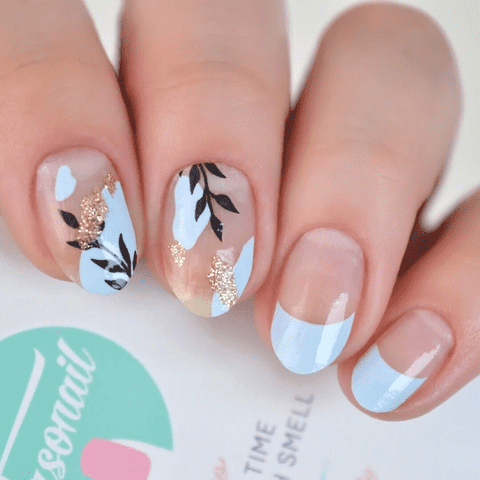 📷NailWrapShop / Etsy
36)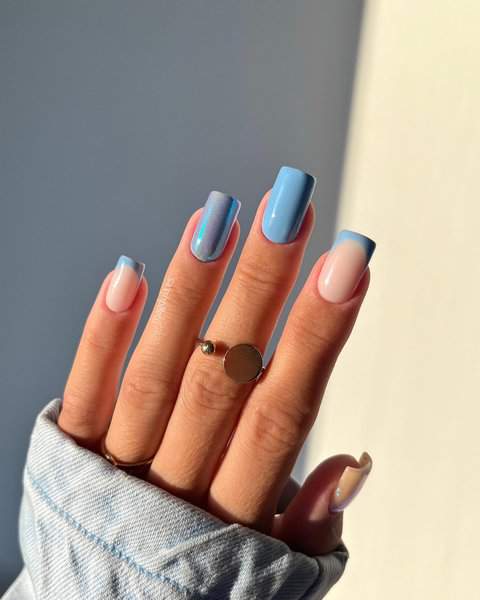 French tip, glitter, baby blue nails via 📷 magdula.es / Instagram
37)
Baby blue nails with butterflies via 📷 minea.nails / Instagram
38)
Baby blue nails with glitter via 📷 hernameskyle / Instagram
39)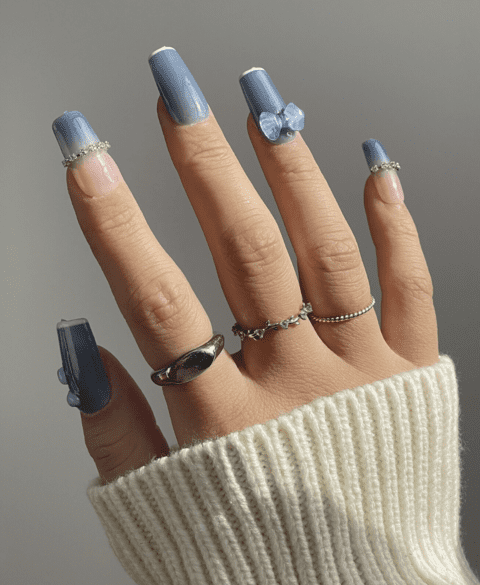 Blue ombre nails, jelly blue rhinestone press on nails with bow via 📷 PressedSoul / Etsy
40)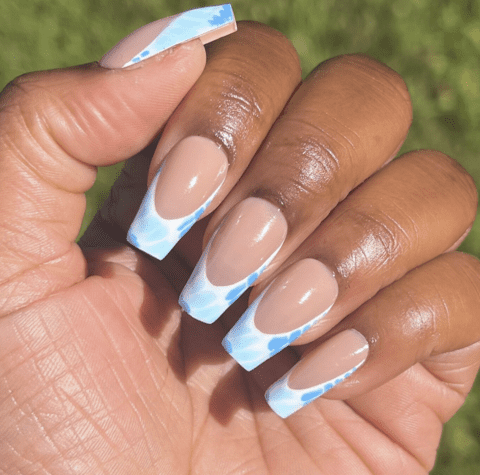 Baby blue French tip nails via 📷 shopbyasianails / Etsy
41)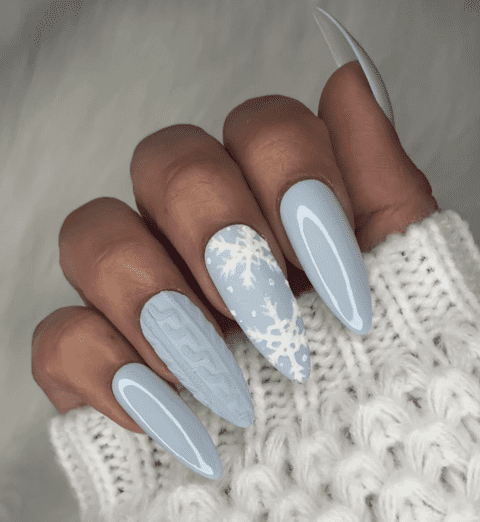 Baby blue Christmas nails via 📷Etsy Seller JessiClawsShop
42)
Baby blue nails with clouds via 📷safinailstudio / Instagram