Flower nails are a fun and flirty way to spruce up your manicure and add a touch of playfulness.
Flower nails can also be styled in dozens of different ways, from simple pastel flowers to intricate bouquets- press on nails are your friend here. This trend has also been seen on so many celebrities including Kourtney Kardashian, Blake Lively, and Dua Lipa!
One of the advantages of flower nail designs is that they are perfect for any season. Bright and bold flowers are perfect for the spring and summer months, while more muted tones are great for the fall and winter. You can even mix and match different flower designs to create a unique and personalized look.
However, there are also some disadvantages to consider when it comes to flower nail designs. One of the biggest drawbacks is that they can be quite time-consuming and require a steady hand to create the intricate designs. This can make them a bit challenging for those who are new to nail art.
In addition, flower nail designs can also be quite delicate and may require regular touch-ups to maintain their integrity. If you're someone who is always on the go and doesn't have a lot of time to devote to your nails, flower designs may not be the best option for you.
Despite these drawbacks, flower nail designs are still a popular choice among many women. We curated 100 prettiest flower nail designs below for you, and here are some ideas that the trending all over social media in the nail community!
Daisy Nails
For a girly and summer look, create your own daisy nails. You can use either press-ons with daisies or paint them on yourself by starting with the center yellow dot and then dotting white petals around. You'll be surprised how easy this is to do!
French Tip Flower Nails
This is a fun and easy way to dress up your nails for any occasion while keeping your nails classy with pretty French tips. Simply paint your nails with a solid color of your choice and then add flowers to the tips.
Rose Nails
Rose nails are classic and beautiful. You can either paint them on or use press-ons. To get the look, start with a pink base and then add white petals around the outside.
Pink Flower Nails
We are seeing this the most amongst flower nails. Pink is simply a go-to color when it comes to anything floral and there are so many different nail art designs you can try across coffin nails, almond nails, short nails, and stiletto nails. Check out some of our favorites below.
Other Flower nail ideas:
– Use different colors and sizes of flowers for a vibrant look
– Get your birth flowers drawn on your nails
– Try clear nails with flowers
– Add leaves or vines for extra detail
– Go for a more rustic look with wildflowers
– Use floral press-on nails for a quick and easy solution
There are endless possibilities when it comes to flower nails. So have fun and experiment with different flower colors and styles!
1)
Intricate flower design nails via 📷 amyle.nails / Instagram
2)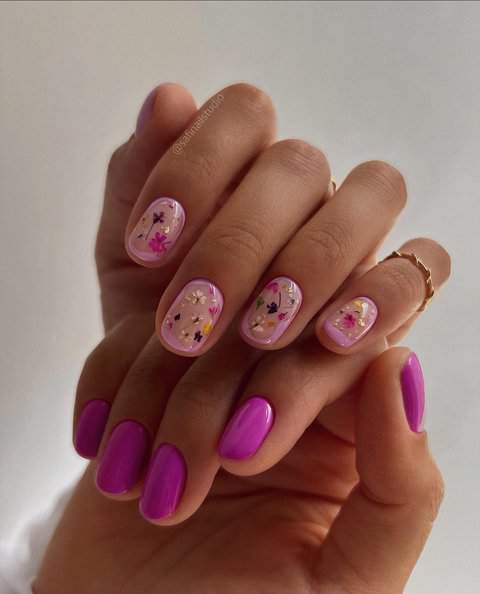 📷 safinailstudio / Instagram
3)
📷 nails_and_soul / Instagram
4)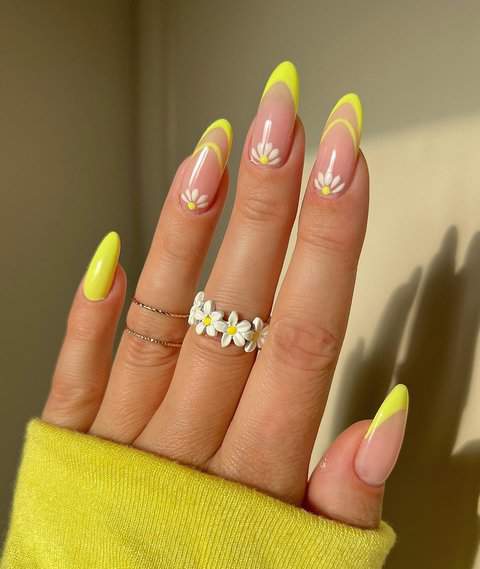 5)
📷 thehangedit / Instagram
6)
📷 safinailstudio / Instagram
7)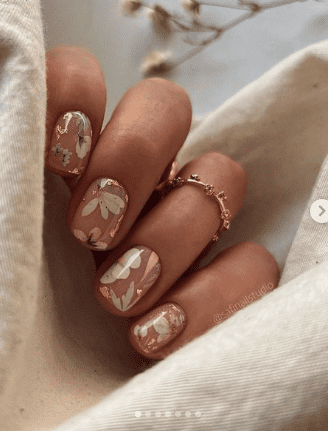 📷safinailstudio / Instagram
8)
📷 emenstudio_ / Instagram
9)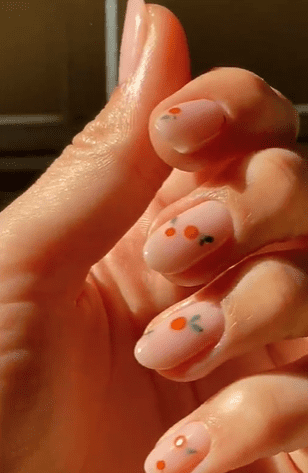 📷 emenstudio_ / Instagram
10)
📷nailartbychlo / Instagram
11)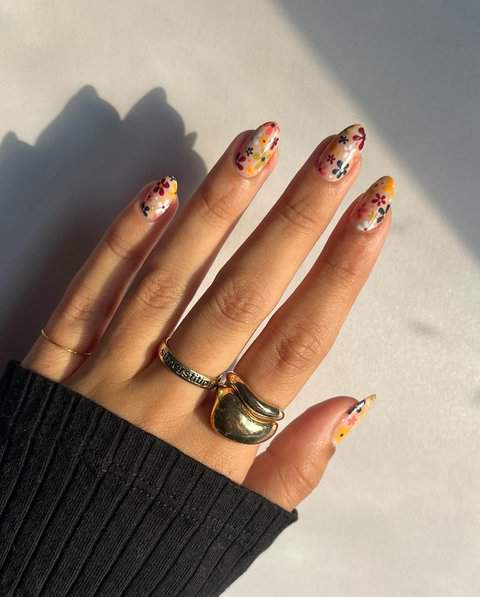 📷samrosenails / Instagram
12)
📷nailsbysmf / Instagram
13)
📷 nailsbysmf / Instagram
14)
📷samrosenails / Instagram
15)
📷overglowedit / Instagram
16)
📷paintbucketnails / Instagram
17)
📷paintbucketnails / Instagram
18)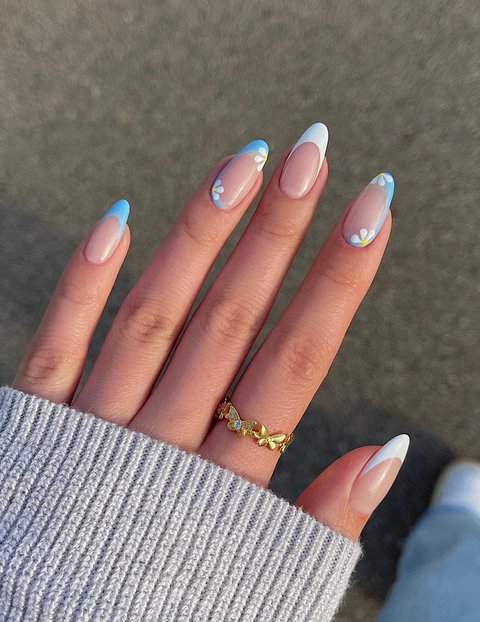 📷heluviee / Instagram
19)
Simple flower nails with pink French tips via 📷heluviee / Instagram
20)
📷vwnails_ / Instagram
21)
📷vwnails_ / Instagram
22)
📷ninanailedit / Instagram
23)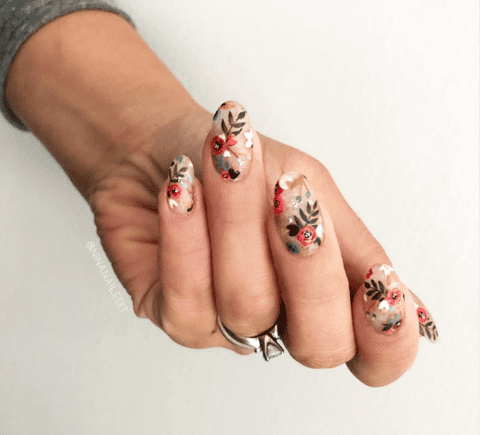 Flower nail stickers via 📷ninanailedit / Instagram
24)
Spring flower nails via 📷amberjhnails / Instagram
25)
Pink flower nails via 📷amberjhnails / Instagram
26)
📷nycnailroom / Instagram
27)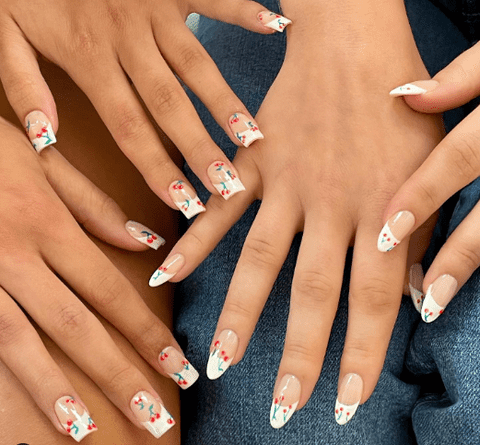 📷nycnailroom / Instagram
28)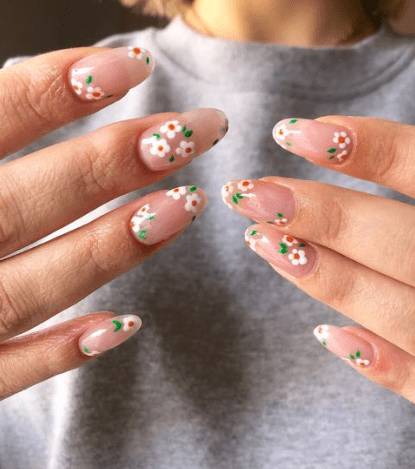 📷net_nail / Instagram
29)
📷net_nail / Instagram
30)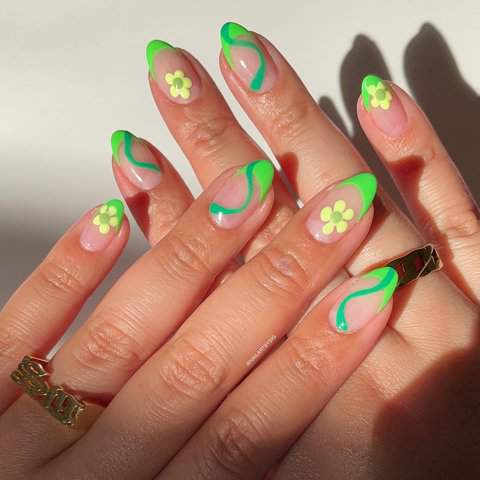 📷nailartbysig / Instagram
31)
📷nailartbysig / Instagram
32)
📷sansungnails / Instagram
33)
📷 sansungnails/ Instagram
34)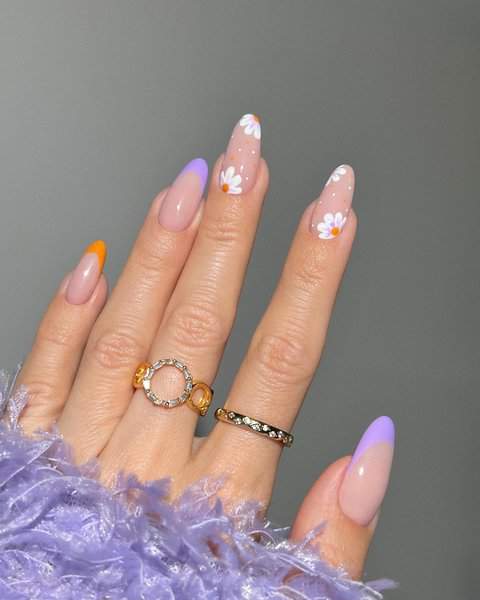 📷 heygreatnails / Instagram
35)
📷lightslacquer / Instagram
36)
📷amelodyxnails / Instagram
37)
White nails with flowers via 📷 /amelodyxnails Instagram
38)
📷heygreatnails / Instagram
39)
📷heygreatnails / Instagram
40)
📷polished_yogi / Instagram
41)
Simple flower nail art via 📷polished_yogi / Instagram
42)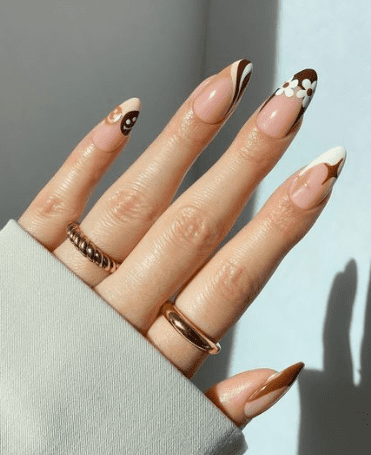 📷disseynails / Instagram
43)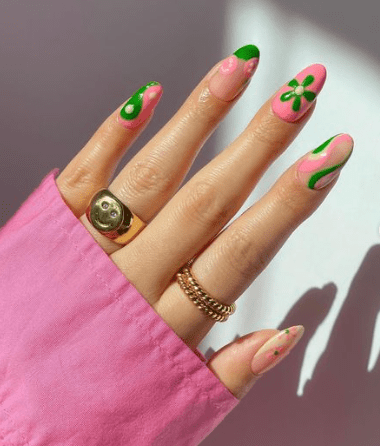 📷disseynails / Instagram
44)
📷willow.nails / Instagram
45)
📷willow.nails / Instagram
46)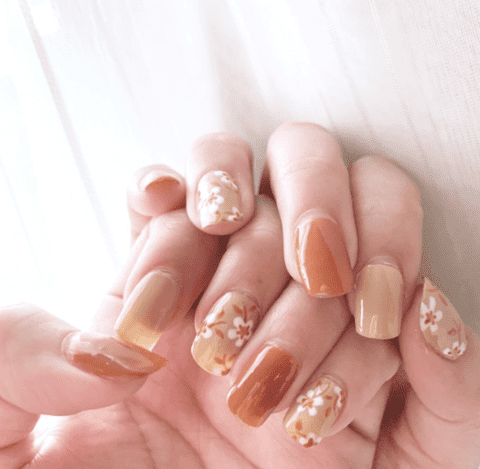 📷 willow.nails / Instagram
47)
📷 gel.bymegan / Instagram
48)
Summer flower nails via 📷bycheznails / Instagram
49)
📷melanated.mani / Instagram
50)
📷betina_goldstein / Instagram
51)
📷betina_goldstein / Instagram
52)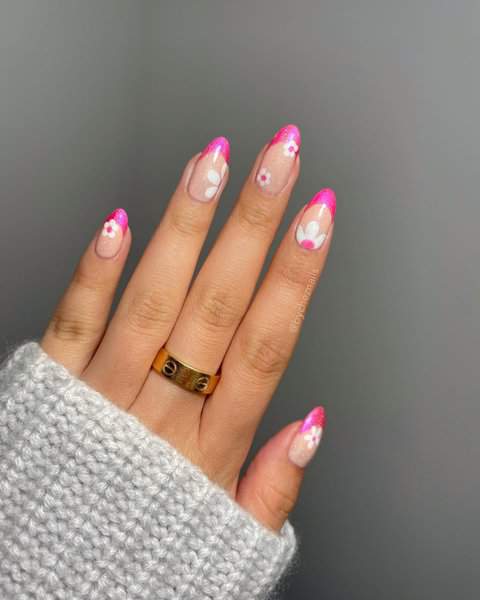 📷bycheznails / Instagram
53)
Orange flower nails via 📷bycheznails / Instagram
54)
📷thehangedit / Instagram
55)
Blue flower nails via 📷thehangedit / Instagram
56)
📷iramshelton / Instagram
57)
Sunflower nails via 📷iramshelton / Instagram
58)
📷bycheznails / Instagram
59)
📷lolo.nailedit / Instagram
60)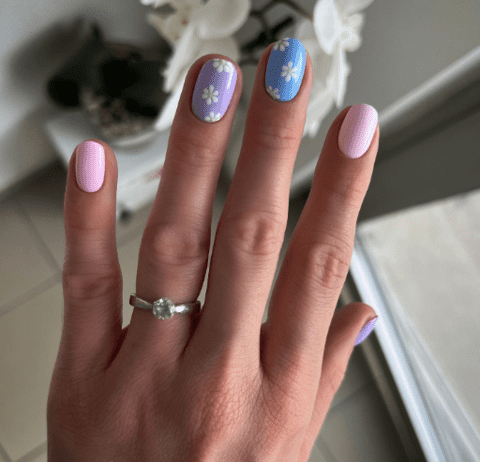 📷tatjanails / Instagram
61)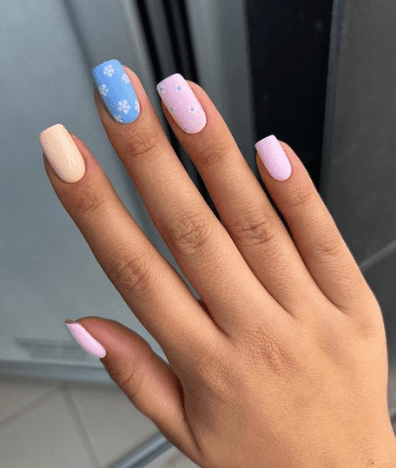 📷tatjanails / Instagram
62)
Yellow flower nails via 📷nailsbysmf / Instagram
63)
📷artdecom / Instagram
64)
📷nailedbyyans / Instagram
65)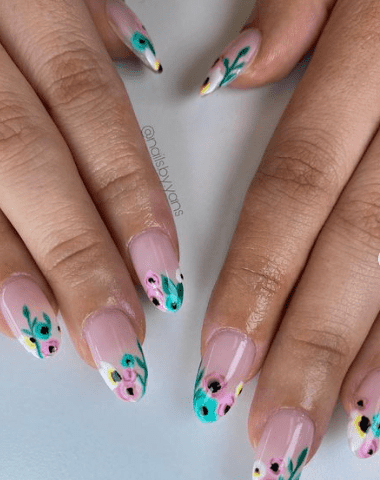 📷nailedbyyans / Instagram
66)
📷3615_zbobinails / Instagram
67)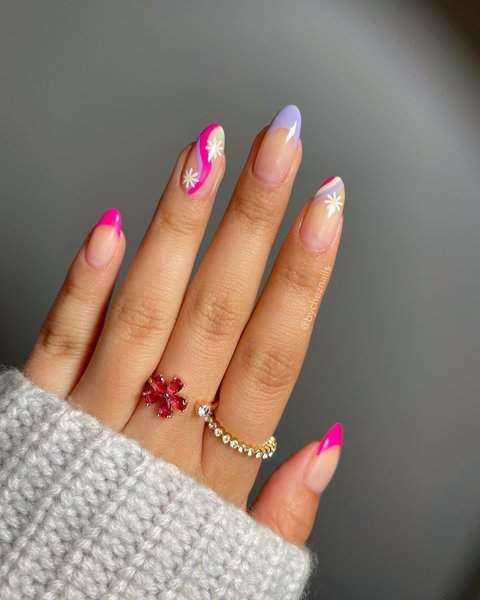 📷bycheznails / Instagram
68)
📷gellybeannails / Instagram
69)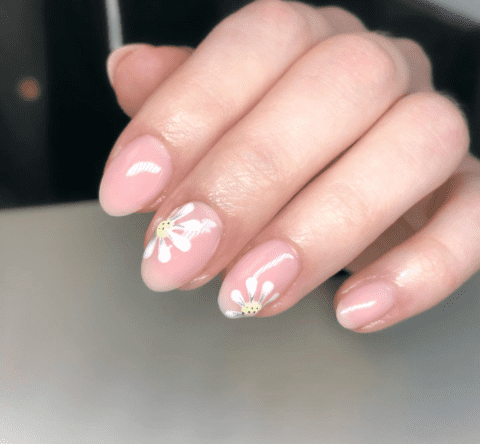 📷gellybeannails / Instagram
70)
📷bycheznails / Instagram
71)
📷reigning_beautyy / Instagram
72)
📷nailtystudio / Instagram
73)
📷nailtystudio / Instagram
74)
📷bycheznails / Instagram
75)
Pink nails with flower via 📷natb.nails / Instagram
76)
📷nailitmedia / Instagram
77)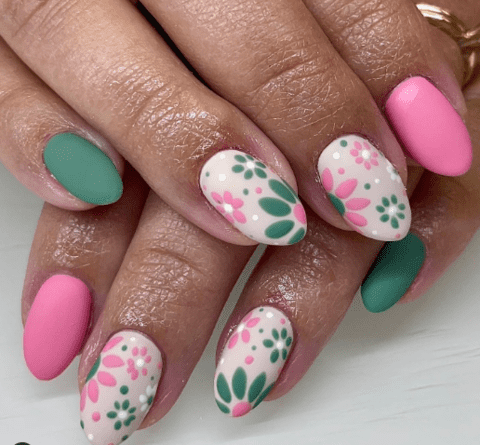 📷nailitmedia / Instagram
78)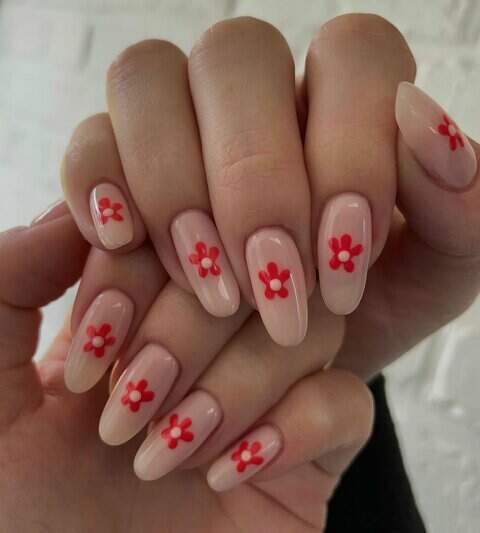 📷 nailinspolife / Instagram
79)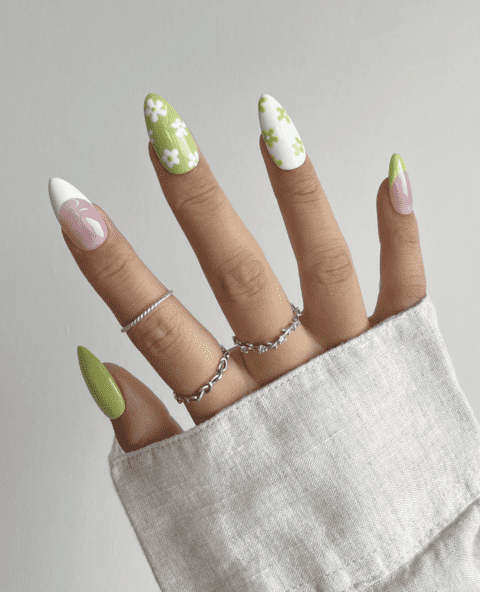 Spring flower nails via 📷 PressedSoul / Etsy
80)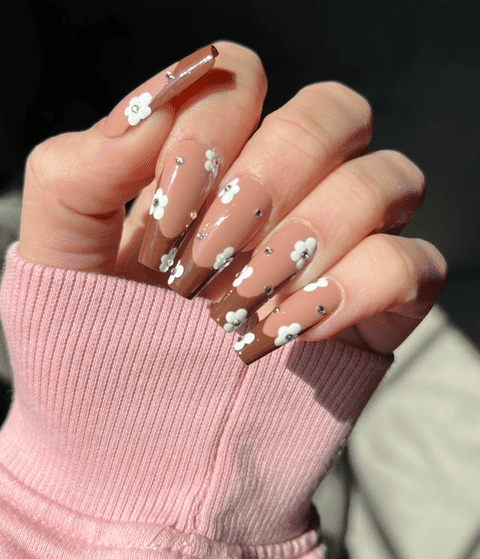 📷moonlightnailstudio / Etsy
81)
Coffin nails via 📷Bohochicmode / Etsy
82)
📷oliveandjune / Instagram
83)
📷oliveandjune / Instagram
84)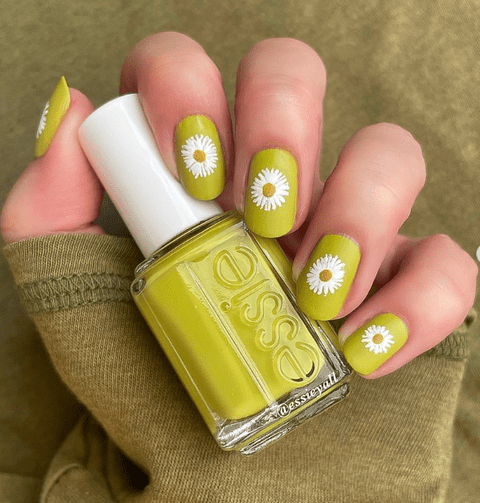 📷essie / Instagram
85)
Clear nails with flowers via 📷essie / Instagram
86)
📷opi / Instagram
87)
📷opi / Instagram
88)
📷orly / Instagram
89)
📷orly / Instagram
90)
📷Devil Wears Florals / Chillhouse
91)
📷Lauren Ladnier – Inner Bloom / Chillhouse
93)
📷Life In Full Bloom / Manime
94)
📷Daisy Meadow / Manime
95)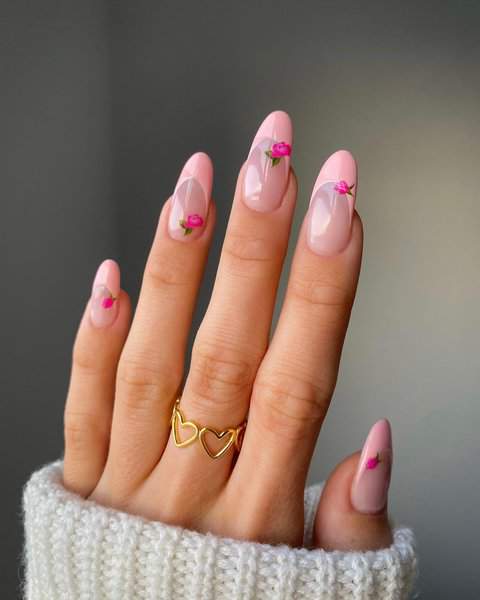 Pink French tips via 📷nailsbysmf / Instagram
96)
Summer nails via 📷nailartbychlo / Instagram
97)
3D flower nails via 📷3615_zbobinails / Instagram
98)
📷prettynailssmatter / Instagram
99)
Blue ombre nails with flowers via 📷 overglowedit / Instagram
100)
Acrylic flower nails via 📷amelodyxnails / Instagram