Spooky season is upon us. Looking for a way to take your Halloween costume up a notch? If you're looking for Halloween nail designs that will make you the coolest guest at the party, look no further. From ghoulish ghosts to bloody zombies, we've got you covered for your next nail salon trip. We wanted to share with your nails a range of nail art designs that you can do for this Halloween, including ghost faces, screams, spider webs, blood, graveyard, evil pumpkins, skulls, skeletons, aliens, and of course cute Halloween candy. Check out some of the cool Halloween nail trends and our 45 favorite Halloween nail looks below!
Scary Halloween Nails
If you're going for a spooky look, try incorporating spiders, bats, or skulls into your design. Add further gruesome details to your nails with fake blood or fake wound on your hands.
Cute Halloween Nails
For a more cute look, opt for pumpkins, witches, or ghosts. You can also do your Halloween nails in soft colors like pink, orange, and white to make them extra cute and fun.
Easy Halloween nails
If you are looking for easy Halloween nails that you can do at home, get creative with Halloween nail art and draw a spider web design with black polish. Use a fine brush tip for this and you can easily achieve a look that is full of Halloween spirit. Other others can be Halloween nail stickers or press-on nails that already have Halloween nail art designs.
Black Halloween nails
Paint your nails black and add a pointed hat in green or purple for a witchy look. Or just paint your nails black and paint the tips white for a Halloween twist on the classic French manicure.
Coffin Halloween nails
For spookier impact, add your Halloween designs onto Coffin Nails. Coffin nails have a slight taper and a flat edge at the tip to resemble a coffin shape.
With 45 different Halloween ideas below to choose from, you're sure to find the perfect spooky look for your party.
1)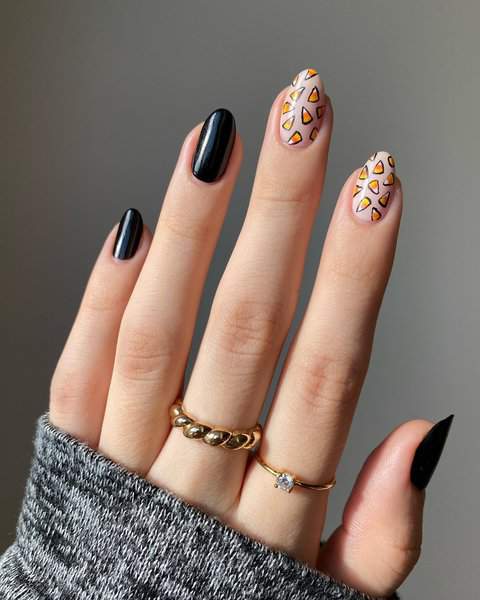 Classy Halloween candy nails via 📷 polished_yogi / Instagram
2)
Halloween nails nail wrap via 📷 ninanailedit / Instagram
3)
Halloween nails French tips via: 📷 sansungnails / Instagram
4)
Halloween nails with ghost French tips via 📷 disseynails / Instagram
5)
Red and black nails via 📷paintbucketnails/ Instagram
6)
Cute Halloween nails via 📷kuypernailart / Instagram
7)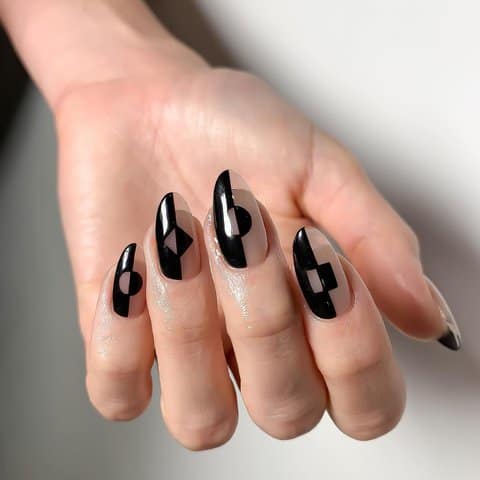 Squid game nails via 📷nails_and_soul / Instagram
8)
Alien Halloween nails via 📷_karebeauty_ / Instagram
9)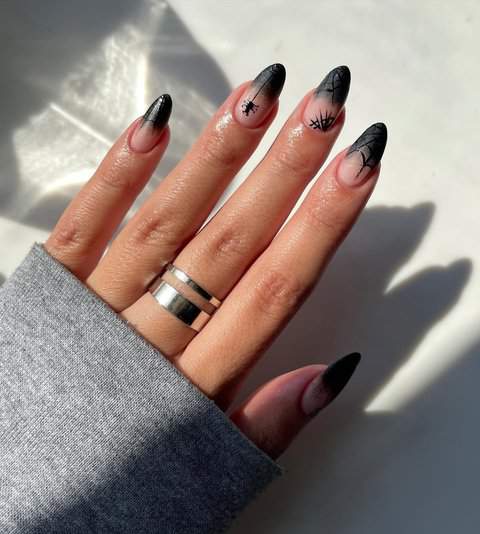 Spider web nails 📷kuypernailart / Instagram
10)
Orange Halloween nails via 📷kuypernailart / Instagram
11)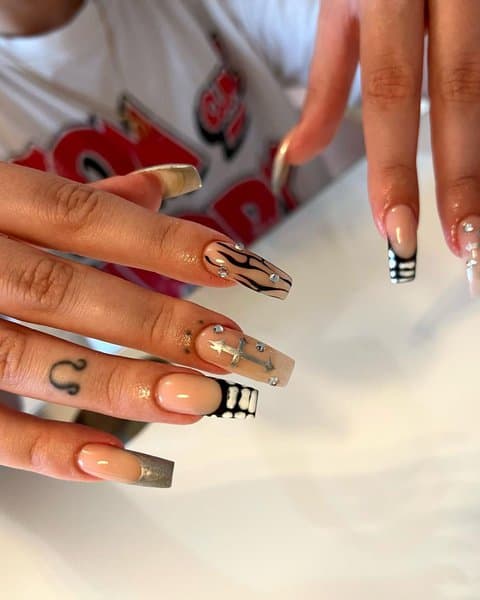 Coffin Halloween nails via 📷net_nail / Instagram
12)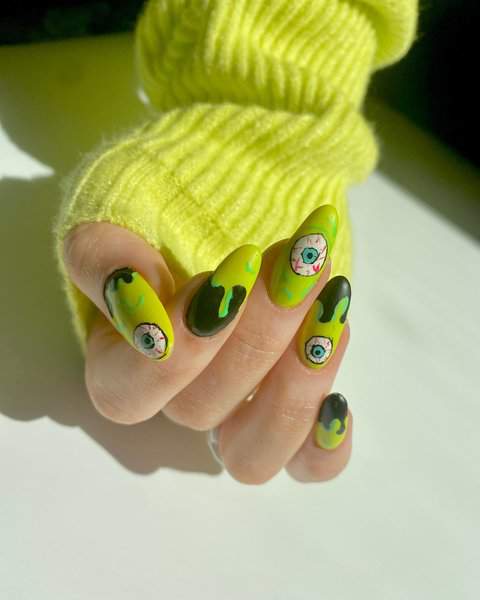 📷_karebeauty_ / Instagram
13)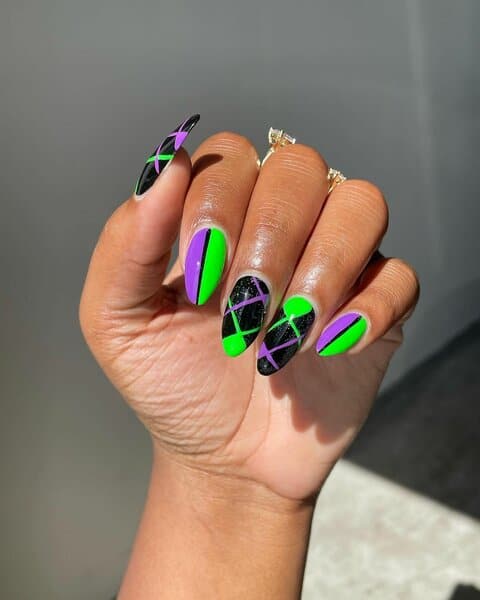 📷melanated.mani / Instagram
14)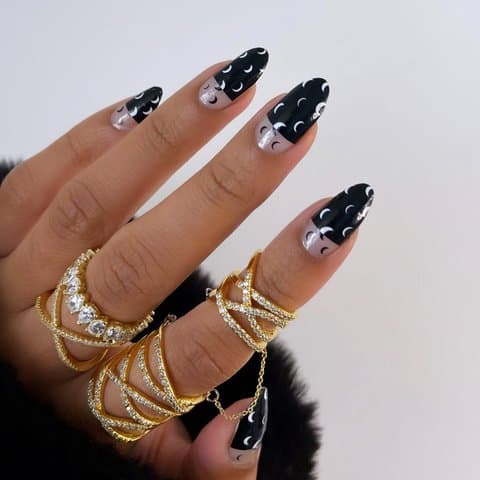 Black Halloween nails via 📷paintbucketnails / Instagram
15)
Red and black Halloween nails via 📷3615_zbobinails / Instagram
16)
📷nailedbyyans / Instagram
17)
Halloween nails with joker nail art designs via 📷amelodyxnails / Instagram
18)
📷net_nail / Instagram
19)
Acrylic Halloween nails via 📷prettynailssmatter / Instagram
20)
Long coffin nails via 📷nailedbyyans / Instagram
21)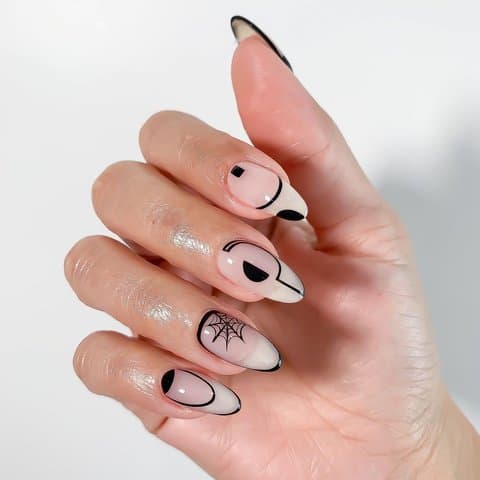 Simple Halloween nails via 📷nails_and_soul / Instagram
22)
📷kuypernailart / Instagram
23)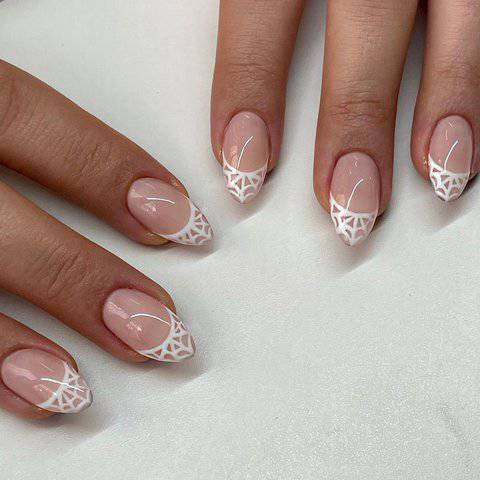 White Halloween nails via 📷nycnailroom / Instagram
24)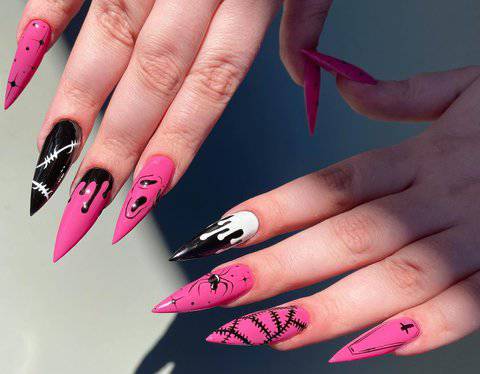 Pink stiletto nails via 📷nailbow.skg / Instagram
25)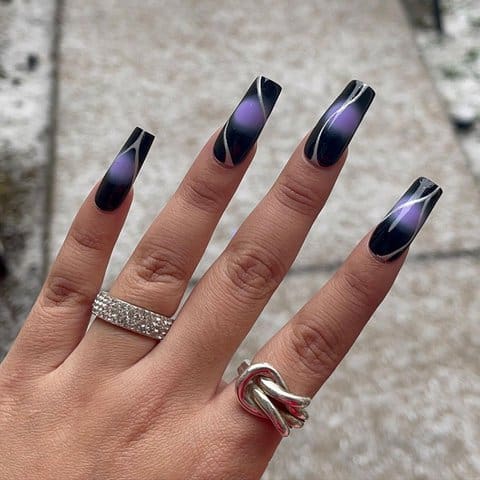 Coffin ombre nails via 📷amelodyxnails / Instagram
26)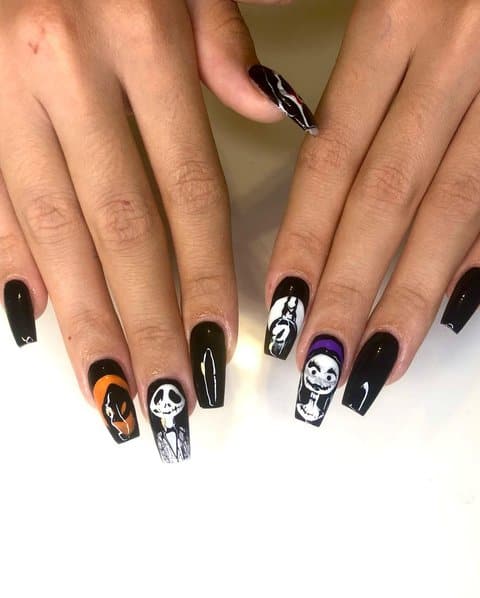 📷net_nail / Instagram
27)
Cute Halloween nails via 📷nailbow.skg / Instagram
28)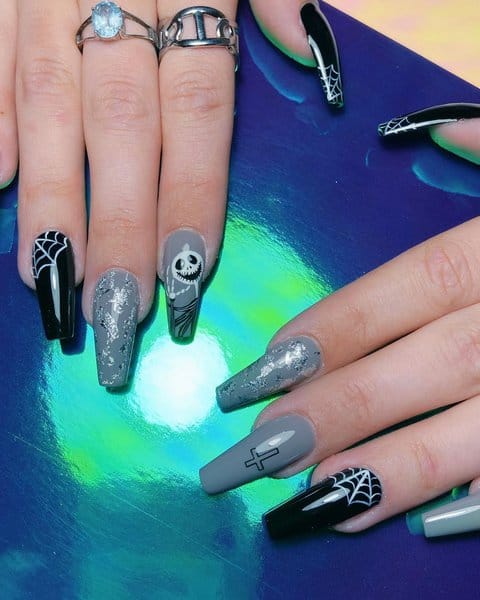 📷3615_zbobinails / Instagram
29)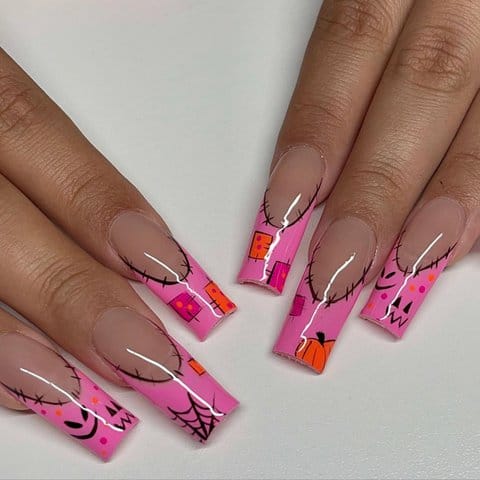 Pink Halloween nails via 📷amelodyxnails / Instagram
30)
📷paintbucketnails / Instagram
31)
Cute and short Halloween nails via 📷Tattoorary / Etsy
32)
Pink coffin nails via 📷sparklingshopA / Etsy
33)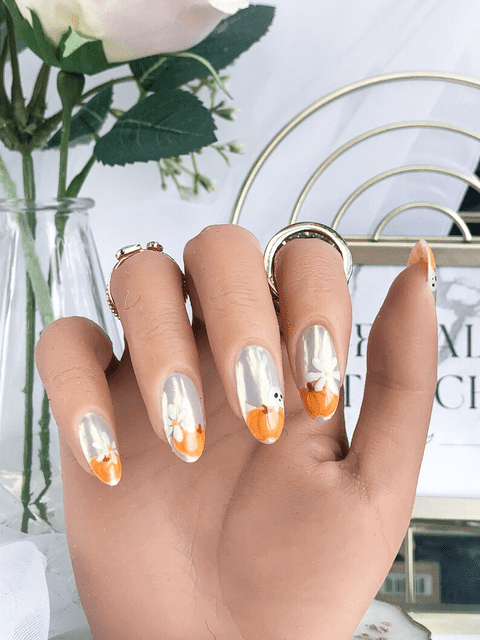 📷FinalTouchNails / Etsy
34)
Classy Halloween nails via 📷FriskyNailsUK / Etsy
35)
Spooky ghosts nails via 📷NailFreakBoutique / Etsy
36)
📷_karebeauty_ / Instagram
37)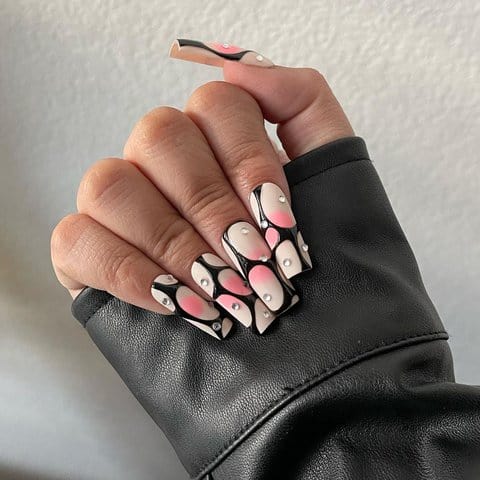 📷amelodyxnails / Instagram
38)
📷manisbyannie / Instagram
39)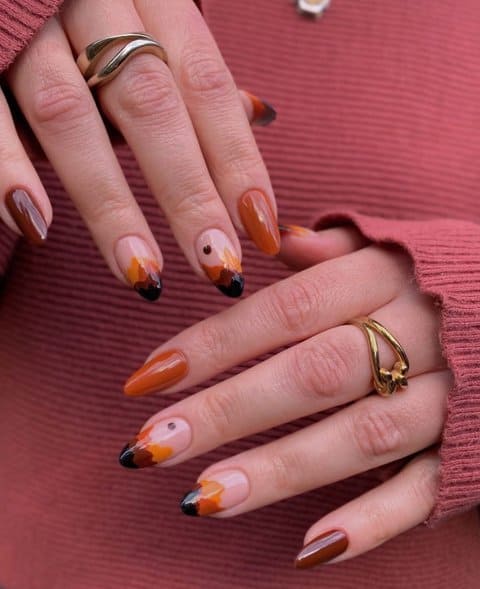 📷amberjhnails / Instagram
40)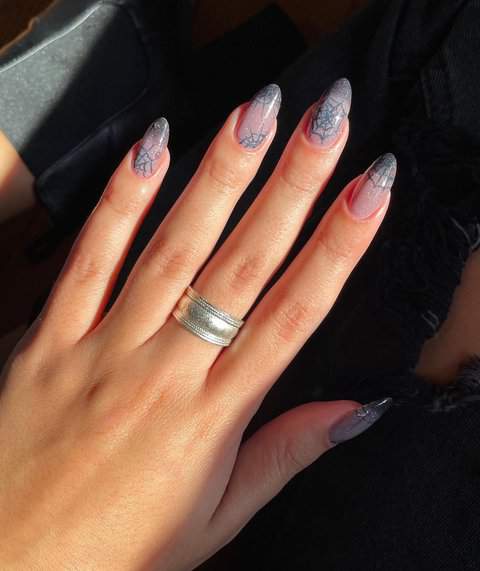 📷kuypernailart / Instagram
41)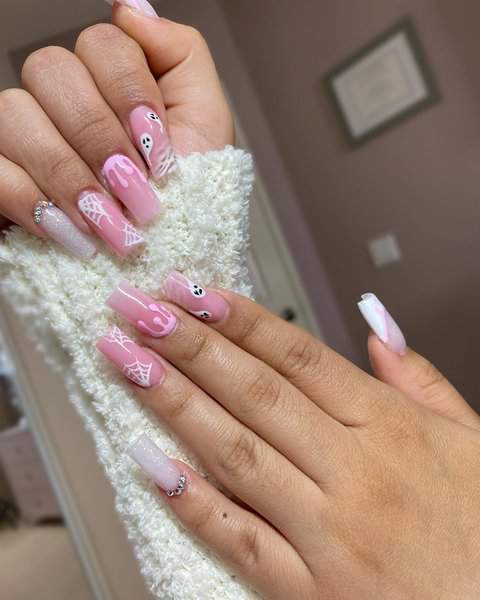 📷ktziasnails / Instagram
42)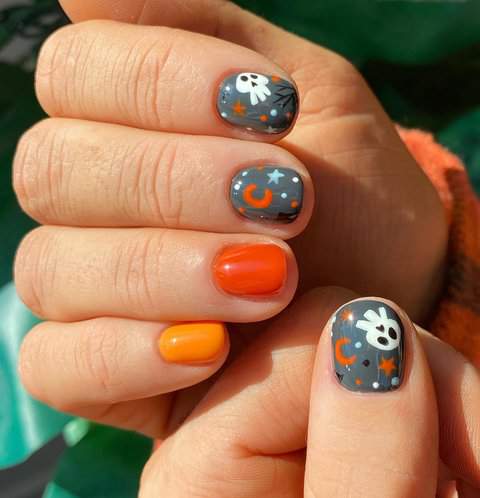 Short Halloween nails via 📷 madisonave.nails / Instagram
43)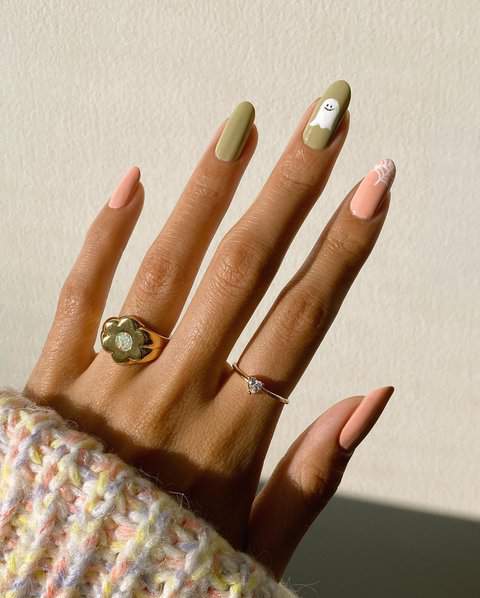 📷overglowedit / Instagram
44)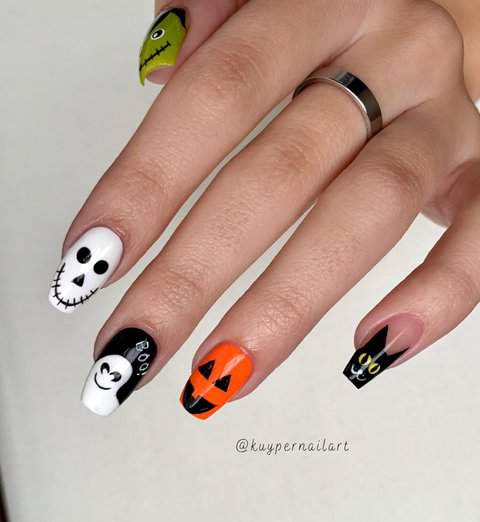 📷kuypernailart / Instagram
45)
Black and white nails via 📷nailbow.skg / Instagram