Christmas is coming! Are you excited to get into the festive spirit? One way to get in the mood is to give yourself a fun and festive manicure. Think red, green, blue, white, gold, and silver. We try to pull a range of options you can try from simple Christmas nails to creative Christmas nail designs with intricate art, featuring snowflakes, candy canes, gingerbread men, Christmas trees, and Santa Claus. There are so many ways to get your nails into the spirit. See if you can spot the Grinch on our list below!
Here are some Christmas nails ideas to get started:
Christmas Nail Designs
For a creative twist this Christmas, try some Christmas nail art by incorporating gingerbread men, Christmas hats, reindeers, and, of course, Santa himself.
Classy Winter Nails
Want to go a bit more subtle and sophisticated? No problem. You can never go wrong with a simple snowy blue or ever-green manicure. If you want to get a little bit more creative, try adding some glitter or rhinestones for some extra sparkle.
Red Christmas Nails
One of the most popular Christmas nail colors is red. It's classic, festive, and goes with just about any holiday look. You can paint the entire nail red or just add a pop of color with a red accent nail.
Green Christmas Nails
This one's a classic and can carry you into the New Year. You can do an all-over green manicure, use green as an accent color, or even mix it with red for a traditional Christmas look.
White Christmas Nails
If you're looking for something a little bit different, try out a white Christmas manicure. This look is clean, fresh, and perfect for those who want to steer away from the traditional red and green colors. You can add some sparkle with glitter or keep it simple with a matte finish. To kick it up a notch, try adding some snowflake artwork.
Simple Christmas Nails
Not into all the fuss and frills? That's okay, too. You can still get into the Christmas spirit without being over the top. A few ideas include painting your nails with a candy cane striped design, using white and silver polish for a wintery look, or keeping it classy with red and green polka dots.
Whether you're looking for a festive design or something more classic, we've got you covered. Here, we'll be sharing 35 of our favorite Christmas nail designs. Your perfect holiday manicure is just a few clicks away. P.S. #29 is our favorite one yet!
Classic Red Nails With Gold Giltter
Lightslacquer / Instagram
2) Winter Wonderland Christmas Nails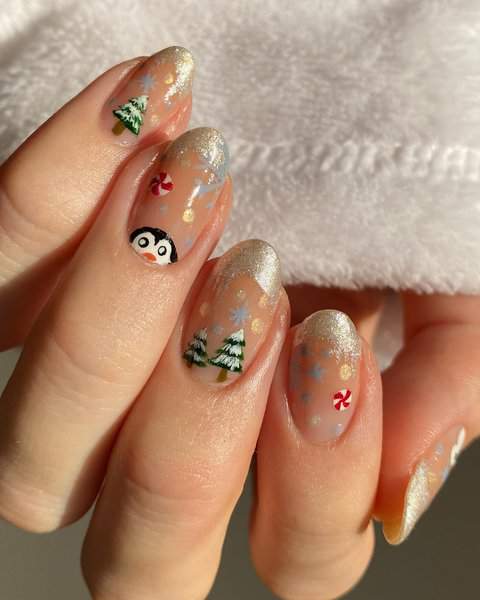 3) Midnight Velvet Glitter Nails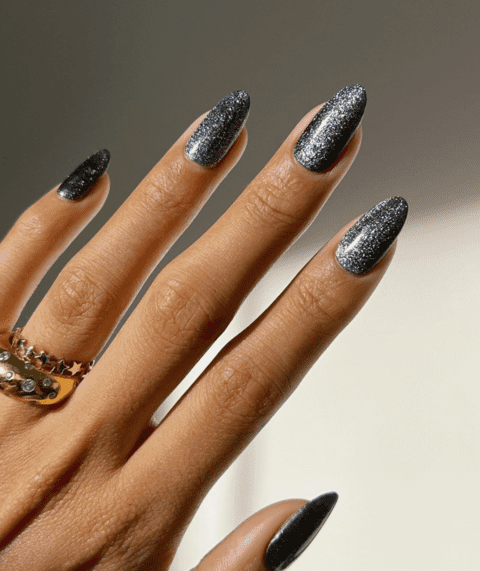 4) Christmas Sweater Nails Press Ons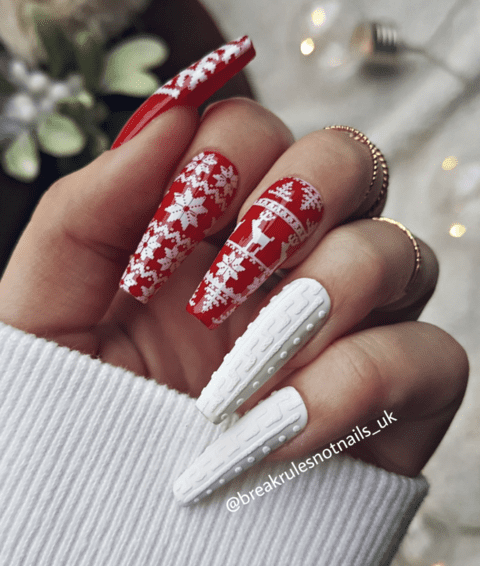 📷Etsy Seller BreakRulesNotNails
5) Icy Snow White Christmas Nails With Swirl Details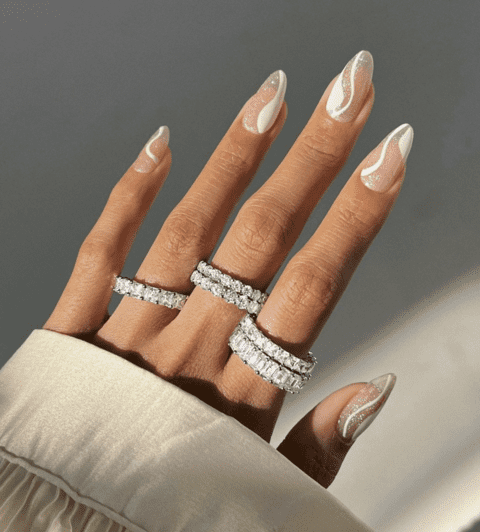 6) Simple Christmas Nails With Crystal Details
7) Winter Starry Night Nails With Star Details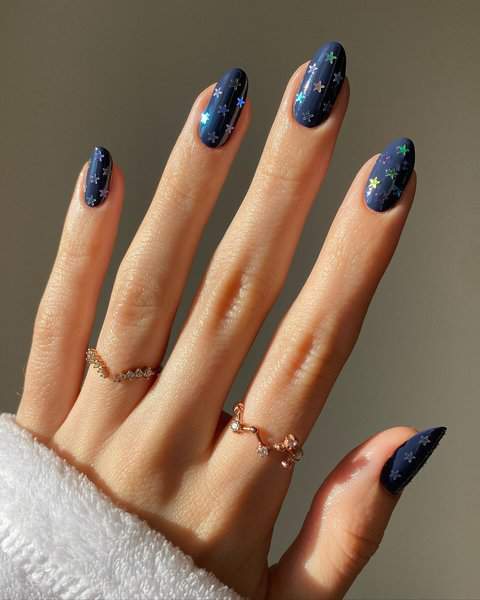 8) Silver Christmas Nails With Glitter Details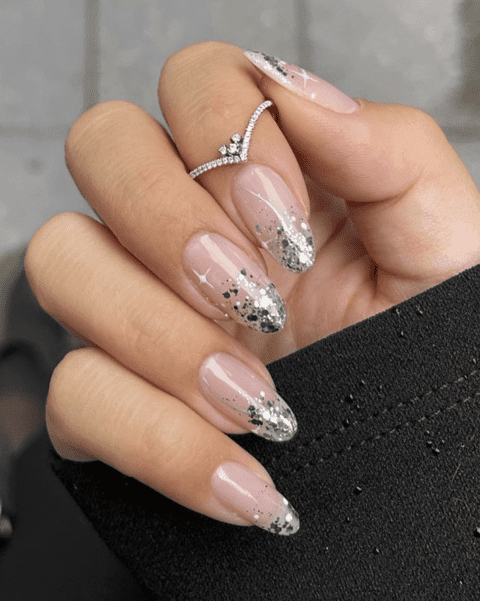 9) Baby Blue Christmas Nails With Snowflake Details
📷Etsy Seller JessiClawsShop
10) Red Christmas Nails With French Tips And Bow Details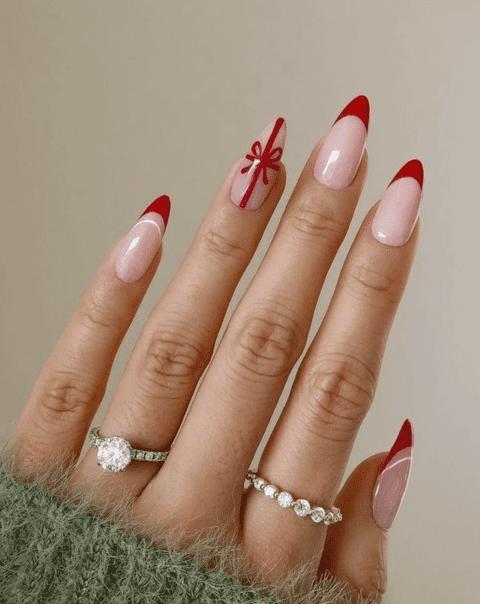 11) Classy Christmas Nails With Gold Bronze Glitter
12) Ever Green Christmas Nails With Gold Details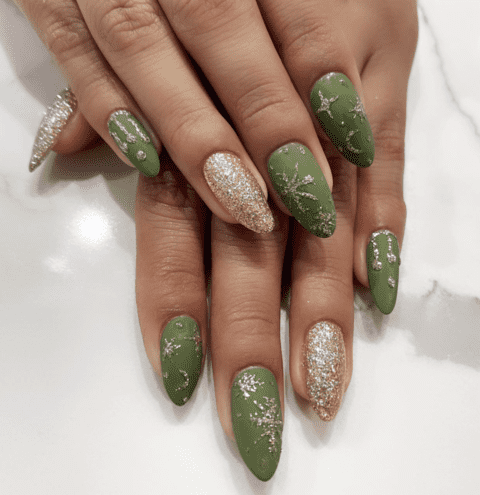 13) Simple Red Christmas Nails With Christmas Hats
14) Classy Nude Christmas Nails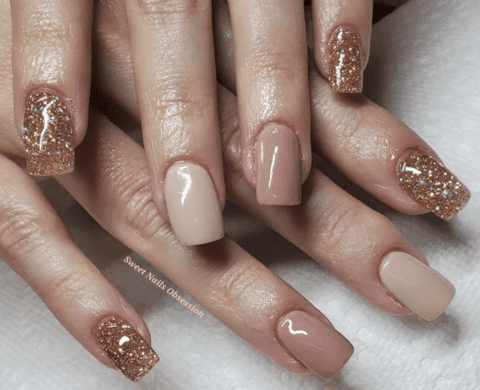 15) Metallic Green Christmas Nails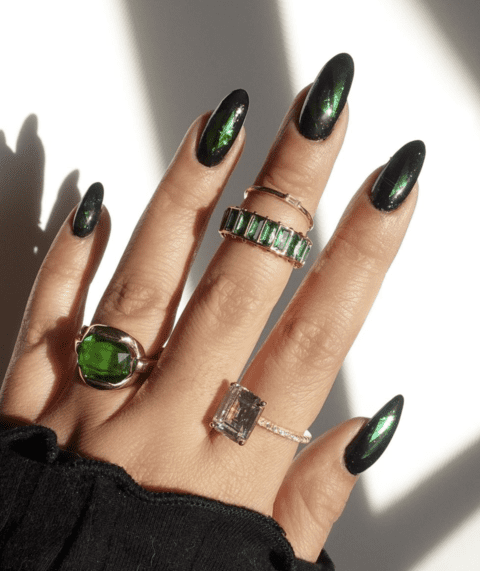 16) Simple Red Christmas Nails With French Tips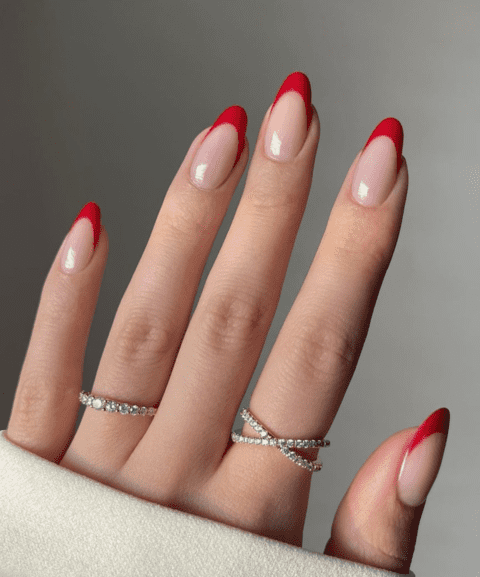 17) Blue Christmas Nail Designs With Snowflake Details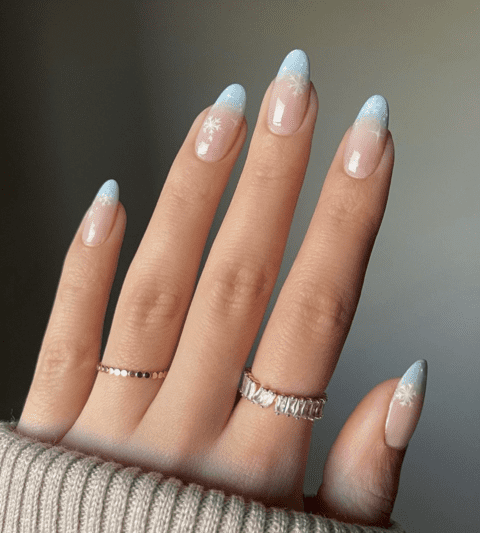 18) Gold Christmas Nails With Star Details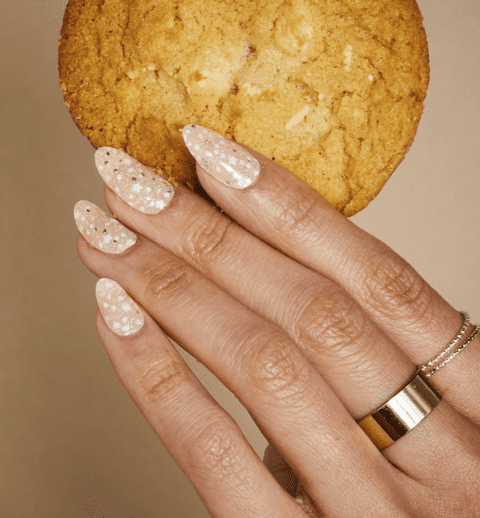 19) Sparkle Christmas Nails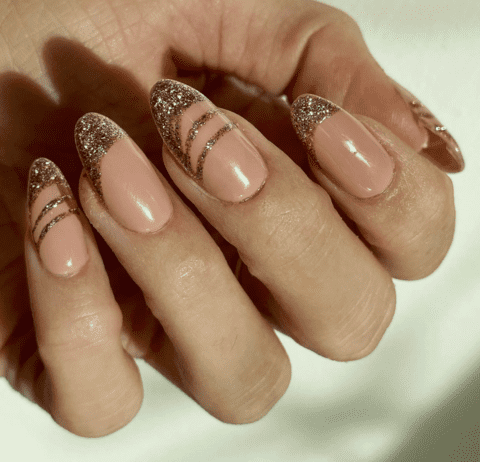 20) Christmas Nail Ideas With Reindeer
21) Clear And White Christmas Nails With Evergreen Details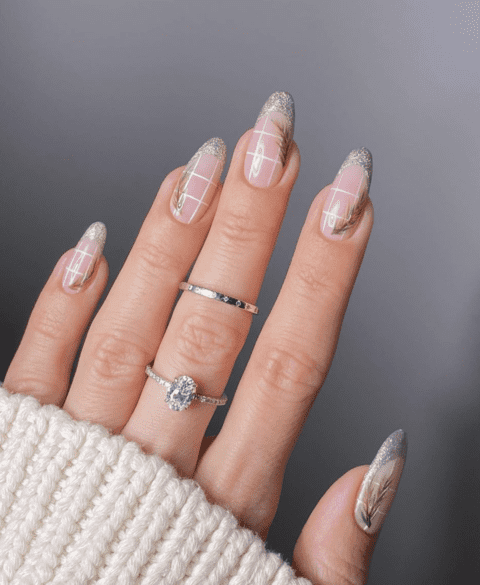 22) Candy Came Christmas Nails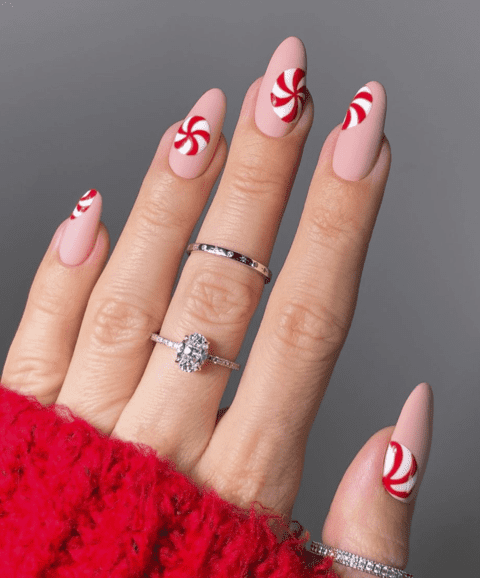 23) Cute Christmas Nails With Gingerbread Man
📷Etsy seller AlluringPress
24) Cute Christmas Nails With The Grinch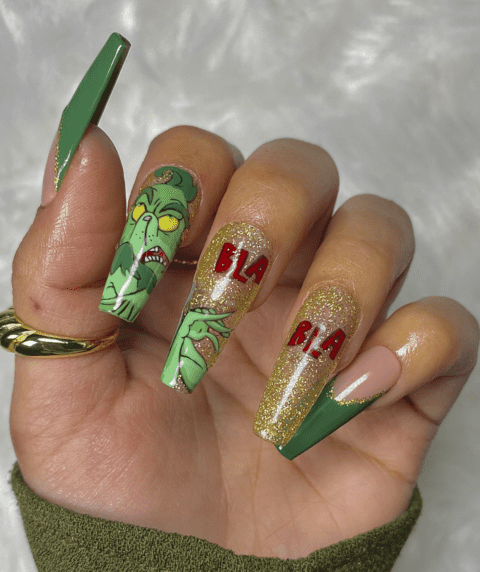 📷Etsy seller Heyitsjeniley
25) Pink Christmas Nails
📷Etsy seller Pressedbymadi
26) Red Christmas Nails With Bow Details
27) Red And White Christmas Nails With French Tips And Swirl Details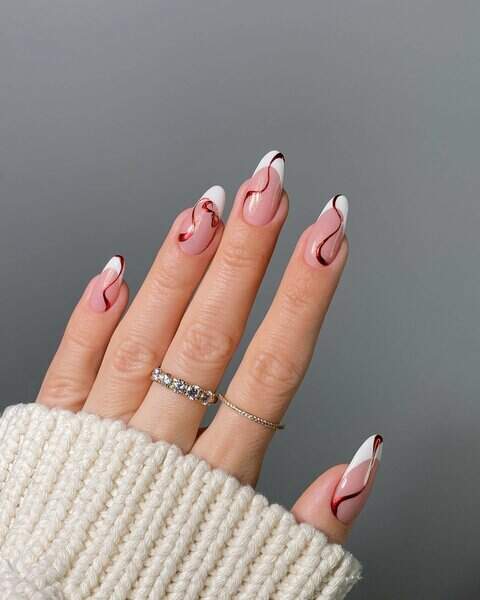 28) Pink Christmas Nails With Penguin And Snow Details
29) Christmas Party Nails Confetti Details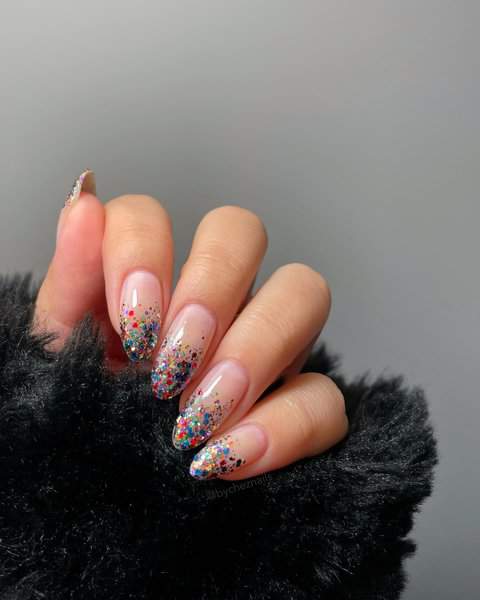 30) Winter Starry Night Nails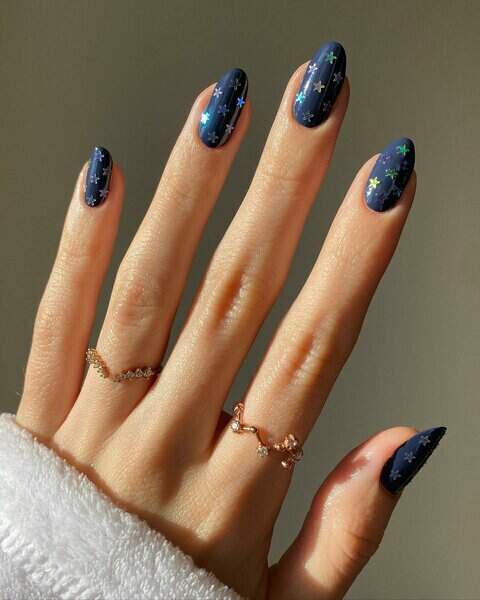 30) Christmas Nail Designs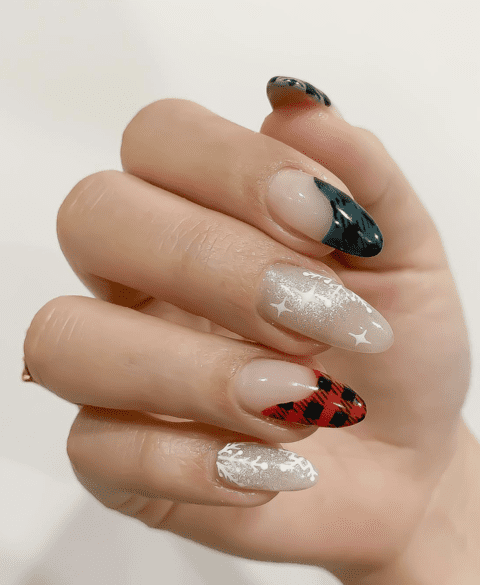 31) Cute Christmas Nails With Santa Claus Press Ons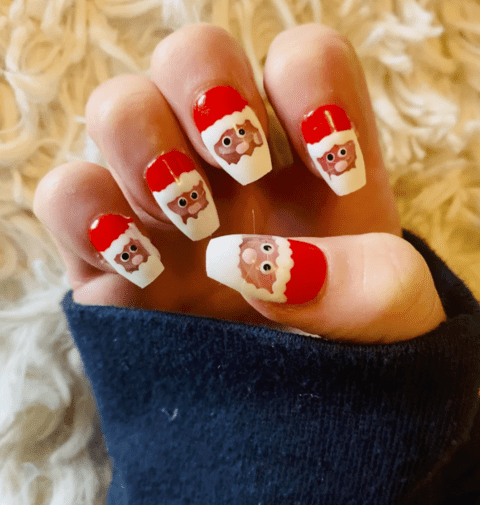 📷Etsy Seller radicalsunday
32) Gold French Tip Nails
33) Green French Tip Nails With Glitter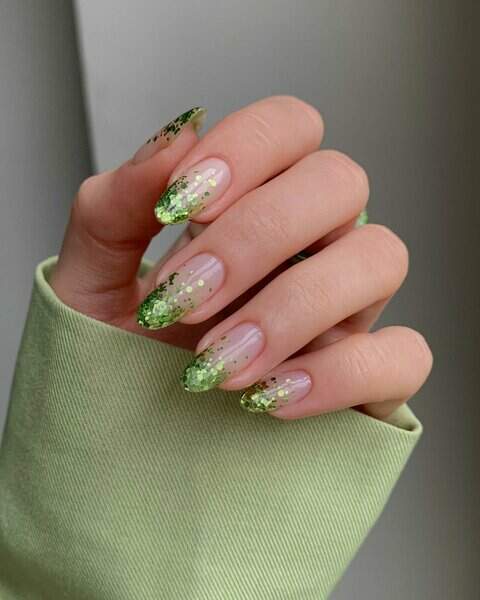 34) Black And Silver Swirls With Glitter Details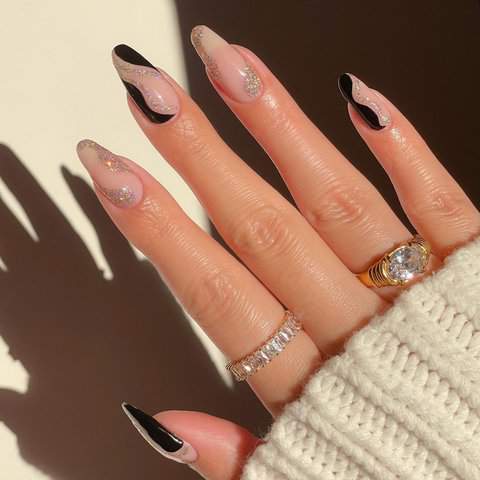 Lightslacquer / Instagram
35) Festive Christmas Theme Nails Press Ons
📷Etsy Seller PressOnNailsRossi