Blue ombre nails are one of the prettiest and most eye-catching nail designs. Blue ombre nails can be used to show your personality and mood. Ombre nails are different colors blending together in a color gradient where the color fades from one shade to another. This effect can be achieved with either two, three or even more colors.
We are seeing ombre nails all over Instagram. One reason why they are so popular is that they're incredibly fun to do and they look amazing. Some of our favorite combos include blue and pink ombre, blue and white ombre, coffin nail ombre, blue on blue ombre, and blue french tip ombre.
Blue ombre with different shades of blue
A simple way to achieve a blue ombre style is to start with dark blue at the base and use lighter shades of blue as you reach the tip.
Blue ombre with glitter
If you want to add a little extra sparkle to your blue ombre nails, then try adding some glitter. You can either add glitter to the entire nail or just at the tips.
Blue ombre with pink
For a softer look, you can try blue ombre that mixes with pink. We love this color combo that reminds us of the pretty pink and blue skies.
Blue ombre with green
One of our favorite mixes of ombre is blue and green ombre nails. These two cool color options look incredible together. Depending on the shade, you can go dark and bright for contrast or choose light pastels that are soft and airy.
We've curated 25 of the cutest Ombre Nails for you to try below.
1)
Royal blue and neon yellow ombre nails via 📷checkyesmichelle / Instagram
2)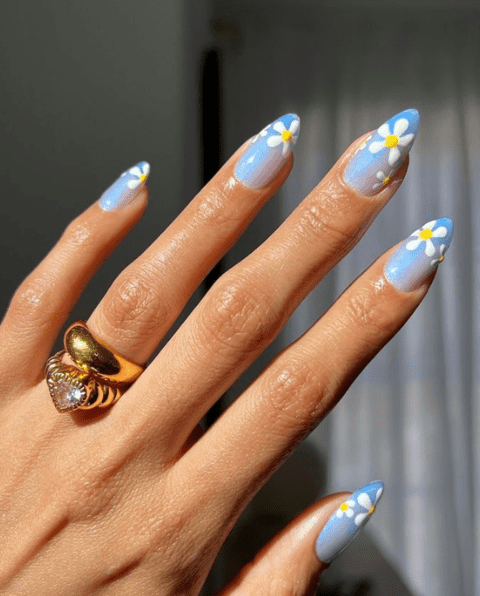 📷 overglowedit / Instagram
3)
📷 Polished_yogi / Instagram
4)
📷vwnails_ / Instagram
5)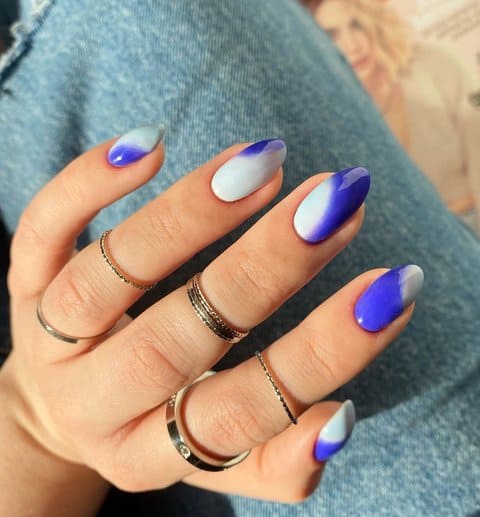 Royal blue ombre nails via 📷by_millimac / Instagram
6)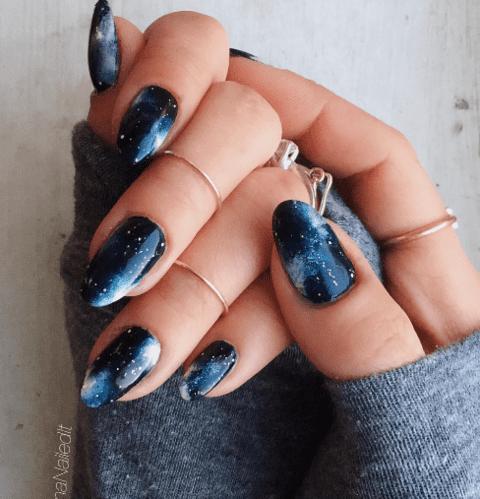 📷 ninanailedit / Instagram
7)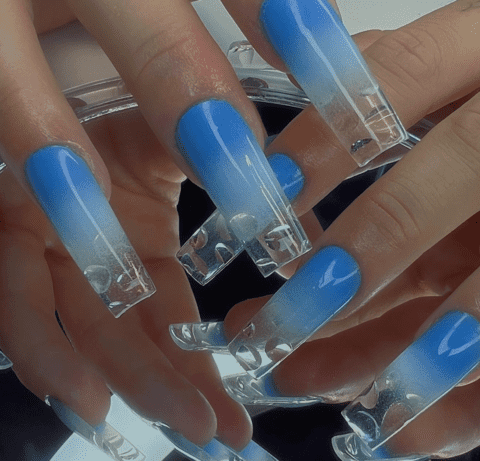 Blue acrylic nails via 📷 3615_zbobinails / Instagram
8)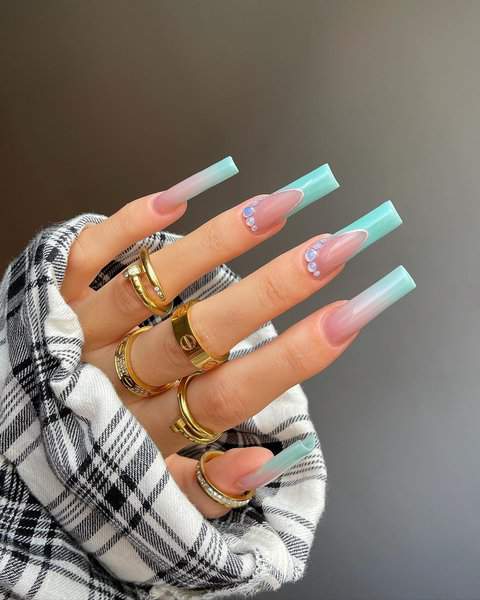 Long coffin ombre nails via 📷 alyshanailartist / Instagram
9)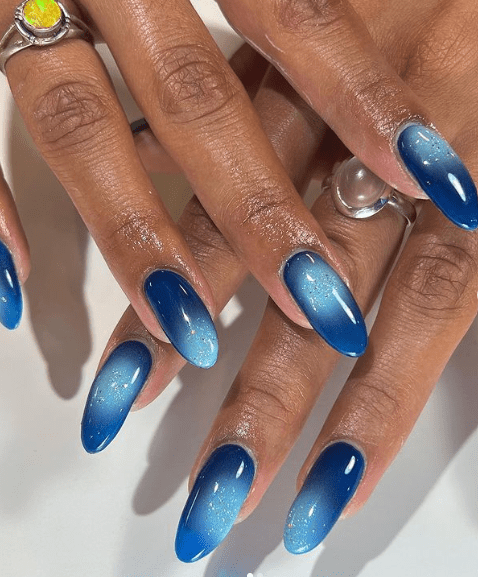 Blue ombre nails via 📷 nailedbyyans / Instagram
10)
📷 lolo.nailedit / Instagram
11)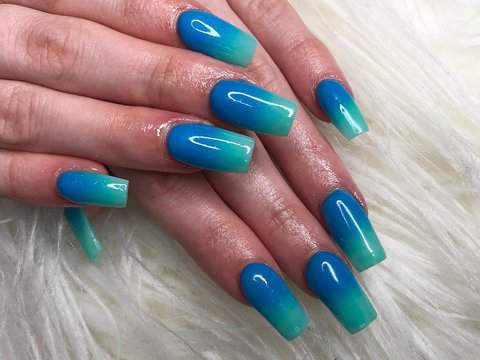 Blue and green ombre nails via 📷 alyshanailartist / Instagram
12)
Clear and blue ombre nails via 📷amelodyxnails / Instagram
13)
Blue and purple ombre nails via 📷 disseynails / Instagram
14)
Pink and blue ombre nails via 📷 the_gelbottle_inc / Instagram
15)
Ombre nails with butterfly nail designs📷 natalieholtnailartist / Instagram
16)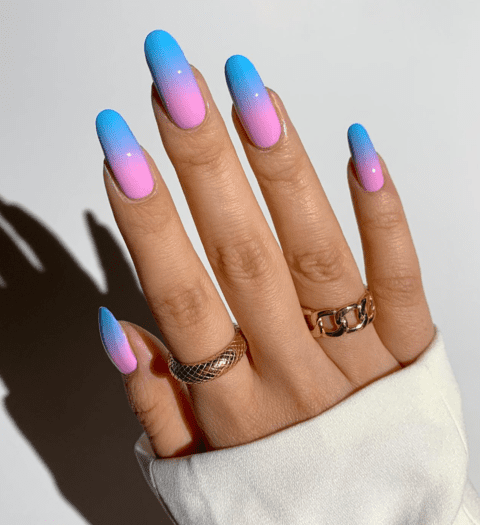 📷 checkyesmichelle / Instagram
17)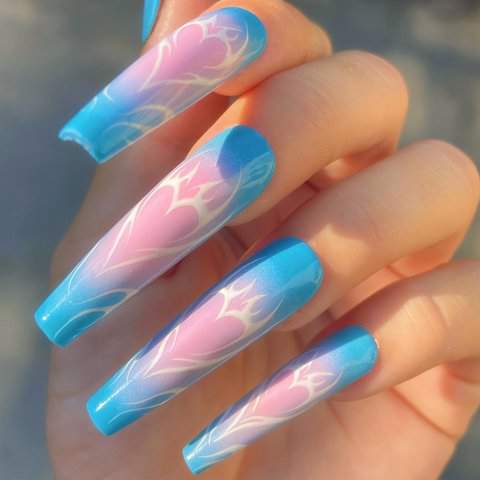 Blue coffin ombre nails via 📷 3615_zbobinails / Instagram
18)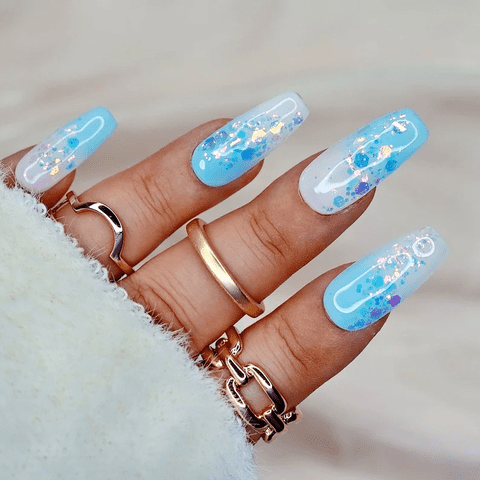 Blue ombre nails press on with glitter via 📷 PONails / Etsy
19)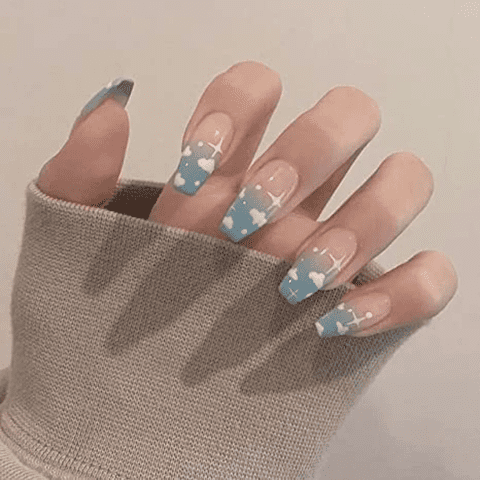 📷 sparklingshopA / Etsy
20)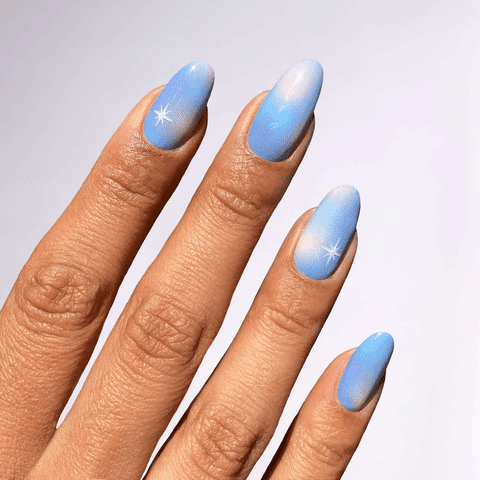 Light blue ombre nails via 📷 Colorful Mind / Manime
21)
📷 Blue Mist / Dashing Diva
22)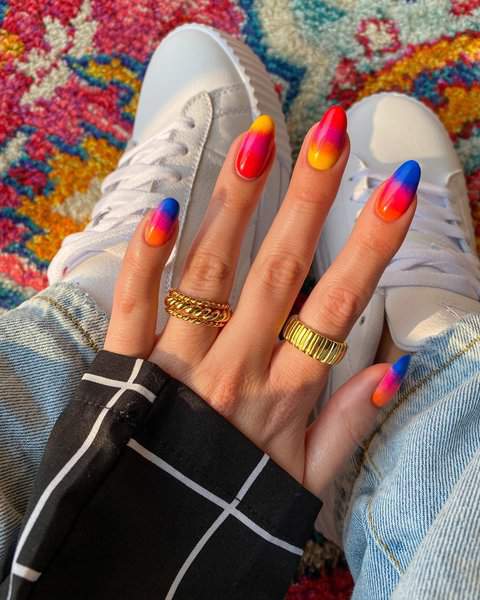 Red and blue ombre nails via 📷 lightslacquer / Instagram
23)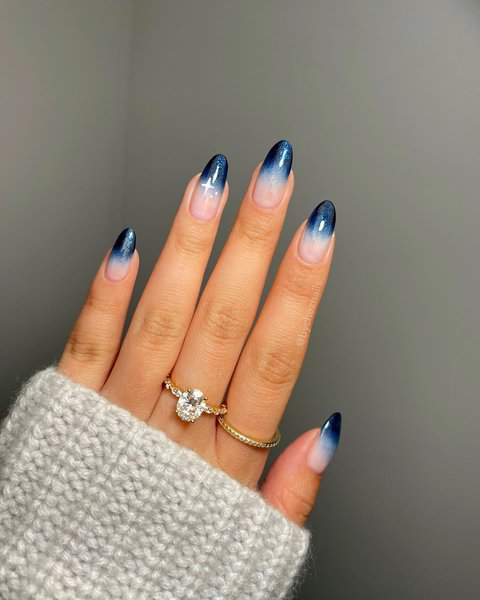 📷 bycheznails / Instagram
24)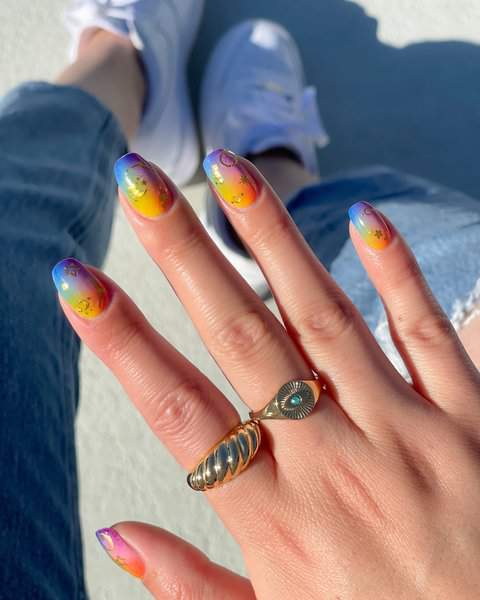 📷 lightslacquer / Instagram
25)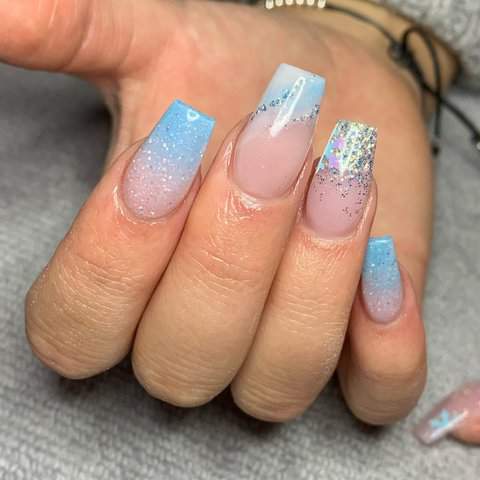 📷Manisbyannie / Instagram