Rainbow nails are the perfect way to add some fun to your look and are the perfect way to show your pride and joy during Pride Month! Whether you're going to a party or just want something different for a change, these colorful nails will definitely turn heads. There are so many ways to wear rainbow colors on your nails! Here are just a few of our favorites.
Rainbow Stripe Nails
For a simple and festive look, try rainbow stripes on your nails. You can use any colors you like, but we recommend sticking to the traditional rainbow colors for the most impact. You can make them as straight or wavy lines – just have fun with it!
Rainbow French Manicure
A French manicure is always a classic look, and with a few tweaks, it can easily become a rainbow mani too by adding thin lines of each color to the tips of your nails.
Rainbow Ombre Nails
If you want a more subtle rainbow look, try a rainbow ombre. You can either fade from light to dark or dark to light, depending on your preference.
Rainbow Glitter Nails
For a more festive look, try adding some rainbow glitter to your nails! You can use loose glitter or buy rainbow-colored nail polish with glitter in it. Either way, this is a great way to add some sparkle to your nails and show off your Rainbow pride at the same time.
Rainbow Chevron Nails
A chevron nail design is a great way to show off your creative side. Paint your nails in rainbow chevrons for a playful and colorful look.
Rainbow Accent Nails:
If you're looking for an alternative to paint your entire nail in rainbow colors, try using them as an accent instead. Add a pop of color to your nails with some brightly-colored stripes or dots.
1)
📷 disseynails / Instagram
2)
Different color french tips via 📷 amyle.nails / Instagram
3)
📷 overglowedit / Instagram
4)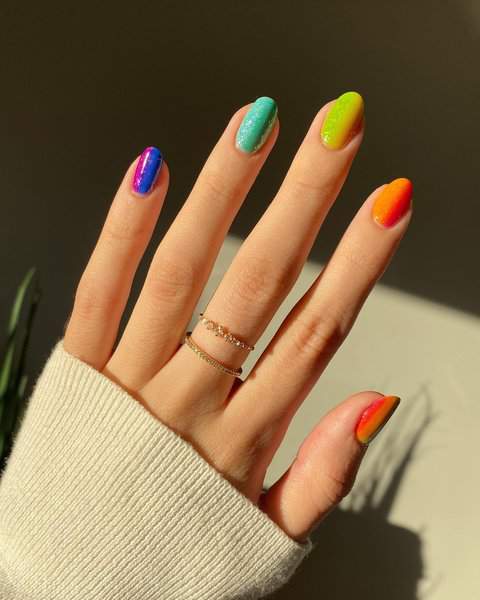 📷 polished_yogi / Instagram
5)
Summer rainbow nails via 📷 paintbucketnails / Instagram
6)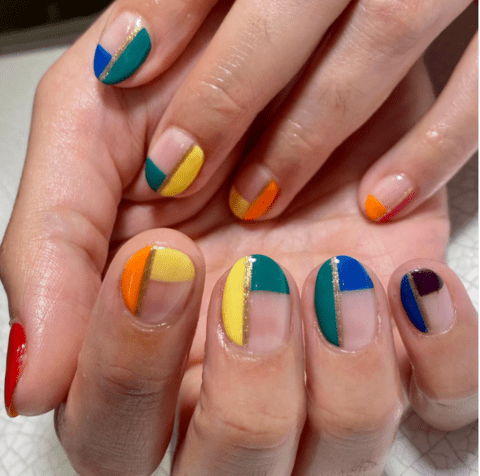 📷 paintboxnails / Instagram
7)
📷 amyle.nails / Instagram
8)
📷 nailsbysmf / Instagram
9)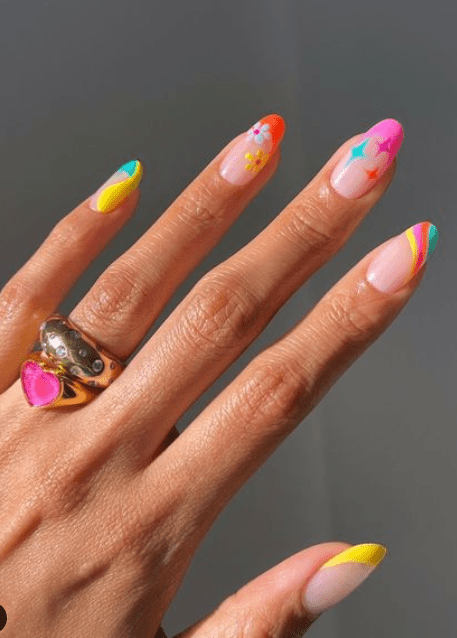 📷 overglowedit / Instagram
10)
📷 paintbucketnails / Instagram
11)
📷 nails_and_soul / Instagram
12)
Rainbow tip nails via 📷 nails_and_salon / Instagram
13)
📷 vwnails_ / Instagram
14)
Multi colored nails 📷 vwnails_ / Instagram
15)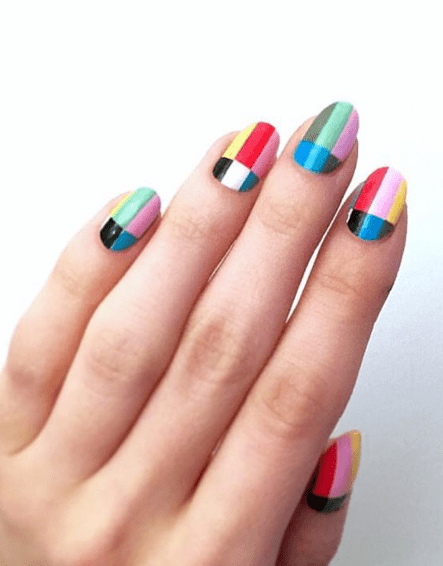 📷 goscratchit / Instagram
16)
📷 heygreatnails / Instagram
17)
📷 nycnailroom / Instagram
18)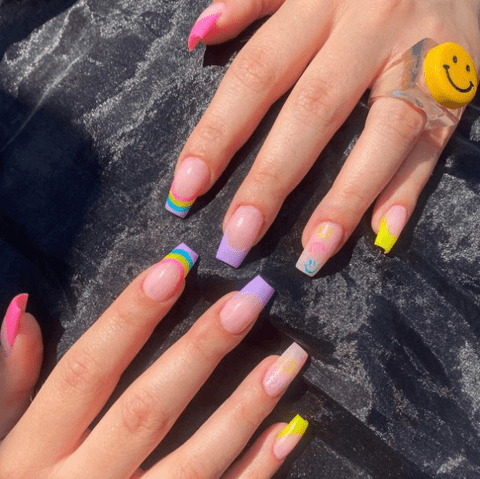 📷 nailbow.skg / Instagram
19)
📷 net_nail / Instagram
20)
📷 nailartbysig / Instagram
21)
📷 sansungnails / Instagram
22)
📷 lightslacquer / Instagram
23)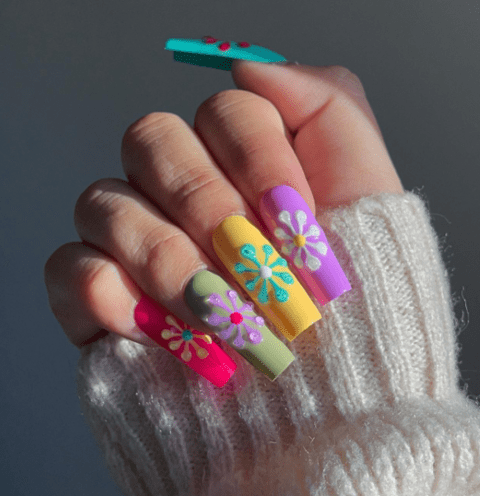 📷 amelodyxnails / Instagram
24)
📷 heygreatnails / Instagram
25)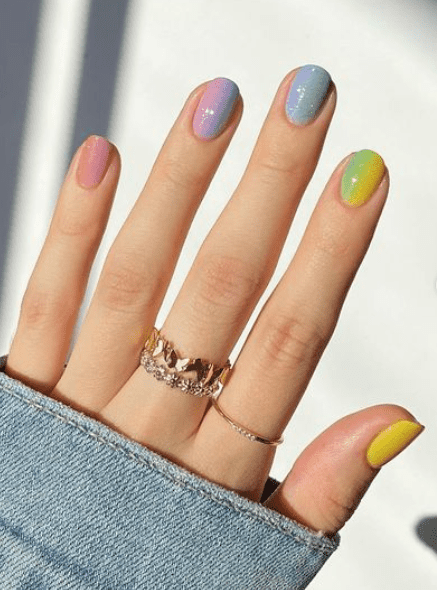 Rainbow ombre nails via 📷 polished_yogi / Instagram
26)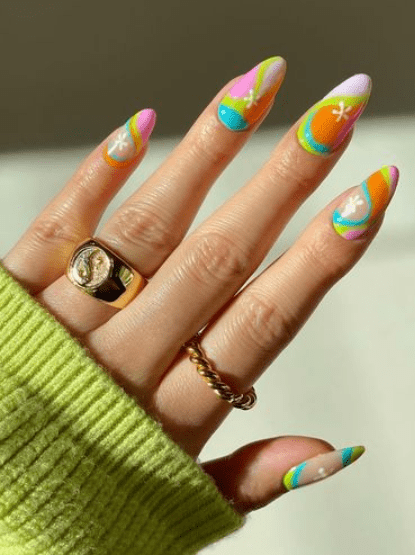 📷 disseynails / Instagram
27)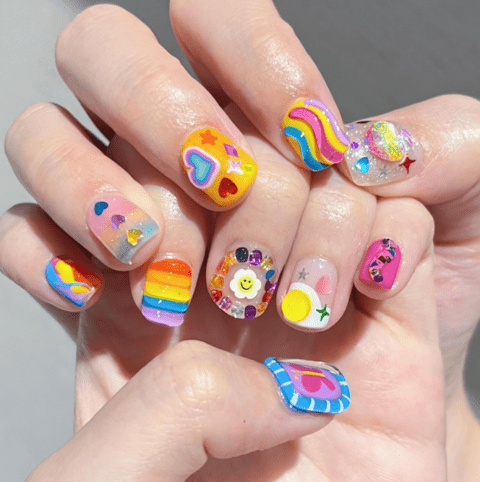 📷 willow.nails / Instagram
28)
📷 melanated.mani / Instagram
29)
Pastel rainbow nails via 📷 checkyesmichelle / Instagram
30)
📷 bycheznails / Instagram
31)
📷 thehangedit / Instagram
32)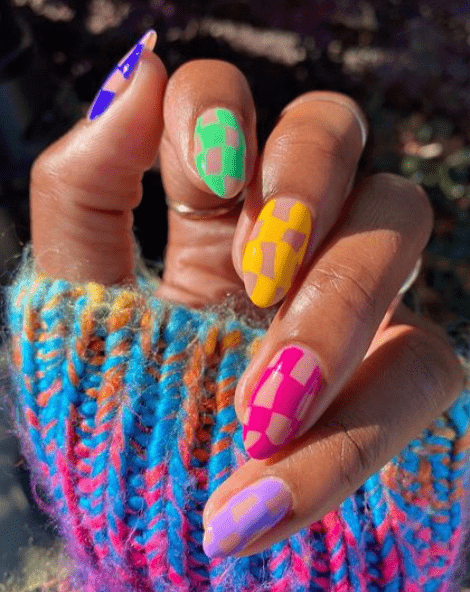 Rainbow checker nails via 📷lolo.nailedit / Instagram
33)
📷 nailtystudio / Instagram
34)
Rainbow nails via 📷 polished_yogi / Instagram
35)
📷 artdecom / Instagram
36)
📷 AmiHouseNails / Etsy
37)
📷 GlamNailsbyChelsea / Etsy
38)
Rainbow neon nails via 📷 FlowWithTheWinUS / Etsy
39)
📷 RhiRhiNailsIt / Etsy
40)
📷 OhMyMyMynails / Etsy
41)
📷 FlowWithTheWindUS / Etsy
42)
Pride nail designs via 📷 polished_yogi / Instagram
43)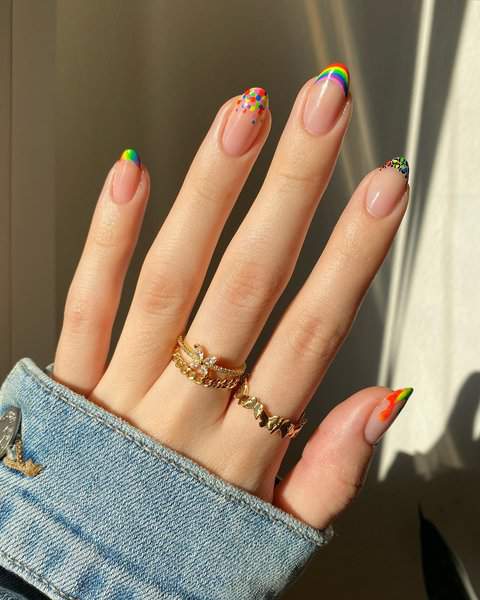 📷 polished_yogi / Instagram
44)
📷 amyle.nails / Instagram
45)
📷 orly / Instagram
46)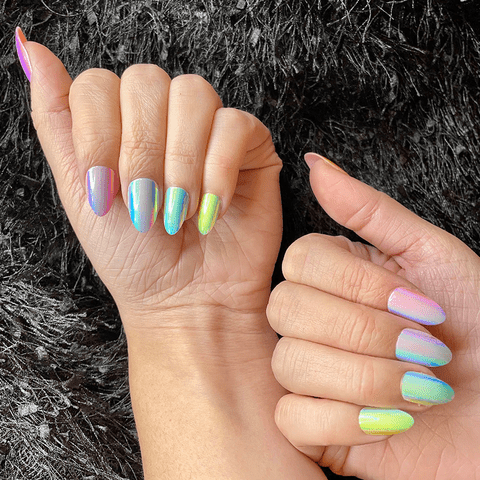 📷 Aurora / Glamcentric
47)
📷Groovy Baby / Chillhouse
48)
📷 Heat Waves / Dashing Diva
49)
📷 Rainbow-Glo / Manime