It is essential to get the right cut when it comes to hair styling. It can instantly transform you into a new person and is the perfect way to welcome a new chapter in your life. You'll feel refreshed, freed, and renewed!
One haircut that has been trending all over TikTok and attracted the attention of many celebrities is the wolf cut hair. Celebs like Miley Cyrus, Billie Eilish, and Keke Palmer are obsessed and have all rocked this hairstyle. As of the date of this article, it has garnered nearly 2 billion views on TikTok. So what is all the rage about? Why is the wolf cut hairstyle so popular? Keep reading to find out about this trending hairstyle and everything you need to know. We have also rounded up the best wolf cut inspos to tailor and style this haircut to your personality.
What is a wolf cut?
Wolf cut hair is a fun and playful blend of a mullet and a shag. This haircut gives you an edgy shag around the face while also allowing you to style your hair as long at the back as you please. The wolf cut is all about having a flirty volume of hair around the crown that frames your face whilst also having fun layers at the back. We also love how versatile this style can be. Because it looks great on all lengths, textures, and colors of hair, you can easily style your wolf cut rebellious, sexy, elegant, or glam.
Types of wolf cut hair and how to style your wolf cut hair?
1) Choppy wolf cut with subtle curls
The choppy wolf cut is edgy and cool. If you do subtle curls on a choppy wolf cut, the look becomes even more feminine and playful. This style looks especially good on anyone with a heart shape or a more angular face shape. We love the choppy wolf cut because it shows off the different variations and textures of hair and gives you that effortless chic.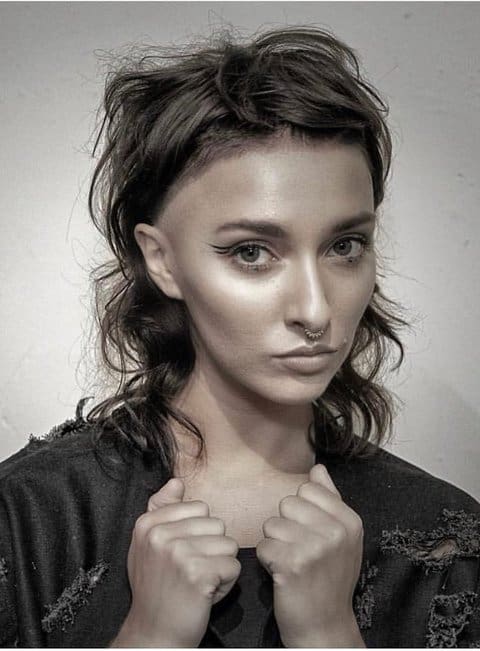 2) Long textured wolf cut
This is one of our favorite wolf cuts. It is one to try if you want to get the wolf cut look without fully diving into a more pronounced shag and mullet. This cut is very stylish and ideal for anyone who still wants their hair long with gorgeous layering. Compared to other types of wolf cuts, the long textured wolf cut is more blended and soft.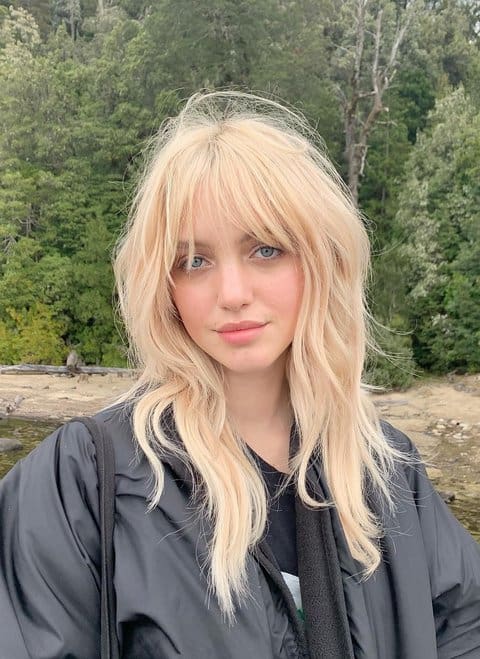 📸: cathywolf
3) Wolf cut medium hair
We are totally obsessed with the face-framing layers of this cut that has 70's inspired vibe. It feels light and cool, especially with the crescent bangs. This cut looks good with any face shape and is relatively easier to maintain compared to longer styles.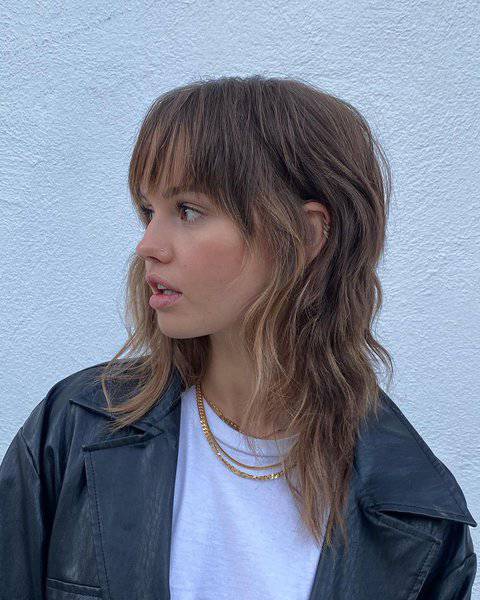 📸: debbyryan
4) Bleached blonde wolf cut
If you have darker hair, try and spice up your wolf cut with bleached blonde hair! This wavy wolf is a gorgeous style that's flirty and fun. The bleached blonde color adds a total statement to the wolf cut hair.
📸: billieeilish
5) Wolf cut curly hair
Fun curls are always in! Curls look amazing with wolf cut hair. The wolf shag naturally adds volume and defines your curls. It is also the perfect way to get beautiful voluminous hair!
📸: simply.cie
6) Layered wolf cut hair
This longer wolf cut hair makes the style more subtle by incorporating medium to long hair length. Make sure to ask your hair stylist for face-framing bangs. This style looks great for anyone with straight hair or wavy hair.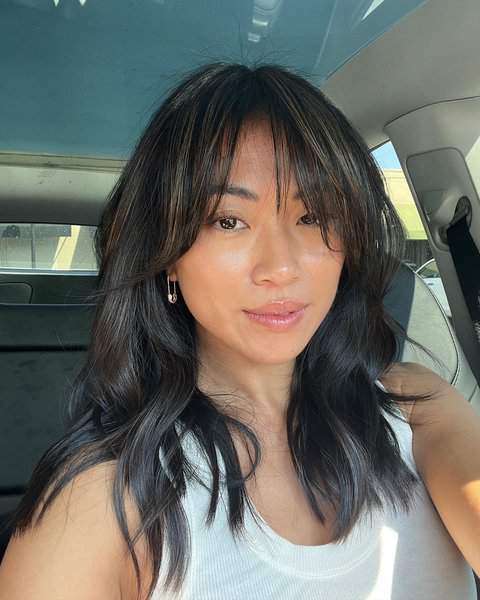 7) Textured wolf cut with choppy bangs
This is a look that you will see over and over again for this hair style. Choppy bangs are definitely having a moment. The addition of choppy bangs really adds that fun statement. The varied length blends so well with the wolfy shag and mullet.
8) Wolf cut short hair
Short haircuts are very versatile and low maintenance. It's easy to style and very trendy right now with curtain bangs. You can change up the look as your hair grow along. Both long or short bangs would look great with short wolf cut hair.
📸: maisonfrd
9) Wolf cut colored hair
If you want to add more edge and drama to your hair, then try dyeing your hair with spicy tones like red. Remember, you don't have to go all out and dye your whole head. You can also consider highlights, a few streaks of contrasting shades, or a gradual ombre hair.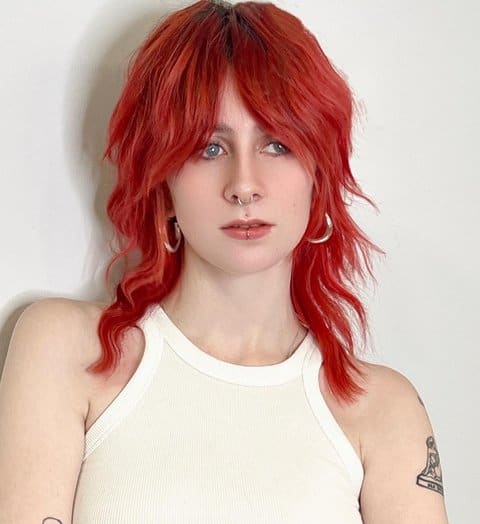 10) Wolf cut long hair
Long hair is one of our favorite wolf cuts. This cut is perfect to accentuate both highlights and lowlights.
📸: lindamandal
FAQ's
Why is it called a wolf cut?
The wold cut is named such because its style of textured shag and playful mullet is fun and wild, like the wolf!
Is wolf cut suitable for someone with straight hair?
The wolf cut hair is most suitable for someone who wants to create more volume of hair to frame the face. It is less suitable for someone who already has a lot of hair and does not desire the shaggy hair look. If you still want to try this hair and you have a lot of hair already, try the straight hair wolf cut.
What face shape is best for a wolf cut?
The wolf cut works well with every face shape, but especially for round and oval face shapes
Do wolf cuts look good on everyone?
Yes! As shown in the inspos above, the style is versatile to look good on everyone and can easily be styled as rebellious, sexy, elegant, or glam. It also works with all lengths, textures, and colors of hair.
Wolf cut vs mullets?
The wolf cut style is a combination of both a shag as well as a mullet. This combo makes it a much more contemporary style than either solely a shag or a mullet. The mullet is a classic hairstyle with short sides and front, but longer at the back.