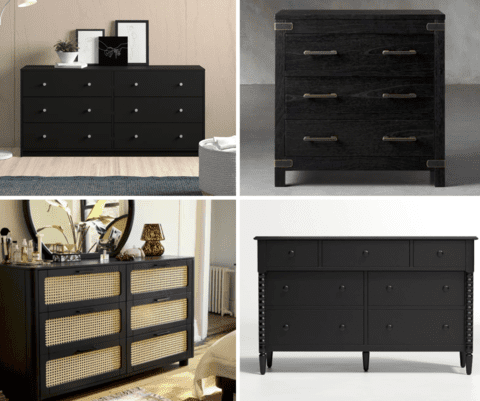 Looking to find a stylish black dresser for your room? We've got you covered!
A great dresser is not only a clutter solution, but it can also make your room even more beautiful. We love dressers that give you plenty of storage space for your clothing and basic essentials.
Dressers do come in a wide range of colors, sizes, shapes, and designs. You can go for a 8 drawer dresser if you seek maximum storage, or a small dresser or 4 drawer dresser if you seek one that takes up less space. The one for you will depend on your need, budget, and aesthetic.
One of the biggest advantages of a black dresser is its versatility. Black is a neutral color that can easily be incorporated into any decor style, from modern and minimalist to traditional and vintage. This means that you can use a black dresser in just about any room of your home.
Another advantage of a black dresser is its ability to add a sense of elegance and sophistication to a space. Black is a classic color that never goes out of style, and a black dresser can help to create a polished and refined look in any room.
However, one potential disadvantage of a black dresser is that it can make a room feel smaller and more closed in. If you have a small space, you may want to choose a lighter color for your dresser to help open up the room.
In terms of where to best use a black dresser, it's really up to your personal preference and the overall design of your home. A black dresser can make a great addition to a bedroom, where it can provide ample storage for clothing and other items. It can also be a stylish choice for a living room, where it can serve as a media console or a place to display decorative items.
You may also need to consider how much space you need from the dresser's top surface. If you want to decorate with flowers and other accessories, a deeper dresser with more area would be more suitable.
We've rounded up our favorite 15 best black dressers for every budget and style – from modern dressers to mid-century dressers, to vintage dressers. Included in this list are dressers perfect and practical enough for your bedroom, kids' room, nursery, living room, and even the guest bedroom/office.
1) Wayfair Dresser – Jaylene 6 – Drawer Dresser – $289.99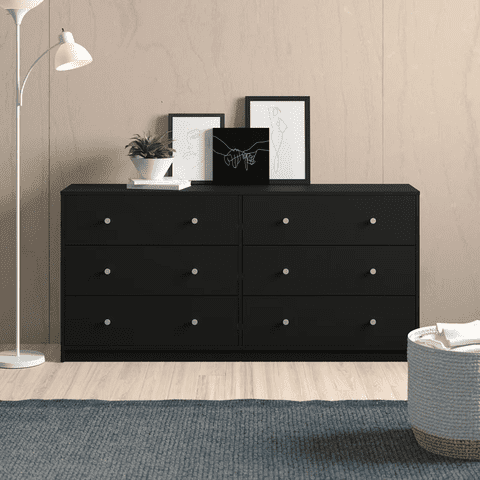 Contemporary modern dresser
6 Spacious drawers for all your storage needs
Crafted from engineered wood with a low, wide silhouette
Features metal slide glides
2) Urban Outfitters Dresser -Mabelle 6-Drawer Dresser – $1,499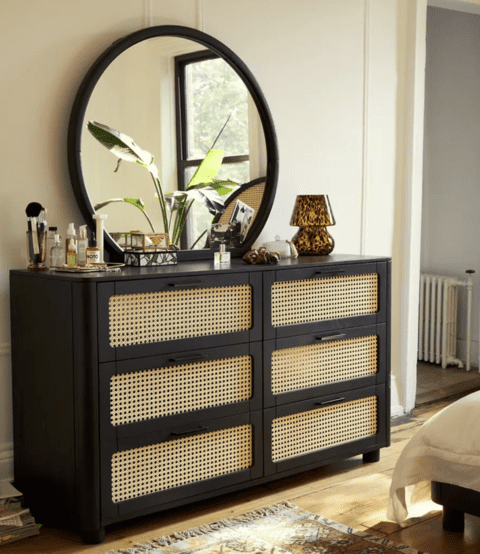 Vintage style dresser boosted with texture and contrast
6 Spacious drawers with ball-bearing drawer glides
Made from wood and accented with handwoven rattan panels
Features metal slide glides
3) CB2 Dresser – Oberlin Tall Chest – $1,199.00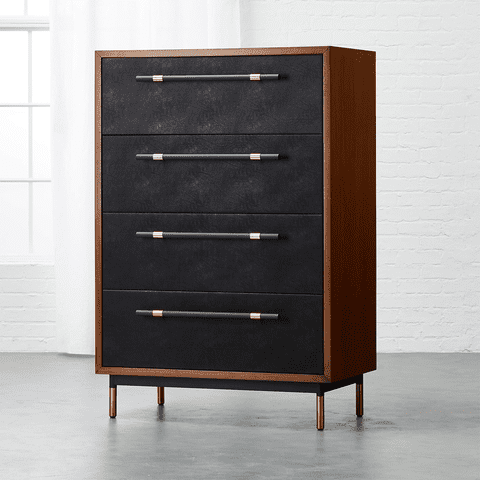 Elegant dresser with black faux leather
4 Spacious drawers with slim black wood handles and brass details
Made from engineered and acacia wood
Poplar drawers and handles
4) Home Depot Dresser – 3-Drawers Black Wood Dresser Vanity with 2-Cabinets – $205.22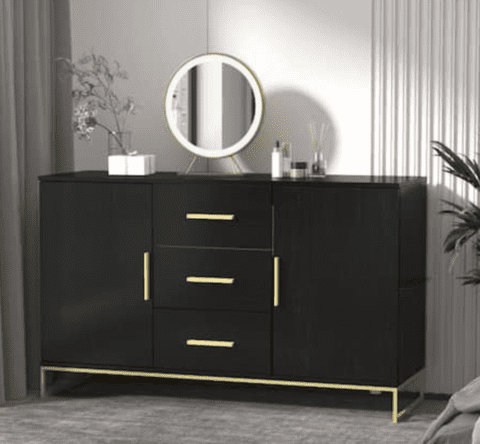 Modern dresser with gold accent
3 Spacious drawers and 2 shelves with doors
Made of thick MDF board
5) Anthropologie Dresser – Fern Storage Cabinet – $2,698.00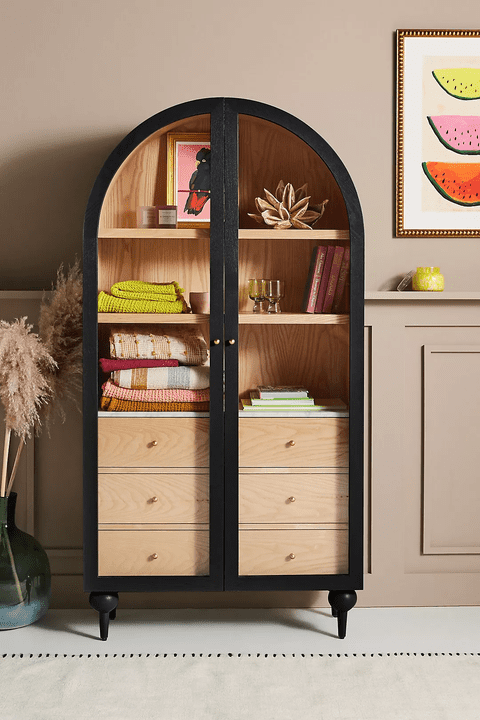 Classic dresser with round arch
Ash wood storage cabinet featuring tempered glass doors and Carrara marble-topped drawers
Brass-finished aluminum hardware
Three drawers open on wooden glides
Glass doors with soft close
6) Pottery Barn Dresser – Tacoma 3-Drawer Dresser – $699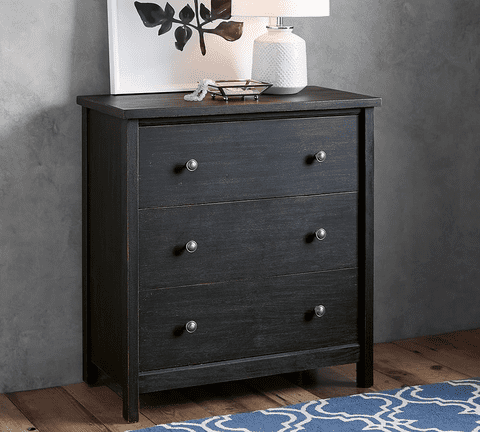 Classic style dresser for smaller spaces
Features 3 spacious drawers
Kiln-dried wood that helps prevent warping, splitting, cracking and developing mildew.
English dovetail joinery and metal drawer pulls
Even comes with adjustable levelers to provide stability on uneven floors!
7) Homary Dresser – Black Sideboard Buffet Doors & Drawers – $1459.99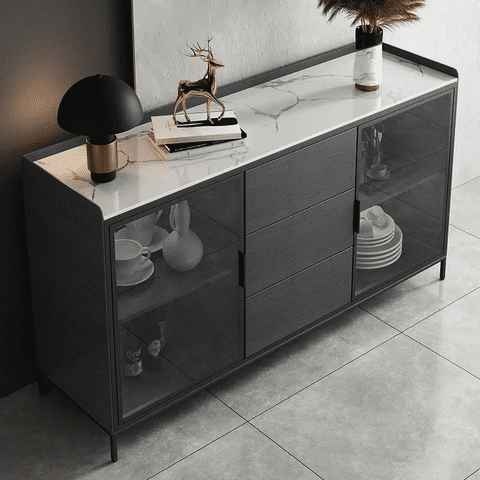 Ultra chic and modern dresser
Made from refined manufactured wood with Sintered Stone and high-class carbon steel
Features 2 doors, it can be ideal to store dining linens, plates, and other kitchenware collection while 3 drawers allow extra storage.
8) Target Dresser – Mid Century Modern 6 Drawer Dresser – Black – $297.99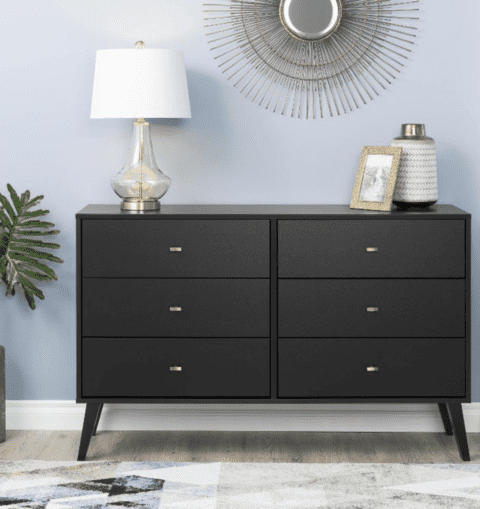 Mid-century dresser with modern aesthetic
6-drawer dresser on smooth metal glides
Tapered solid-wood legs
Brushed brass finished knobs
9) JOZZBY Black Dresser – 6 Drawer Dresser for Bedroom – $269.99
Modern wood dresser with wide drawers
Features easy-to-pull metal handles
6 spacious drawers, providing plenty of storage room for clothes or linens
Supports 75lbs atop and 25lbs per drawer
10) Home Depot Dresser – Classic Solid Wood 6-Drawer Dresser – Black – $468.35
Classic dresser made of solid wood
The pinewood can hold 200lbs
Features metal pull-out handles
6 drawer dresser
11) Crate And Barrel Dresser – Jenny Lind Kids Wide 7-Drawer Black Wood Dresser – $1099.00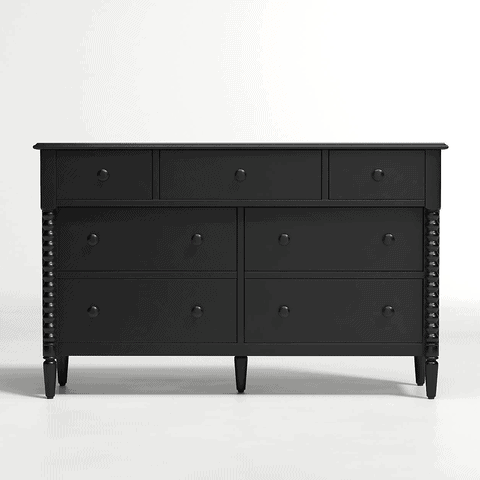 Classic style, black wide dresser
Features spindle details and overhang of top drawers for an authentic look
Solid poplar with low emission engineered wood
7 Roomy drawers
Adjustable levelers for uneven floors
12) Walmart Dresser – 8 Drawer Dresser for Bedroom Chest of Drawers Closets Storage Units Organizer Tower Steel Frame Wooden Top Living Room Entryway Office – $95.99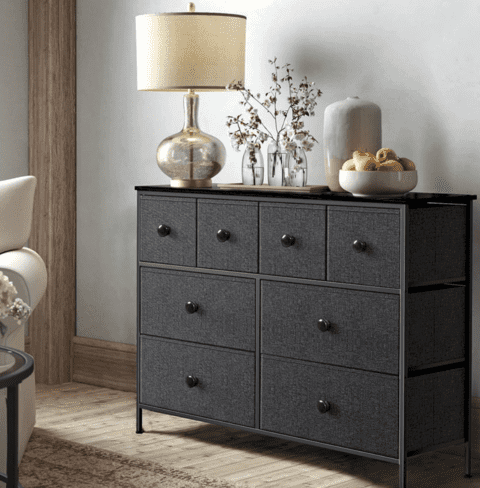 Industrial style dresser with matt metal steel frame coating, black-grey non-woven surface.
Versatile dresser that is perfect for entryways, bedrooms, living rooms, nurseries, hallways, offices, and more
Features 4 large and 4 small, 2 different drawer sizes to fully meet your storage needs
Foldable fabric drawer
Made of solid steel and wood
13) Arhaus Dresser – Henley Tall Six Drawer Dresser – $2,199
Vintage dresser, sophisticated dresser inspired by 18th and 19th-century style
Minimal accents and natural interior finishes
Made from solid wood and veneers
Distressed and weathered finishes are wire-brushed
14) West Elm Dresser – Carved Pattern 6-Drawer Dresser – $1,799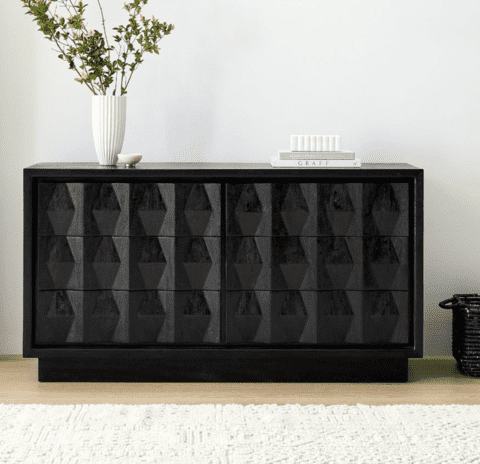 Vintage Style Dresser – rustic and glamorous
Contract grade dresser
Tiled effect surface from carved wood
Made from solid, sustainably sourced mango wood
6 large drawers on metal glides
15) Sauder Shoal Creek Dresser, Jamocha Wood finish – $434.99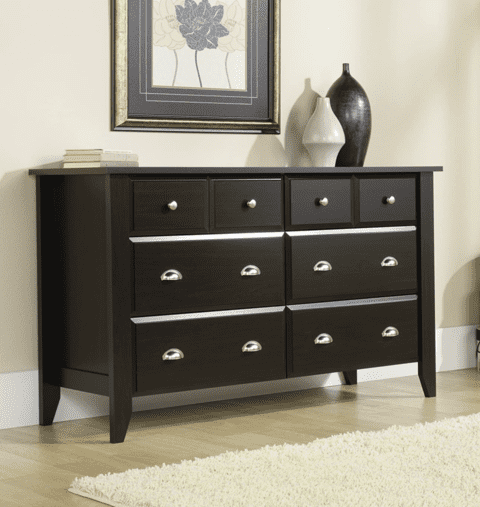 Classic style dresser
6 drawers on smooth metal runners
Jamocha Wood finish